Nancy Pelosi Breaks Coronavirus Rules To Get Hair Done In San Francisco Salon
KEY POINTS
Speaker of the House Nancy Pelosi was spotted at a hair salon in San Francisco despite city rules saying salons should remain closed
Salon owner Erica Kious said Pelosi's assistant messaged one of her stylists for an appointment
Pelosi's spokesperson said the House Speaker followed all the "rules as presented to her"
Speaker of the House Nancy Pelosi came under fire after she visited a San Francisco hair salon Monday afternoon, despite the city's current coronavirus guidelines that prohibit salons from providing shampooing and hair coloring services.
The Speaker, a resident of California, was seen walking through eSalon with wet hair and without a face mask, security footage obtained by Fox News showed. Pelosi reportedly received a wash and a blow-dry, in violation of local ordinances.
Hair salons in San Francisco have been closed since March due to the COVID-19 pandemic. The city's latest coronavirus guidelines were released Sept. 1 and allowed salons to reopen their businesses for outdoor hairstyling services only.
Salon owner Erica Kious said she rents spaces to independent stylists. A screengrab obtained by Fox News showed one of the stylists messaged Kious that Pelosi's assistant had sought an appointment.
"It was a slap in the face that she went in, you know, that she feels that she can just go and get her stuff done while no one else can go in, and I can't work," Kious told Fox News. "We're supposed to look up to this woman, right?"
Pelosi's spokesperson Drew Hammill told Fox News Pelosi complied with local COVID-19 guidelines. He also said it was the business who offered the Speaker to come in on Monday, saying they were allowed by the city to have one customer at a time.
"The Speaker complied with the rules as presented to her by this establishment," Hammill said.
Hammill noted that the Speaker's mask was off for a short period of time to allow the stylist to wash her hair.
Republicans have criticized Pelosi on Twitter, calling her a "hypocrite" after repeatedly urging Americans to follow coronavirus safety protocols. The Trump campaign dubbed the Speaker "No Mask Nancy!"
The United States has reported more than 6 million coronavirus cases, according to data published by Johns Hopkins University. Recent outbreaks at colleges across the nation have begun to see signs of spilling off and infecting surrounding communities.
At the University of Alabama, over 1,300 students and staffers tested positive for coronavirus, prompting the mayor of Tuscaloosa to close all bars in hopes of curbing the sudden surge of cases.
Iowa State University in Ames reported 104 cases in the first week of classes, while the University of Iowa recorded 607 positive tests among students. Other colleges, including the University of Mississippi, University of Kansas and Washington State University, also saw a dramatic rise in cases relative to population.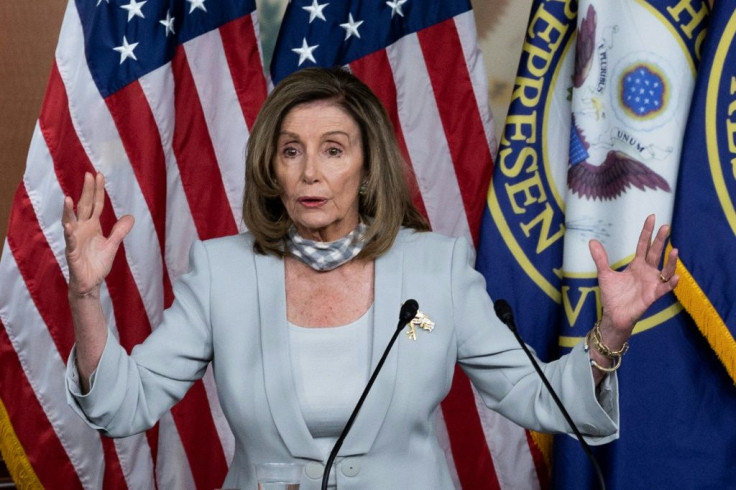 © Copyright IBTimes 2023. All rights reserved.