NASA Successfully Tests Engine That Would Power Its New Deep Space Exploration Rocket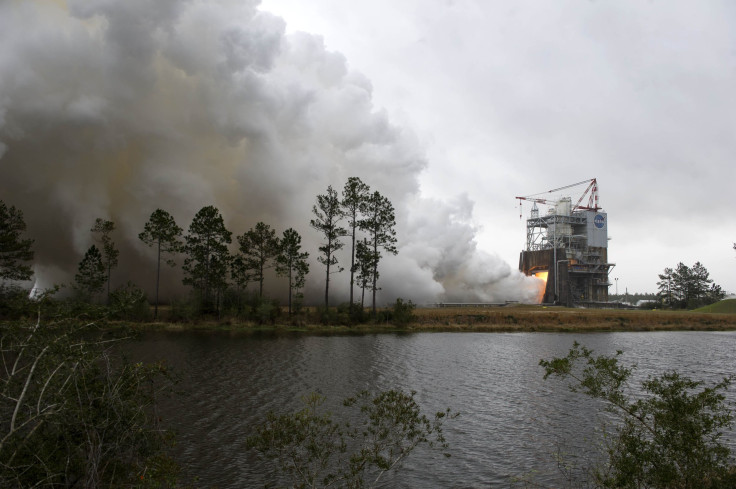 Taking another step toward the realization of its ambitious plan to put humans on Mars by the early 2030s, NASA announced Friday that it had test-fired the RS-25 rocket engine that would eventually power its Space Launch System. The SLS, a successor to the agency's now-defunct Space Shuttle program, is expected to be ready for launch by 2018.
"Not only does this test mark an important step towards proving our existing design for SLS's first flight, it's also a great feeling that this engine that has carried so many astronauts into space before is being prepared to take astronauts to space once again on SLS's first crewed flight," Steve Wofford, engines manager at NASA's Marshall Space Flight Center in Huntsville, Alabama, said in a statement.
The engines that will be used on initial SLS missions will be the same that powered the Space Shuttle program. These engines have been used during 135 space shuttle missions between 1981 and 2011, and four of them, providing a combined thrust of 2 million pounds, will be used to power the SLS, NASA said.
The SLS, which is being designed to become NASA's most powerful rocket ever built, passed a critical design review in October, becoming the first vehicle to have done so since the Saturn V — the rocket that was used to launch the Apollo missions.
The space agency and its contractor, AeroJet Rocketdyne, ran several tests on the RS-25 engine last year, focusing on the controller and on testing out different operating conditions needed for the SLS. After the latest success, the two organizations will begin work on new flight engine controllers while further testing the engines.
"What a great moment for NASA and Stennis," Rick Gilbrech, director of NASA's Stennis Space Center in Bay St. Louis, Mississippi, said in the statement. "We have exciting days ahead with a return to deep space and a journey to Mars, and this test is a very big step in that direction."
© Copyright IBTimes 2023. All rights reserved.
FOLLOW MORE IBT NEWS ON THE BELOW CHANNELS