NASCAR Daytona 500 Start Time Live Stream: How to Watch the Historic Night Race Online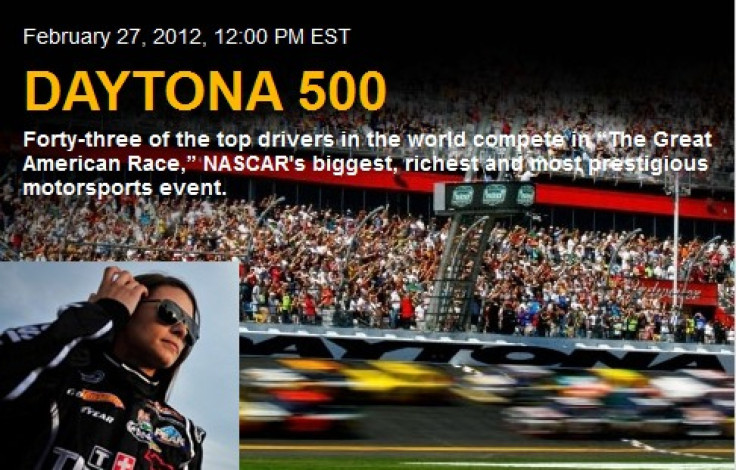 The kickoff of the NASCAR season has been delayed at Daytona International Speedway, Daytona Beach, Fla., due to incessant rain, but race officials are hoping that the 54th annual Daytona 500 event will flag off on Monday at 7 p.m. ET.
The Daytona 500 was originally planned for Sunday, but the rain washed out all the weekend fun and all that could be seen on race track were wet birds and sludge, instead of speeding cars. The weather gods are also moody today, but if all goes well, than we will see the Nascar Daytona 500 live on Fox.
The Daytona 500 will also be broadcast online this time. You can watch the Great American Race on Nascar.com (subscription required). The quality of live video feed is expected to be superb. You can also try out this site (however, be cautioned: we could not verify whether it works). However, if the rain plays spoilsports again, Nascar Daytona 500 could be postponed until Tuesday or rescheduled for a later date in April.
In its 54-year history, Daytona 500 has always been held on Sunday, when people millions of people around the globe have enjoyed their weekend with this Motorsport event. In the past, drivers have paddled their cars on wet tracks, under lights and even with potholes on the track but Daytona 500 was never held on any other day except Sunday – not until now. However, this time, many fans will be disappointed as they will miss this event (Monday is a workday).
NASCAR President Mike Helton sounded hopeful. We hope to have 'Ladies and gentlemen, start your engines,' at 7:02 and then warm up and go to green flag, Helton said. We believe this is a reasonable expectation.
I guess I'm gonna have to win the first Monday Daytona 500, says driver Greg Biffle.
If Daytona 500 flags off after some time as scheduled, it would be historic as this would be the first time Daytona 500 would take place under night lights. It could produce record ratings for a series that's coming off one of its most compelling seasons.
Meanwhile, keep your eyes peeled on Danica Patrick, the IndyCar Series star, who switched to Nascar and will make her Sprint Cup debut in the Daytona 500.
Update: The weather gods are looking favorably on the Daytona 500 race. Though one more storm cell is expected to hit the area, reportedly, cars are being prepped for the race.
(Reported by Johnny Wills, Edited by Surojit Chatterjee)
© Copyright IBTimes 2023. All rights reserved.