National Pigs In A Blanket Day: Tips To Perfect Your Recipe
The National Pigs In A Blanket Day is celebrated annually on April 24 to appreciate one of the most favorite comfort food of many Americans.
The origins of this delicious food traces back to 1600s when British field laborers made a quick on-the-go meal by stuffing meat inside a dough. The recipes of this tasty snack got perfected through years and flavors varied across different geographies.
The first-ever written record of pigs in a blanket appeared in Betty Crocker's "Cooking for kids" in 1957. Pigs in a blanket can be considered as a global snack as it is popular across the world.
In United States, pigs in a blanket refers to any form of sausage wrapped in dough. They are also called "franks in a blanket" and "franks in blanks."
In the United Kingdom, pigs in blankets are popularly called as "wrapped sausages" and "pigs in skins." They are small cocktail sausages or chipolatas wrapped in bacon.
In Mexico, this snack is called by the name "Salchitaco" and in Germany, they are known as "Würstchen im Schlafrock," which means sausage in a dressing gown. Lap Cheong Bao is the Chinese version of the same snack.
Here are some tips to perfect your pigs in a blanket recipe:
Courtesy : The Happier Homemaker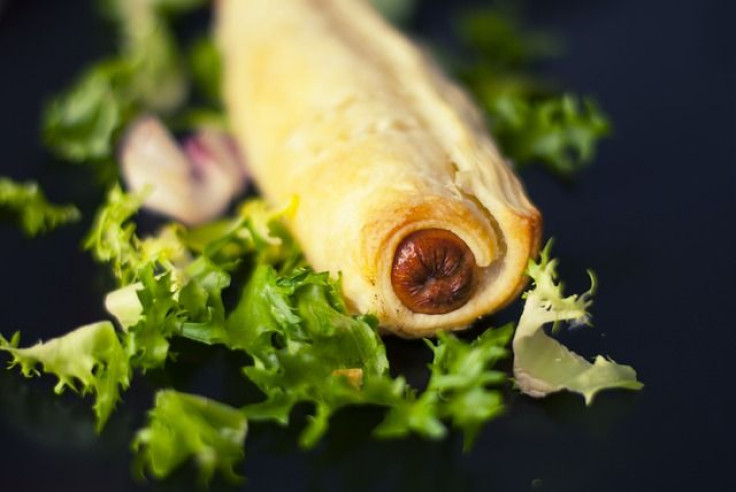 You can bring more twists to your comfort snack: The easiest way to change up the flavor is by changing your cocktail smokies. You can use cheese smokies or add cheese in the roll. You can also bring in variations by trying more add-ins like cheddar cheese, bacon, swiss Dijon or jalapenos
Try different dipping sauces: Replace your standard ketchup with mustard, barbeque sauce, melted cheese, ranch dressing or blue cheese dressing to bring in more flavor. The possibilities are truly endless.
Struggling to keep them warm? Serving them in a crockpot set to low will help you to keep them warm. You can use parchment papers to line the layers to prevent them from sticking.
How do you freeze them? The easiest way is to assemble and then freeze on a baking sheet until hard. Once frozen, they can be stored in a freezer bag up to 2 months. Bake from frozen, just like you bake them fresh by extending the baking time to 20-25 minutes.
How do you reheat the leftovers? The leftovers can be warmed in a microwave for 30-45 seconds or using a crockpot set to warm for 20-30 minutes. You can also reheat them in the oven by placing them on a baking sheet in a 350° oven and baking for 8-10 minutes.
© Copyright IBTimes 2023. All rights reserved.