Native Americans Look At Confederate Flag Controversy And Ask: What About 'Redskins' And Other Racist Symbols?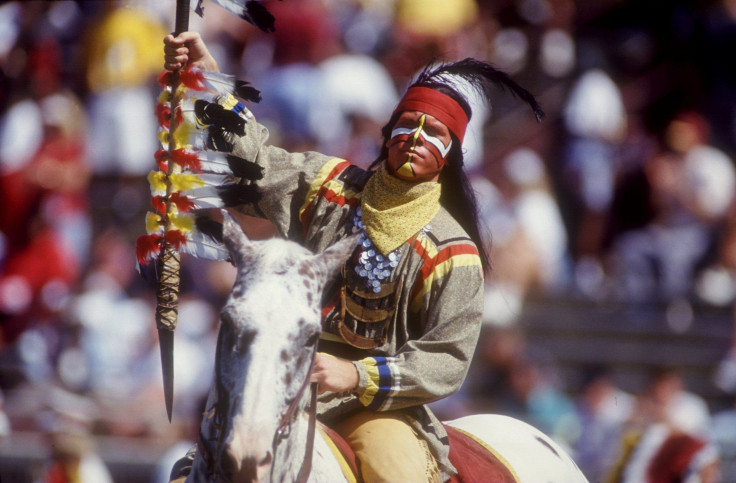 The Confederate flag's days seem numbered as retailers and statehouses alike remove (or consider removing) it for public consumption in the wake of the Charleston shooting. But it's not the only symbol in American culture surrounded by controversy.
Native American activists who have lobbied against the use of derogatory terms such as "redskins" are monitoring the flag controversy in hopes that it will raise a larger national conversation about harmful symbols that are commonly used in popular culture.
"Our country is having a national debate over symbols, and we should take an honest look at those symbols that don't promote inclusivity but rather promote bigotry," said Joel Barkin, vice president of the Oneida Indian Nation and spokesperson for Change the Mascot, a national campaign for ending the use of the word "redskins" as the mascot and name of the NFL team in the nation's capital.
Just as defenders of the Confederate flag have argued that it represents pride in Southern culture and history rather than racism, supporters of team names like the "Redskins" have insisted that they actually honor Native Americans. But activists say parallels between the two controversies are worth noting. Even if the intention behind the usage of such symbols isn't to harm, Americans should recognize that minority groups are harmed by them nonetheless -- and eliminate them as a result.
"Proud tradition does not negate the racism of a flag associated with the enslavement of a people, nor does it negate the racism of a moniker that dehumanizes and slurs a people who underwent attempted eradication," wrote Tara Houska, tribal rights attorney in Washington, in the Indian Country Today Media Network. "Despite empirical studies demonstrating psychological harm, numerous tribal resolutions, lawsuits, and protests spanning decades, the r-word still remains widely accepted."
Houska said that the mocking of Native American culture through sports symbols has devastating effects. "Every day, I walk down the streets of our nation's capital, through the halls of Congress, past statues of celebrated American leaders. And every day, I am subjected to pinpricks of racism directed at Native Americans," she said, describing the frequent encounters with symbols from Washington's NFL football team, which still carries the name "Redskins."
Some in the Native American community have taken note of the swift national change of heart over the Confederate battle flag and are wondering why that level of popular rage was never leveled at symbols that signify racism toward Native Americans.
Rev. Graylan Hagler heads the historically black congregation at the Plymouth Congregational United Church of Christ in Washington, where he has helped lead the charge to change the football team's name for more than 20 years. Hagler says that people need to remember the history that's imbued with symbols like the Confederate flag and the Washington team name in order to really understand the harm they invoke. The original owner of the Washington Redskins team, George Preston Marshall, was an avowed racist and segregationist, said Hagler.
"When black folks said the Confederate flag represents murder and genocide, how dare we rationalize it into some other meaning? And when Native Americans say these names are harmful, who are we to turn around and rationalize it away?" said Hagler. "Slurs against Native Americans are just as racist as the Confederate flag and lead to the continued dehumanization of human beings, just like the flag does."
Most activists are hopeful that progress against derogatory terms directed toward Native Americans is moving in the right direction. Barkin says that the movement has come a long way, as many schools and states around the country have taken already taken action against racially charged team names. And the law is on their side too, adds Barkin.
Last week, the Supreme Court ruled that the state of Texas did not violate the First Amendment in banning specialty license plates bearing images of the Confederate flag. Lawyers for Native Americans taking on the Redskins team are using that decision to bolster their case that the term "Redskins" violates federal trademark law that prevents trademark registrations whose names "may disparage" or bring people into "contempt or dispute."
"We're having a watershed moment right now for this discussion on hateful symbols," said Hagler. "We need to have it in the broadest fashion and talk about removing these kinds of images and symbols completely from our culture. If we're truly going to be a society built upon equality and honoring democracy, we have to listen to the victims of history."
FOR FREE to continue reading
✔️ Unlock the full content of International Business Times UK for free
offer available for a limited time only
✔️ Easily manage your Newsletters subscriptions and save your favourite articles
✔️ No payment method required
Already have an account?
Log in
© Copyright IBTimes 2023. All rights reserved.