Net Neutrality Vote: FCC Approves Rules To Reclassify Broadband Under Title II And Ban Internet Fast Lanes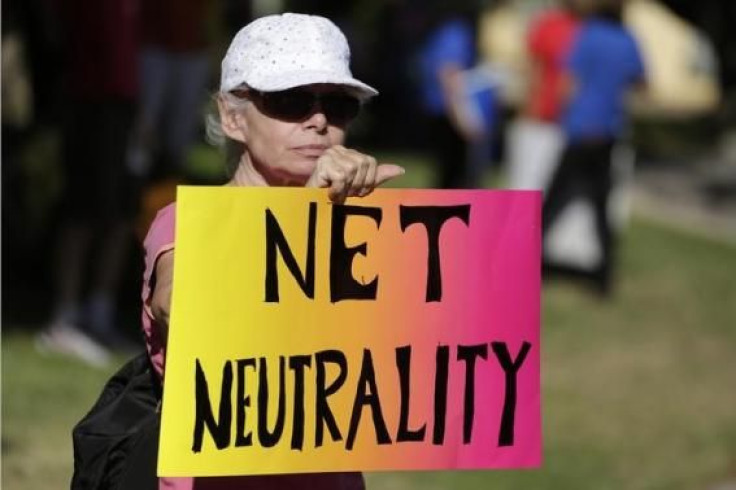 At long last, the U.S. Federal Communications Commission has voted to approve its highly anticipated open-Internet rules, but don't expect your HBO Go to stop choking up anytime soon.
In a widely expected 3-2 vote Thursday, commissioners approved a much-debated proposal from Chairman Tom Wheeler designed to protect net neutrality and prohibit broadband providers from prioritizing some types of data over others. The rules, which may still face court challenges, would reclassify broadband Internet as a public utility under Title II of the Communications Act, granting the commission greater authority to regulate Internet service providers (ISPs) as "common carriers."
Tech firms like Google Inc. and Amazon.com Inc. support tougher regulations, as does President Barack Obama, who first voiced his support for Title II reclassification in November. Cable and telecom companies like Comcast Corp. and Verizon Communications Inc. are opposed to the plan and say being bogged down in utility-style regulation will stifle future innovation.
Net neutrality is the principle that all Internet data should be treated equally by ISPs. A four-month comment period on the issue attracted almost 4 million public comments to the FCC.
Wheeler's full proposal, more than 300 pages long, has not been made fully public, a point of contention among its critics. Below are key points from the proposal taken directly from Wheeler's Fact Sheet:
No Blocking: broadband providers may not block access to legal content, applications, services or non-harmful devices.
No Throttling: broadband providers may not impair or degrade lawful Internet traffic on the basis of content, applications, services or non-harmful devices.
No Paid Prioritization: broadband providers may not favor some lawful Internet traffic over other lawful traffic in exchange for consideration -- in other words, no "fast lanes." This rule also bans ISPs from prioritizing content and services of their affiliates.
The fact sheet also stresses that the rules will not subject broadband providers to utility-style rate regulation or tariffs, although some analysts say rate regulation is unavoidable if reclassification becomes a reality.
As expected, the FCC vote was divided along party lines, with the two Republican FCC commissioners dissenting. Republican Commissioner Ajit Pai said the FCC was attempting to seize "unilateral" control of the Internet. "The Internet has become a powerful force for freedom, here and around the world," he said. "So it's sad to witness this morning the FCC's unprecedented attempts to replace that freedom with government control."
Democratic Commissioner Jessica Rosenworcel disagreed. "We cannot have a two-tiered Internet with fast lanes that speed the traffic of the privileged and leave the rest of us lagging behind," she said.
Thursday's vote does not mean the new rules will immediately take effect, or even that they ever will. The review process is likely to take some time, and broadband providers may challenge the rules in court. Moreover, the rules could be overturned by Congress or a future Republican-led FCC, particularly if kinks in the plan are not ironed out by 2017, when a new presidential administration will take control of the White House.
In comments to the commissioners, Wheeler defended the plan as a necessary action. He called the idea that the FCC is trying to regulate the Internet "nonsense." "The Internet is simply too important to allow broadband providers to be the ones making the rules," he said.
Christopher Zara is a senior writer who covers media and culture. News tips? Email me here. Follow me on Twitter @christopherzara.
© Copyright IBTimes 2023. All rights reserved.