Netflix Inc. Hit Drama 'House Of Cards' Season Two Becomes Instant Success In China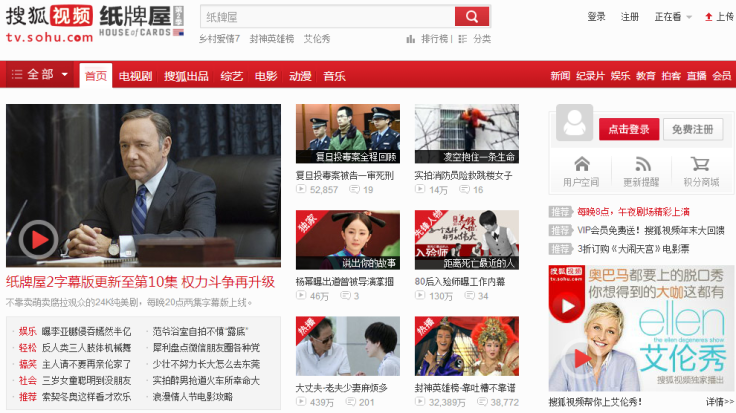 (Warning: contains mild spoilers.)
Less than a week after going live online, the Netflix Inc. (NASDAQ:NFLX) hit political thriller "House Of Cards" has everyone talking. As diehard fans in the U.S. spent Valentine's Day weekend binge-watching the new 13 episodes of season 2, many on the other side of the world were doing the same thing.
The show was streamed in China on the popular video-hosting site Sohu.com, which also carries a range of other American network programs including the "Ellen DeGeneres Show" and "Big Bang Theory." By Tuesday morning, the second season of "House Of Cards" had racked up more than eight million views in China.
Fans there were riveted by the suspense and political drama that built throughout the season, but an added China-based subplot boosted interest even more. The second season introduces several new characters, including a corrupt Chinese billionaire named Xander Feng (Canadian actor Terry Chen). Feng has ties to the Communist Party (his grandfather fought beside Mao). The subplot centers around the government's attempt to address Sino-U.S. relations and draws parallels to real-life issues such as Congress' dealings with its Chinese counterparts over cyber-theft and espionage, currency manipulation, and even China's maritime dispute with Japan.
The show's China debut took some by surprise because it featured so many sensitive topics. Any type of Western political show would face trouble getting a green light in China, especially considering the content featured this season. In the past, Chinese media censors have cut scenes for reasons like nudity, vague religious implications and vulgarity.
It's known that U.S. President Barack Obama is a fan of the show, but "House of Cards" also has someone championing for it in Beijing. "I wonder if it was approved because Wang Qishan is a fan," one blogger said on Sina Weibo. Wang -- the anticorruption head of the Communist Party, and one of seven members of the Politburo Standing Committee, China's most powerful group -- is a big fan of the show, according to Hong Kong-based magazine Phoenix Weekly. Wang found main character Frank Underwood's (Kevin Spacey) role as the Democratic Majority Whip in the first season especially relatable, the magazine article says. Underwood was in charge of ensuring discipline in the House of Representatives and leading the direction of the majority. Wang's tough position on graft and corruption has helped him become one of China's most-recognized leaders.
For now, "House Of Cards" is mostly attracting China's educated elite. The online streaming version of the show in China doesn't currently feature subtitles, which means its intrigue can only be appreciated by those who understand English. Still, Chinese fans of the show have commented on its impressively accurate Chinese dialogue. In addition, mainland publishers are hoping to cash in on the show's popularity by selling Chinese-language copies of the book "House Of Cards," which was written by Michael Dobbs.
"This show has been repeatedly recommended by Wang Qishan and Barack Obama," Chinese e-commerce company Dangdang noted in a promotion. "Read the book on which the hottest political drama of last year was based."
© Copyright IBTimes 2023. All rights reserved.