Netflix's New Reality Show 'Floor Is Lava' Beats '365 Days' For Number 1 Spot
KEY POINTS
"Floor is Lava," Netflix's new TV game show, has unseated Polish erotic drama "365 Days" from its no. 1 spot
The game show is a recreation of the classic childhood pastime "the floor is lava"
Since its launch, "Floor is Lava" has gained a strong following with its perfect mix of ridiculous obstacle courses and epic snags
Netflix's "365 DNI" has reportedly lost its crown to the streaming service's newest release, "Floor is Lava."
After topping the platform's most-streamed chart list since its premiere, the Polish erotic drama "365 DNI" ("365 Days") has officially been unseated by the obstacle course game show "Floor is Lava," which is based off on the nostalgic childhood game of the same name.
The reality TV game show premiered on Netflix on Friday (June 19) and is hosted by auto racing analyst Rutledge Wood. Per Forbes, the show follows several teams competing against each other to navigate rooms flooded with "lava" by jumping from chair to chair, hanging from curtains and swinging from chandeliers — a theme that is almost a less-serious version of "American Ninja Warrior" and somewhat closer to "Most Extreme Elimination Challenge."
While the show is a concrete recreation of the famous childhood pastime, "Floor is Lava" stands as an adrenaline-infused yet family-friendly contest that has sent waves on the platform with its perfect mix of ridiculous obstacle courses. According to a report by Fast Company, the show is part of a brand new breed of wacky and offbeat game shows that have taken over along with TV projects like "Game On!" and "Don't."
Since its debut, "Floor is Lava" has not only ousted "365 Days" but also other top Netflix shows. "13 Reasons Why," which sat on the no. 1 spot on the platform's top 10 list for shows, had apparently been stripped off of its 14-day streak by the game show.
"Floor is Lava" had reportedly also taken down "Space Force," which took over the no. 1 rank for seven straight weeks dating back to its premiere in late May, Forbes reported.
Meanwhile, an American horror drama web series titled "The Order" has sat at the third spot since it premiered. The Netflix original show follows a university student that gets caught up in a world of monsters and magic. Since its release, the show has also gained a solid following and amassed a large viewership.
Other popular shows since the top 10 list was introduced in late February include "Tiger King," ranking first for 27 days, as well as "Dead to Me," which topped the ranks for 10 straight days.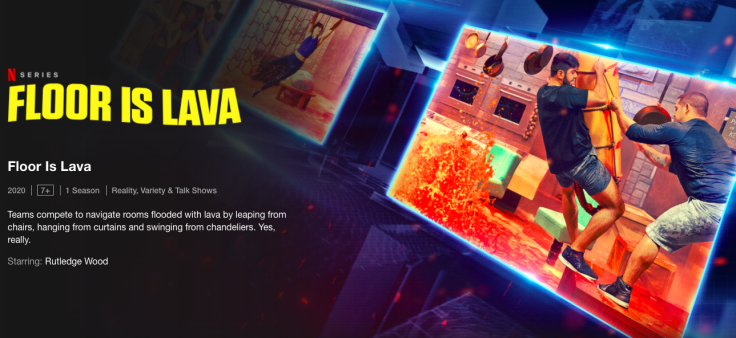 © Copyright IBTimes 2023. All rights reserved.