Nevada 2016: How Hillary Clinton Is Doing In 2016 vs. 2008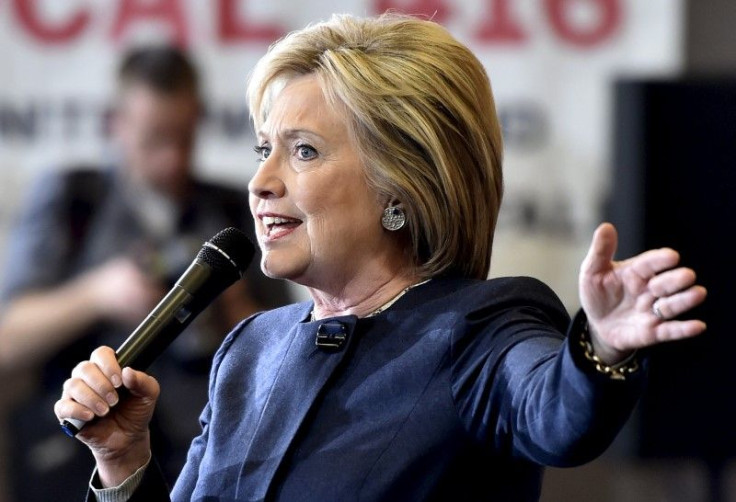 With the Nevada caucus looming, Hillary Clinton's campaign is searching for a big win. Back in 2008, the former secretary of state was favored to take the Democratic nomination going into the primaries but ultimately lost to then-Sen. Barack Obama. Now, Clinton could be in danger of losing it all to Vermont Sen. Bernie Sanders, who is coming off a resounding victory in New Hampshire.
These interactive maps compare how Clinton did in Iowa and New Hampshire in 2008 and in 2016, and show what she needs to do to win.
(Note that for the Iowa and Nevada caucuses, when we refer to votes, we are referring to the number of state delegates equivalents awarded to each candidate based on votes received in the caucus.
Iowa
Compared to 2016, the 2008 Iowa caucus was a big disappointment for Hillary Clinton. After months of being in the lead in Iowa, she came in third.
One big difference this year was the strong showing by a third Democratic candidate in 2008. While former Maryland Gov. Martin O'Malley was a non-entity in the 2016 Iowa primaries, former Sen. John Edwards (N.C.) came in second and took votes from both Clinton and Barack Obama.
This time around, Clinton took many of the southern Iowa counties that John Edwards won back in 2008. This stretch of counties is mostly rural and some of the least populated in the state. They also have a higher percentage of people living in poverty and some of the highest unemployment rates, according to Census data.
However, Clinton lost a big bloc of western Iowa to Bernie Sanders last month, which was one of the areas in Iowa where she'd had her strongest showing. One big loss for Clinton was Pottawattamie County, home to the city of Council Bluffs. Clinton won decidedly back in 2008 with 42 percent of the vote, compared to runner-up John Edwards with 31 percent. In 2016, Bernie Sanders won the same county with 50.8 percent of the vote — barely beating Clinton's 49 percent.
The Iowa cities and population centers have been a challenge for Clinton in both 2008 and 2016. One of the only big cities she won in 2008, other than Council Bluffs, was Sioux City, where she virtually tied Obama at about 36 percent. The rest of the larger population centers in Iowa were won by Obama.
In 2016, Sanders won many of the same larger Iowa cities that voted for Obama eight years ago, including Ames and Iowa City, home to the two biggest university campuses in the state. Sanders won 84 percent of voters 17-to-29-year-olds in Iowa.
However, Polk County, home to Des Moines, the largest city in Iowa, marginally went to Clinton in 2016 after it had voted for Obama in 2008. Clinton won more than 12,000 of Polk County's votes, which made up about 17 percent of her total count.
It's also worth noting that even though Democrats had a strong showing in Iowa with about 171,000 caucusgoers, it was still less than the 240,000 who attended in 2008.
New Hampshire
Back in 2008, Hillary Clinton beat out Barack Obama in the New Hampshire primary with 39.1 percent of the vote. However, in 2016, Clinton lost New Hampshire big-time, with Sanders receiving 60 percent of the vote.
This time around, Clinton did not win any of New Hampshire's 10 counties. She also lost by a slim margin Hillsborough and Rockingham– the two most populous in the state. Winning those counties, where Manchester, Nashua and Portsmouth are located, helped her win the state against Barack Obama in 2008.
Hillary Clinton also lost by a landslide the more rural, western counties of New Hampshire to Sanders. She also lost Merrimack County, where the state's capital city Concord is located, to Sanders by a bigger margin than she lost it to Obama in 2008.
However, even though Sanders won more votes in the primary, Clinton gained more delegates because of the superdelegate system that favored her.
Nevada
Clinton won the vote in the Silver State in 2008 over Obama but lost in delegates because the Nevada caucus gives extra weight to rural precincts.
That's because the city of Las Vegas in Clark County is the biggest population center in the state, by far. In 2008, Clark County had 7,425 county delegate totals compared to the 1,699 from Washoe County, where Reno is located and the second-largest county in Nevada. Winning in Vegas, as Hillary did in 2008, essentially means taking all of Nevada.
To offset that, precincts in rural counties will get one delegate for every five voters compared to urban precincts, where one delegate will be counted for every 50 voters.
That's why in order not to repeat the 2008 scenario, Clinton would have to win Clark County, Washoe County and the rural, desert precincts in the north.
Nevada will also be the first real test of how the Hispanic vote will play out during the primary. Hispanics make up 27 percent of the state's population, while Hispanics in New Hampshire and Iowa make up only 3 percent and 5 percent of those state's populations, respectively.
In many of the northern desert counties like Humboldt, Elko and Lander, over 20 percent of the population is Hispanic.
Because polling the caucus is difficult in Nevada, we won't know which candidate Hispanics are favoring until Saturday. The outcome hinges on voter turnout — which has been historically low in the Silver State.
FOR FREE to continue reading
✔️ Unlock the full content of International Business Times UK for free
offer available for a limited time only
✔️ Easily manage your Newsletters subscriptions and save your favourite articles
✔️ No payment method required
Already have an account?
Log in
© Copyright IBTimes 2023. All rights reserved.