Can Anna Duggar Divorce Josh Duggar After Ashley Madison Cheating Scandal? About Convenant Marriages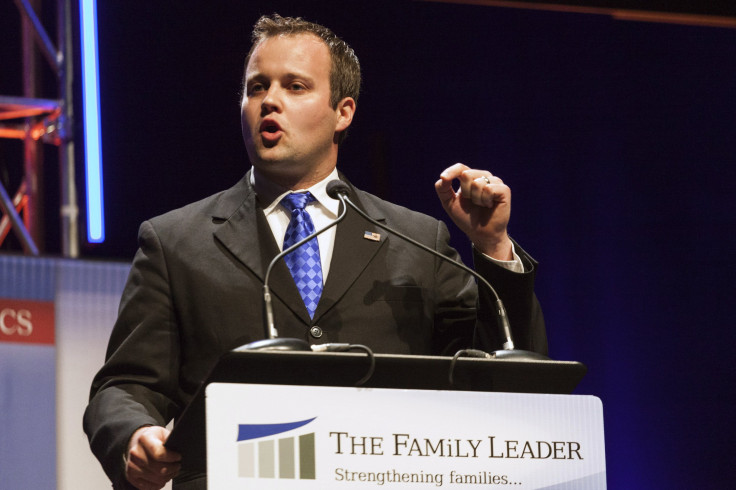 Recent revelations about Josh Duggar's infidelity have raised questions among fans about his marriage to Anna Duggar. On Wednesday it came to light that the former reality TV star, 27, had been using popular cheating site Ashley Madison to arrange affairs. He has since admitted that he suffers from an addiction to pornography, which is what he claims lead him to be unfaithful. So where does that leave his marriage? The Duggar family has been outspoken in their opposition to divorce -- so much so that several of the betrothed Duggar children have chosen to enter into "covenant" marriages, which make seeking divorce especially difficult.
According to NWAMarriages, covenant marriages are special types of unions legal only in Arizona, Louisiana and Arkansas, where the Duggars are from. The site explains that in these marriages couples ask "to be held to a higher level of marital commitment." It requires that the man and woman wishing to become husband and wife seek counseling prior to their wedding. They must also agree that, should they run into any potentially marriage-ending issues, they will speak to a marriage counselor first. Couples in covenant marriages are permitted to divorce on three grounds: Adultery, commission of a felony or other serious crime by one spouse, or physical or sexual abuse of one spouse or a child of either spouse.
Of the married Duggar children, only two have spoken publicly about their decision to enter into covenant marriage. In October 2014 People magazine reported that Jill Dillard and her husband Derick Dillard had decided to get a covenant marriage certificate. She and Derick's families expressed their excitement over the couple's decision during the "19 Kids and Counting: Jill's Wedding" special. Younger sister Jessa Seewald followed in Jill's footsteps in November 2014 when she married Ben Seewald. It remains unclear whether Josh and Anna, who married in 2008, also went this route. If they did, Anna would have a case for divorce given the stipulations.
Footage from the couple's marriage makes no mention of covenant marriage. Their vows did, however, seem to extend far beyond your typical "for richer or for poorer, in sickness and in health" promises. Scenes from the wedding, which was filmed for TLC's "17 Kids and Counting: A Very Duggar Wedding," show the preacher asking that Josh lead Anna and help her to follow God's path. He also asked the couple to remain faithful to one another, be loyal and supportive, and "commit to trust God" with their family size.
Following the news of Josh's membership on Ashley Madison, after it was hacked and leaked members' info, he released a statement on the Duggar family website. In it he accepted responsibility for his shortcomings, admitting that he had been "the biggest hypocrite ever." He acknowledged that he had hurt his friends, family and "19 Kids and Counting" fans with his May 2015 molestation scandal and had "re-broken their trust" with this. As was previously reported, Gawker released images on Wednesday that linked a credit card registered to Josh with Ashley Madison. An address in Fayetteville, Arkansas, that has been traced back to Duggar's grandmother was also listed on the site. According to reports, the accounts, which Duggar reportedly paid $986.76 for, were started in February 2013 and canceled in May 2015 – the same time reports surfaced claiming that Josh had molested five minors when he was 14.
Anna has not spoken out about her husband's most recent betrayal. Previous statements, released amid the molestation allegations suggested that she was not even remotely considering divorce.
© Copyright IBTimes 2022. All rights reserved.
FOLLOW MORE IBT NEWS ON THE BELOW CHANNELS