Anna Duggar 'Will Not Leave' Josh Duggar Following Ashley Madison Scandal, Sources Say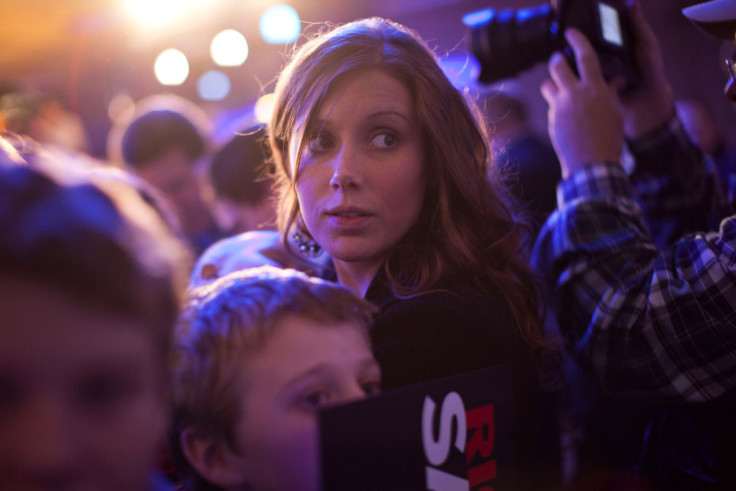 It doesn't look like Anna Duggar and husband Josh Duggar will be getting a divorce anytime soon. Josh, 27, recently was found to have had profiles on Ashley Madison, the hacked website that helps facilitate affairs for married men. After being exposed, he admitted he had been suffering from an addiction to pornography, which he said contributed to his unfaithfulness. In the wake of yet another scandal involving the father of four, many "19 Kids and Counting" fans are left wondering whether he and Anna will get a divorce or attempt to make their marriage work.
A new report suggests that Anna, 27, won't seek a divorce. According to People, she is "turning more to her faith," hoping that will help her to heal. Sources say she and Josh are likely spending a lot of their time praying and looking to God for answers. The source also said it seems more likely that Anna will try to "absorb some of the blame" for her husband's actions.
"Anna will not leave him," the source told People. "As with her in-laws, she is turning more to her faith than ever. She and Josh are probably praying around the clock right now, I would assume."
Depending on the type of marriage license Anna and Josh got when tying the knot in 2008, a divorce could be a difficult option for them. As we previously reported, if the couple entered into a so-called covenant marriage, which NWAMarriages says asks that they be "held to a higher level of marital commitment," they would be granted a divorce only on certain grounds and would first have to seek counseling. In these types of unions, the only three reasons couples may consider divorce are commission of a felony by one spouse, adultery, or physical/sexual abuse of a spouse or a child of either spouse. Two of Josh's sisters, Jill Dillard and her husband Derick, as well as Jessa Seewald and her husband Ben, have been open about having this type of union. Josh and Anna, on the other hand, have remained tight-lipped.
Both Josh and his parents, Jim Bob and Michelle Duggar, released statements regarding the Ashley Madison scandal Thursday. The statements appeared on the Duggar family website and stated that Josh had been "the biggest hypocrite ever" and had been living a shameful "double life." His parents added that their "hearts were broken," but that they had placed their trust in God and were trying to move forward. Anna has not spoken out since news of the scandal broke.
As we previously reported, on Wednesday, Gawker released images that linked a credit card registered on Ashley Madison to Josh Duggar. A Fayetteville, Arkansas, address, which has been traced to Josh's grandmother, Mary, also was listed on the site. He is said to have paid a total of $986.76 for the accounts, which were started in February 2013 and canceled in May 2015. Around the same time as the account cancellation, news broke that Josh had molested five minors when he was 14, two of whom were his sisters. TLC soon after canceled the Duggar family's hit TV series, "19 Kids and Counting."
© Copyright IBTimes 2023. All rights reserved.