'New Girl' Spoilers: What Happened In The Season 3 Finale? Catch Up Before The Season 4 Premiere On FOX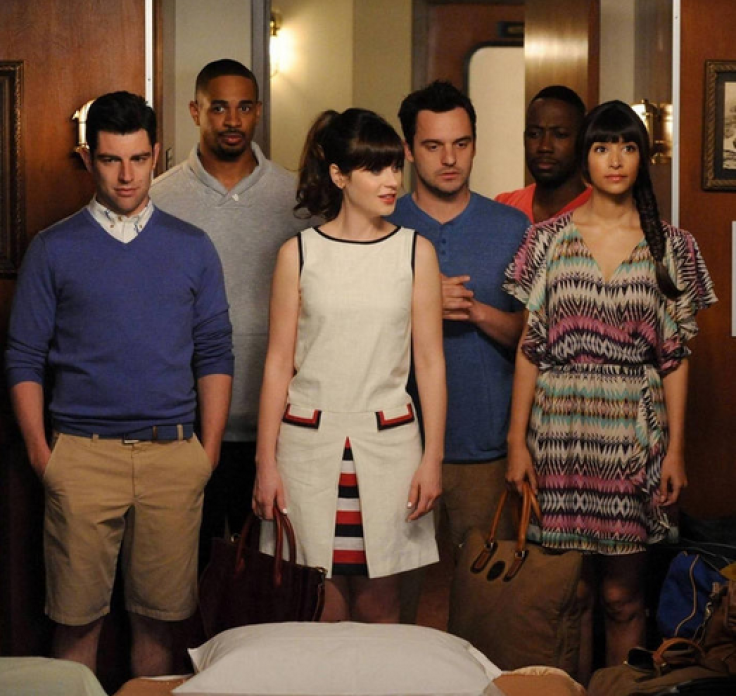 "New Girl" returns on Tuesday, Sept. 16, with the premiere of its 4th season. The new episode, titled "The Last Wedding," will feature Zooey Deschanel's Jess in a showdown with Kat, played by guest star Jessica Biel ("7th Heaven"), to win the affection of the wedding's best man ("Veep's" Reid Scott), while the rest of the gang make a pact to get lucky by the end of the night. However, before the fun of Season 4 can start, fans might need a refresher on Season 3 of the FOX comedy. (Who can keep track of Schmidt and Cece anyway?)
The Season 3 finale, titled "Cruise," featured just that – a cruise. After Nick and Jess's breakup, the couple (or ex-couple) was faced with the problem of having already booked a romantic cruise getaway. Their solution was to downgrade their tickets and bring the whole gang with them. Going into the cruise, everyone was determined to have a good time, with Nick and Jess promising to spend time together and learn to be friends again, and Schmidt planning a grand gesture to win Cece back.
However, things didn't go quite as planned. Nick and Jess couldn't shake the sexual tension as they tried activity after activity and, eventually, it all led to Nick attempting to kiss Jess -- only to receive a "yo"-filled rejection after which they decided not to speak (a decision that drove Winston crazy). Meanwhile, Schmidt underwent a comedy of errors in his attempts to impress Cece. First, he dropped the class ring he had made for her into the ocean (blaming his shock on seeing a maimed dolphin), then he had her serenaded right after finding out she had been texting Buster.
Winston reached a breaking point and gathered the whole group in the suite for an intervention. After some rehashing everyone got back on the same page, deciding to just be friends. However, they soon realized they had locked themselves in the room. When, three days later, they were finally freed, the suite had become "New Girl's" version of "Lord of the Flies," complete with a "speaking soap."
Fans who want to catch up on Season 3 can watch every episode on Netlfix. Season 3 ended with the housemates on good terms, but with some questions remaining for Season 4. How will Nick and Jess cope with being exes under the same roof? Plus, will Schmidt give up on trying to win back Cece? Fans will find out when "New Girl" returns on Tuesday, Sept. 16, at 9 p.m. EDT on FOX.
Will you be watching Season 4 of "New Girl?" Tweet your thoughts to @Ja9GarofaloTV.
© Copyright IBTimes 2023. All rights reserved.
FOLLOW MORE IBT NEWS ON THE BELOW CHANNELS