In New Hampshire, Ted Cruz Gives Victory Speech Even Though No One Seems To Really Like Him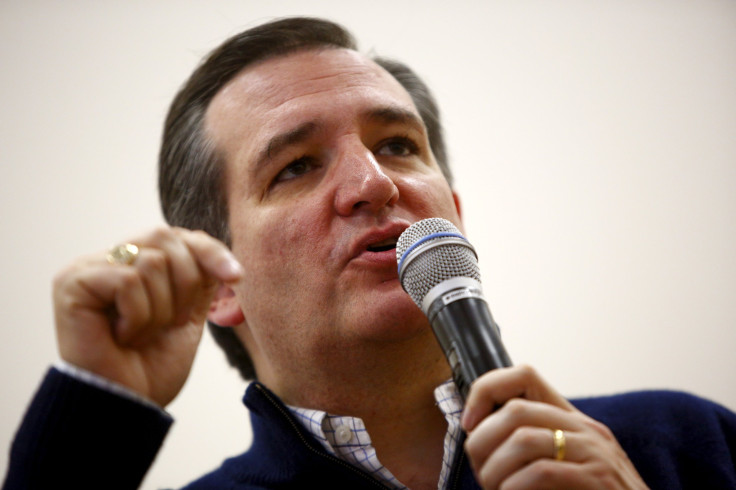 Texas Sen. Ted Cruz is known for being the most unpopular guy in the room — any room. He's been cast by the media, fellow lawmakers and his rivals on the 2016 trail as a "wacko bird," just awful and most recently, a vulgar word for female genitalia, which was repeated by none other than Republican front-runner Donald Trump.
New Hampshire voters finally had the chance to weigh in Tuesday and tell the world just what they thought of the conservative firebrand who has rubbed nearly everyone in Congress the wrong way and has been described by his former college roommate as the worst presidential candidate in the world. And they didn't have anything good to say, either.
With 72 percent of the vote in, Cruz was fighting with former Florida Gov. Jeb Bush for third place with about 11 percent. His concession speech was carried live by C-SPAN here.
"Because of tonight, the voters will have a clear choice. We are here because of you. Because of your passion for our nation," he told supporters in what sounded like a victory speech despite his fall after winning Iowa a week ago.
In an election year that has seen voters pick authenticity over political experience time and again, Cruz has managed to persuade many conservative Republican primary voters that he won't lead the nation further astray, or at the very least, relax abortion laws or allow women to sign up for the draft.
His views are generally GOP catnip. Cruz supports a constitutional amendment mandating that Congress pass a balanced budget, a longtime conservative goal. He has complained about corporate welfare, or tax subsidies, and would repeal the corporate income tax and replace it with a consumption-based tax. He seeks to repeal or roll back the Common Core education standards placed on states from the federal government and fiercely opposes President Barack Obama's executive actions on immigration. Cruz has said that marriage is between a man and a woman. Still, he has struggled to push ahead of his rivals.
Before Cruz was elected to the Senate in 2012 in a wave of Tea Party support, he clerked for Chief Justice William Rehnquist and served as solicitor general of Texas. He graduated cum laude from Princeton University in New Jersey before attending Harvard Law in Massachusetts.
After winning first place in the Iowa caucuses Feb. 1, Cruz was working to maintain his campaign's momentum. Heading into New Hampshire Tuesday, Trump was at the front of the pack of Republican candidates with about 31 percent of the vote, according to data averaged by Real Clear Politics. Florida Sen. Marco Rubio and Ohio Gov. John Kasich were essentially tied in second place with 14 percent, while Cruz and Bush were battling for third with 12 percent.
As embarrassing as his polls numbers were ahead of the vote, Trump decided to kick Cruz a little harder in the ribs during a Monday night rally in New Hampshire when he repeated the offensive term a woman shouted out in the crowd in reference to the Texan, CNN reported.
"She said he's a p----," Trump noted, before going on about it: "You know what she said? Shout it out because I don't want to say... OK you're not allowed to say and I never expect to hear that from you again. She said -- I never expect to hear that from you again -- she said he's a p----."
Earlier during the campaign season, Trump had argued that Cruz isn't eligible to become president because he was born in Canada to an American woman and a Cuban man. Despite his international and Latino roots, Cruz doesn't identify as Hispanic and hasn't been able to rally Latino voters to the GOP, which has failed to win over conservative Hispanic voters for years. It's unclear how far his appeal would go in a general election, where black, Hispanic, women and independent voters generally prefer more moderate candidates.
Cruz is taking his campaign to South Carolina next, where voters will pick their Republican delegates on Feb. 20.
© Copyright IBTimes 2023. All rights reserved.
FOLLOW MORE IBT NEWS ON THE BELOW CHANNELS