Ben Carson Slams Ted Cruz Over Iowa Cheating Controversy, Washington Ethics: 'If It's Legal You Do What You Need To Do'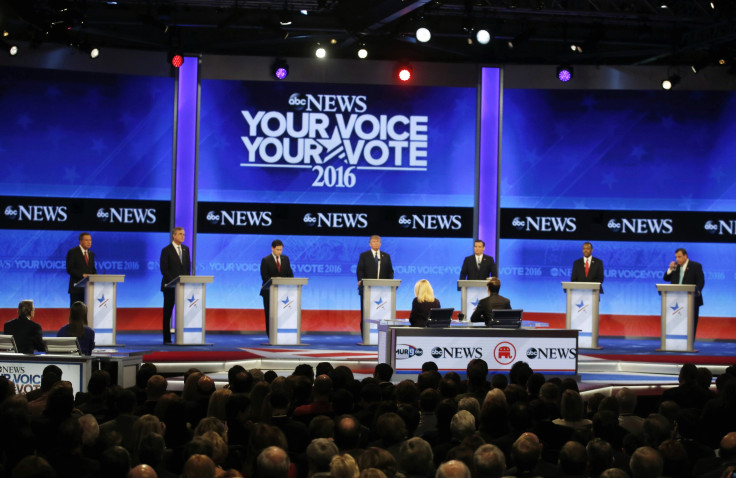 Ben Carson slammed Texas Sen. Ted Cruz Saturday night over his aggressive campaign tactics in the Iowa caucuses. Cruz's campaign sent messages to volunteers implying that Carson had dropped out of Monday's race and telling them to encourage Iowans to support Cruz, which Carson said during an ABC News debate was a perfect example of "Washington ethics."
"It gives us a very good example of certain types of Washington ethics," Carson said during a Republican deba. "If it's legal you do what you need to do to win."
When questioned by the debate's moderators, Cruz apologized to Carson and said his campaign did not mean to mislead voters. He blamed the incident on his staff reacting quickly to a live report from CNN, which said Carson would not being going straight to New Hampshire from Iowa and that he would be taking "a break" from campaigning.
"Ben, I'm sorry," Cruz said on the debate stage, calling Carson a friend.
Carson wasn't the only one who took issue with Cruz's actions. After coming in second to Cruz, Donald Trump called for a do-over vote this week and the two candidates have traded barbs on the campaign trail over the past few days.
CNN released a statement Saturday evening about the Cruz controversy. "What Senator Cruz said tonight in the debate is categorically false. CNN never corrected its reporting because CNN never had anything to correct. The Cruz campaign's actions the night of the Iowa caucuses had nothing to do with CNN's reporting. The fact that Senator Cruz continues to knowingly mislead the voters about this is astonishing," the statement said.
Ben Carson Presidential Candidate Profile | InsideGov
As Saturday's debate comes just days before of the New Hampshire primary, all the Republican candidates were expected to be on the attack. Before the debate, Trump maintained his lead in New Hampshire with an average of 30.7 percent support, while Florida Sen. Marco Rubio held 16.4 percent support and Cruz was tied with Ohio Gov. John Kasich for 12 percent support in the state, according to averages compiled by Real Clear Politics.
New Hampshire will be particularly important for Trump as he seeks to prove that he can turn the enormous enthusiasm for him reflected in polls into actual votes. The first-in-the-nation primary is important for the four establishment candidates as well. Former Florida Gov. Jeb Bush, New Jersey Gov. Chris Christie and Kasich all have focused their efforts on the Granite State and are each hoping to stop Rubio's post-Iowa momentum so they can do well enough there to stay in the race.
© Copyright IBTimes 2023. All rights reserved.