New iPad 3 Beware: Windows 8 Gearing for October Debut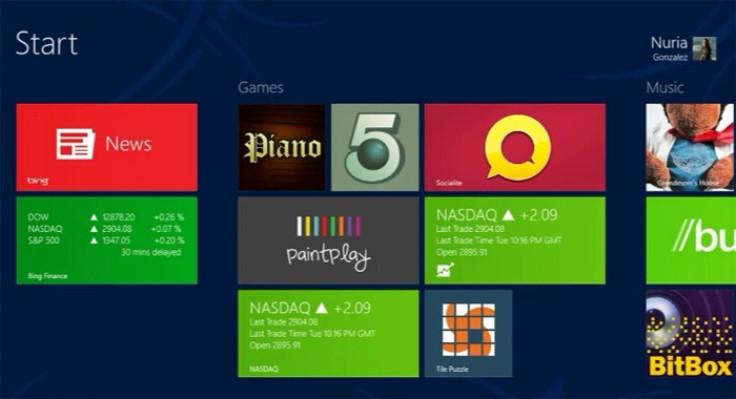 According to a new Bloomberg report citing anonymous sources familiar with the matter, Microsoft plans to wrap up its Windows 8 this summer, just in time for PCs and tablets with the new OS to go on sale around October. The sources wished to remain unnamed due to confidentiality issues.
Initial Rollout to Include Both Intel and ARM-Based Devices
The initial rollout will reportedly include devices running both Intel and ARM chips, keeping Microsoft's promise to support both standards, said the anonymous sources. With ARM technology, Microsoft will be using the same type of processors as Apple's iPad. The debut, however, will roll out less than five ARM devices, but more than 40 Intel machines.
Microsoft has not yet announced a ship date for Windows 8, but the estimated timeframe falls in line with the company's previous launch schedules: Windows 7 was released to manufacturing in the summer of 2009, on July 21, and Microsoft began shipping it on Oct. 22, 2009.
October Debut, in Time for Christmas Shoppers
An October launch would allow Microsoft to target holiday shoppers with the new software, which works with touch-screen devices, laptops and desktop PCs. If they miss the September-October time frame, they're going to be stuck without being able to ship anything in 2012, said Gartner analyst Michael Gartenberg. The last thing Microsoft wants to have is a situation where there are no compelling Windows tablets at a time when the new iPad looks like it's going to be a good seller for the holidays.
Nokia has indicated plans to be one of the first to ship a Windows 8 tablet, which would ship in the last quarter of 2012 at the earliest, according to the report. Moreover, Dell got on board as well, and said it is banking its tablet strategy on Microsoft's upcoming operating system, seemingly focusing on manageability for the enterprise IT space.
Microsoft to Unveil Release Strategy in Early April
According to the same anonymous sources, Microsoft will be hosting an event for its industry partners at the beginning of April. During this event, the company reportedly will unveil its release strategy and will provide more details on timing and marketing. The rollout will include fewer ARM-based devices because Microsoft has set rigorous quality-control standards, said the sources, adding that three of the Windows 8 ARM devices will be tablets. Microsoft and Intel spokesmen declined to comment at this point.
As Windows has always run on Intel chips, getting the Windows 8 ready for Intel processors is the easy part. A full version of Windows, however, has never run on ARM devices. Therefore the adjustment may take longer.
Windows President Steven Sinofsky has repeatedly stated that Microsoft aims to have both Intel- and ARM-based systems available when the new Windows 8 is released. Our collective goal is for them to ship at the same time, said Sinofsky. I wouldn't be saying it's a goal if I didn't think we could do it.
(reported by Alexandra Burlacu, edited by Surojit Chatterjee)
MUST READ - Nokia Lumia 900 vs Samsung Galaxy Note: AT&T Superphone Shootout
MUST READ - New iPad 3 Facing Smart Cover Problem: Why?
MUST READ - iPhone 5: iOS 5.1 Code Strings Assure 4G LTE, What Other Features Can We Expect?
© Copyright IBTimes 2023. All rights reserved.