New Jersey Governor Chris Christie's Trump Endorsement Comes After Months Of Insults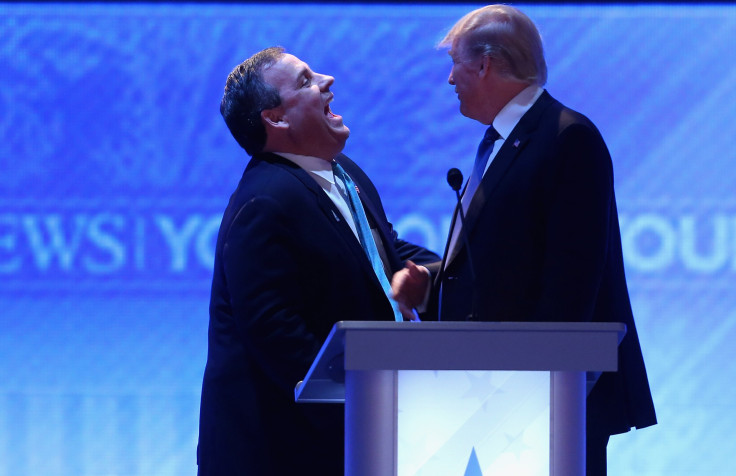 New Jersey Gov. Chris Christie endorsed Republican front-runner Donald Trump for president Friday, calling the mogul "the best person to beat Hillary Clinton" and saying he was "rewriting the playbook of American politics," according to NBC News. But Christie hasn't always been so complimentary.
Christie, who suspended his White House bid earlier this month after coming in sixth in the New Hampshire primary, has a history of speaking out — especially against Trump. Here's a list of some of Christie's most famous comments specifically about and insults likely directed toward the billionaire:
"'You want ratings? Christie is ratings. Ratings, Megyn. Total ratings. Big, very big!'" — to Megyn Kelly in September, doing an impression of Trump talking about the GOP debates.
"I've told him this to his face, so I'm not saying anything now that I haven't said to Donald. I said 'Donald, you don't want this job, this does not play to your skill set. If the speaker of the House is opposed to one of your bills, you can't fire him.' It's just not the way it works, man." — to supporters in Iowa in November.
"You sit down, he starts talking, he keeps talking while he's eating, he keeps talking when the check comes, and he talks to you all the way to the car and about himself. That's it." — to supporters at the same event in November, about what it's like to have dinner with Trump and his wife.
"I've said all along that Donald Trump will be as serious a candidate as he wants to be. And I have to tell you that I think that kind of stuff is not the kind of stuff that a candidate for the president of the United States should be talking about." — to Laura Ingraham in November, after Trump called rival Ben Carson pathological and said Florida Sen. Marco Rubio was "weak like a baby."
"I'm happy to take whatever advice he has, you know, in a 140 characters or less. That seems to be the way he communicates the best." — to reporters in November after Trump tweeted that Christie wasn't spending enough time in New Jersey.
"We do not need reality TV in the Oval Office right now." — to voters in Iowa in December.
"President of the United States is not a place for an entertainer." — to voters in Iowa in December.
"This is not a game where you're puffing out your chest and who can be the biggest toughest guy in public. It's about who can run the country." — to voters in Iowa in December.
"Donald, obviously — something happened in the last three or four days that made Donald lose his Christmas spirit." — to voters at the same event in December, after Trump criticized Christie's tenure in New Jersey.
"It's just not worthy of someone running for the president of the United States." — to Anderson Cooper in December, when Trump teased a journalist with disabilities.
"In the context of Donald, outrageous is a high bar." — to Cooper in December after the same incident.
"If Donald Trump starts screaming at me in the middle of a speech, you can be sure I'll say, 'sit down and shut up." — to Cooper in December, about whether he'd attack Trump at a debate.
"I am not going to respond to everything that comes out of Donald Trump's mouth. It may fascinate all of you. It is of absolutely no interest to me." — to Jake Tapper in December, after Trump said Democratic front-runner Hillary Clinton got "schlonged" by now-President Barack Obama in 2008.
"Things don't always go your way. You remember. I got sent down to the undercard debate by Fox News. I didn't think it was fair. But I didn't whine and moan and complain and walk away. I went to the debate. I argued my points." — to Sean Hannity in January, when Trump announced he was skipping a GOP debate.
"He sits in his 'jammies' in Trump Tower and phones in. You guys don't let any of the rest of us do that." — to Hannity in January, about Fox News' treatment of Trump.
"Everyone is kind of obsessed with him. I don't quite get it." — to the audience at a New Hampshire town hall event in January.
"I tell everybody who goes to a Donald Trump event, if you get to ask a question, just ask him 'how?' I don't care which of the things he talks about just ask him, 'How? How?'" — to the audience in January at the same event.
"We are not electing an entertainer-in-chief. Showmanship is fun, but it's not the type of leadership that will truly change America." — to voters at a New Hampshire campaign stop in January.
"I'm so thrilled and happy that none of you people — and I appreciate your restraint — none of you people make enough fun of Donald Trump to make him not come tonight. He's going to actually show up." — to suporters in New Hampshire earlier this month, before a GOP debate.
"I don't think it ever helps after you lose an election to ask for a do-over." — to Fox News earlier this month, after Trump finished second in the Iowa caucuses.
"I'm gonna say to you what Jim Gandolfini said to me: You know it's all make believe, right? There's no boardroom in New York where you look at people and say, 'You're fired.' It's television. It's all make believe. And if you think that forms the basis of experience to run a government as complex as the United States government..." — to an audience in New Hampshire earlier this month.
FOR FREE to continue reading
✔️ Unlock the full content of International Business Times UK for free
offer available for a limited time only
✔️ Easily manage your Newsletters subscriptions and save your favourite articles
✔️ No payment method required
Already have an account? Log in
© Copyright IBTimes 2023. All rights reserved.