New Photo Evidence Released Of Social Media Influencer Who Allegedly Killed Boyfriend
Miami police released crime-scene photos Friday of the popular social media influencer accused of fatally stabbing her boyfriend.
The photos show a bloody and chaotic scene in the luxury apartment the couple shared.
Courtney Clenney, 26, has pleaded not guilty to second-degree murder with a deadly weapon. Clenney said she acted in self-defense during an argument with Christian Obumseli, 27, in their apartment on April 3.
Text messages, recorded conversations, surveillance video and other evidence shows the couple had a contentious and violent relationship.
"Is love going to kill me?" Obumseli said in text messages to Clenney obtained by the Tampa Bay Times. "February was the worst month I had so far. I got cheated on. I got called that word again. I got slapped in my stitches that has re-opened multiple times and it's not healing fast enough."
*Warning: Images are graphic and may be disturbing to some viewers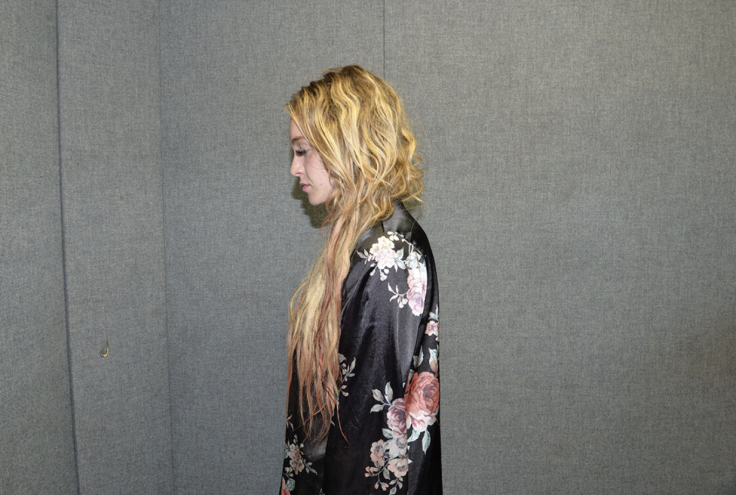 Clenney is accused of stabbing Obumseli just below the neck with a kitchen knife, hitting a main artery. She told police that she threw the knife more than 10 feet after he choked her. But a medical examiner testified that forensic evidence did not support her claim, saying Clenney had no visible injuries and Obumseli's wound was likely made by the "downward strike" of a knife.
The photos of Clenney show her in a black robe, tank top, and blood-soaked sweatpants. A close-up photograph of her hands show bloody fingernails.
Other photos show the murder weapon and heavy blood spatter throughout the couple's Miami high-rise condo. It also shows a blood trail from the elevator to the apartment unit on the 22nd floor.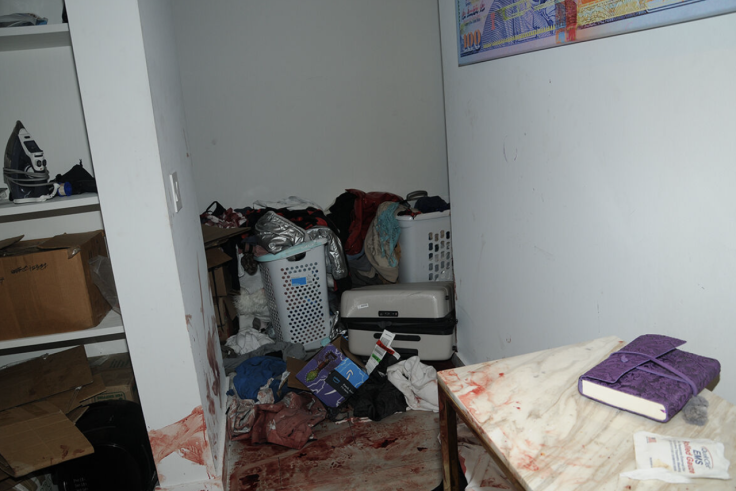 One photo shows a love letter Obumseli wrote to Clenney that had been ripped into three pieces. Obumseli writes, "You are the recipe when I am stuck in the toughest situations and the only one I want to spend my life with."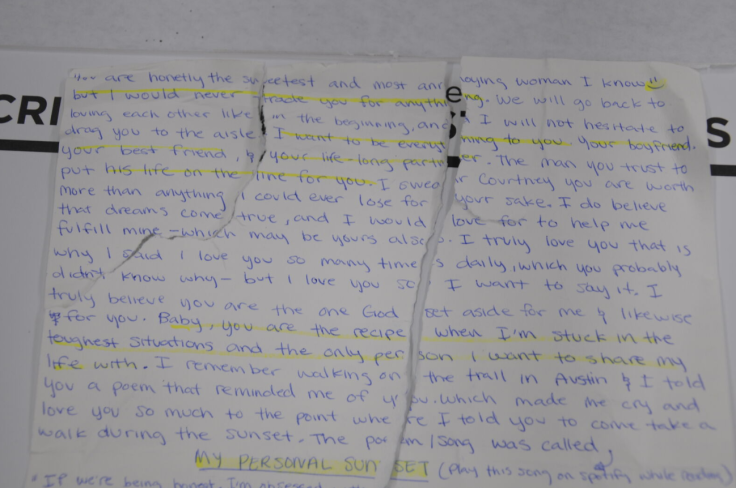 Clenney, who uses the name Courtney Tailor online, has more than 2 million followers on Instagram and a large audience on the subscription-only site OnlyFans, where she reportedly posted nude images of herself.
On Wednesday, the Miami-Dade State Attorney's Office released recordings taken by Obumseli that show Clenney shouting racial epithets and physically attacking him multiple times.
In one recording, Obumseli is heard apologizing while Clenney yells racial slurs and demands that he charge her phone. Clenney calls him the n-word multiple times and says, "shut up and let me slap you, dumb [expletive]."
Earlier this month, bodycam footage showed Clenney asking authorities for a restraining order two days before the fatal stabbing. The body camera footage released by Miami police showed her pleading with police to issue a restraining order, claiming Obumseli was "stalking her" and "sleeping outside the elevator of her apartment."
The Miami-Dade State Attorney's Office allege Clenney was the aggressor and had a history of attacking Obumseli. A video shows her attacking Obumseli in an elevator several weeks before the April 3 stabbing.
© Copyright IBTimes 2023. All rights reserved.
FOLLOW MORE IBT NEWS ON THE BELOW CHANNELS