New Year's Eve-Themed TV Episodes And Movies: 9 Flicks To Watch In Celebration Of 2015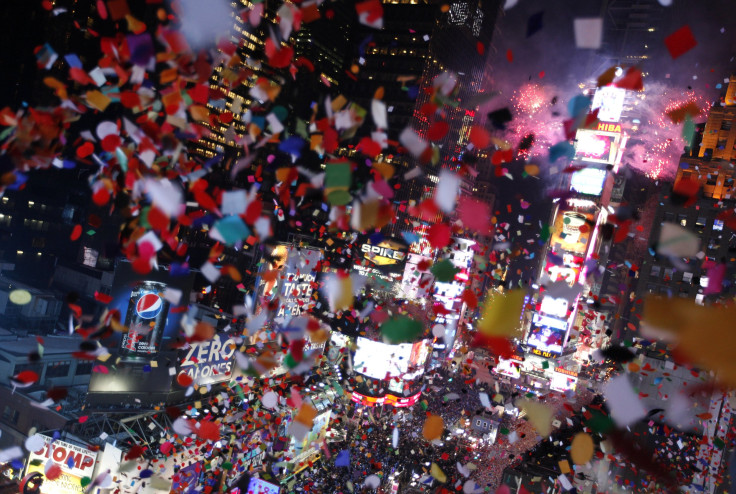 The clock is winding down, and we want to know how you're spending your New Year's Eve! Is it in the middle of a bustling party or plopped down in a sea of blankets on your couch? If it's the latter, then boy do we have a treat for you. We've rounded up the best New Year's-themed television episodes and movies for you to binge-watch before the clock strikes midnight on Thursday, Jan. 1. Check out the nine festive flicks below!
1. "New Year's Eve"
OK, so it may not be the best New Year's Eve movie, but it definitely wins the title of having the most celebrities featured in a New Year's Eve-themed film! The 2011 romantic comedy features stars like Halle Berry, Jessica Biel, Seth Meyers, Sofia Vergara, Sarah Jessica Parker, Michelle Pfeiffer, Lea Michele, Zac Efron and more.
2. "Sex and the City"
No, we're not talking about a specific "SATC" episode – we're actually referring to the 2008 film that featured a heart-warming moment between Carrie (Sarah Jessica Parker) and Miranda (Cynthia Nixon). Miranda was spending New Year's Eve alone after her split with Steve (David Eigenberg). But instead of letting her friend ring in the new year solo, Carrie traveled "all the way downtown" (sound tracked to "Auld Lang Syne") to be by her best friend's side as the clock tolled 12.
3. "Friends" – "The One with the Routine"
Nothing screams "Happy New Year" like a brother-sister dance routine. Ross (David Schwimmer) and Monica (Courteney Cox) break out their fiercest moves, which earned them an honorable mention in the sibling category of a middle school competition, to get on TV during this festive episode.
4. "How I Met Your Mother" – "The Limo"
The gang attempts to ring in the new year on a legendary note by taking on five parties in five hours. Find out whether they were able to complete their mission in the Season 1 episode, which is available on Netflix.
5. "The Office" – "Ultimatum"
Looking to ring in the new year with some dry humor? We've got your back. This "Office" episode will have you giggling and cringing as you watch the Dunder Mifflin crew attempt to celebrate the new year by adhering to their resolutions, which includes Kevin (Brian Baumgartner) eating more vegetables, Michael (Steve Carell) flossing more and Creed (Bratton) learning how to do a cartwheel. "Ultimatum" is available to view on Netflix.
6. "The O.C." – "The Countdown"
This New Year's Eve episode from Season 1 will have your hands sweating as you watch Ryan (Ben McKenzie) race the clock to kiss Marissa (Mischa Barton) before the ball drops.
7. "That '70s Show" – "That '70s Finale"
After eight seasons, the hit sitcom finally came to an end in 2006 with a series finale that took place in Dec. 31, 1979. In the final installment, fans watched as the bell bottom-clad crew gathered one last time in Eric's (Topher Grace) basement for a New Year's Eve smoke before heading up stars to greet the '80s. The episode is available to watch on Netflix.
8. "Gossip Girl" – "In The Realm of the Basses"
What's New Year's Eve without a little drama? "Gossip Girl" made sure to bring the heat to the Upper East Side in the Season 2 episode, "In the Realm of the Basses," which featured Dan (Penn Badgley) and Serena (Blake Lively) rekindling their ever-tumultuous relationship, Little J (Taylor Momsen) putting her high fashion-pursuits on hold for a high school education and the return of Chuck Bass (Ed Westwick). The "Gossip Girl" episode is available on Netflix.
9. "New Year's Evil"
This 1980 horror flick is juicy one. The movie centers on a TV host on New Year's Eve who gets a call from a killer who threatens to bring in the new year with some blood. The killer promises "murder at the stroke of midnight." You can watch "New Year's Evil" on Netflix.
What's your favorite New Year's Eve-themed movie/TV show to curl up to? Let us know in the comments section below!
© Copyright IBTimes 2023. All rights reserved.