New York Fashion Week 2012: Richard Chai Debuts Fall 2012 LOVE Collection for Men and Women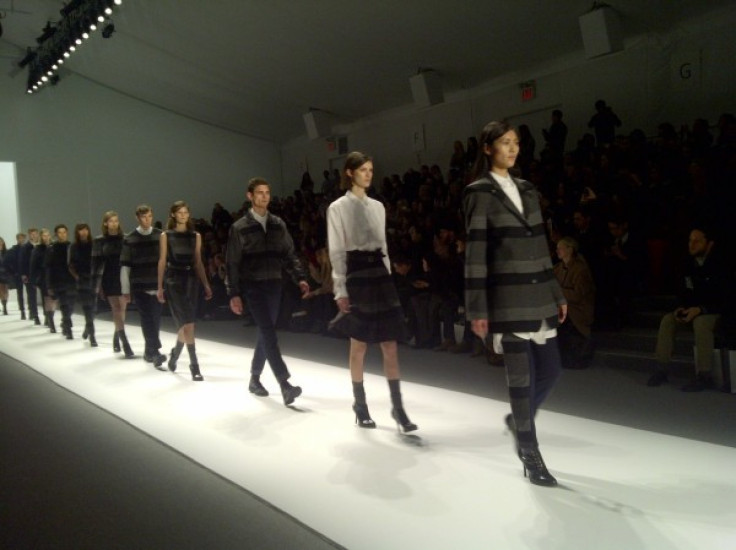 Richard Chai debuted his Fall 2012 collection, Richard Chai LOVE and Richard Chai Men's, on Thursday at Mercedes-Benz Fashion Week in New York with a balanced mixed of florals and urban stripes in mostly navy, gray and black with a splash of red. Chai played with proportions, mixing tailored and boxy, and gender, creating a delicate mix of masculinity and femininity.
Beginning with a fashionably late start, the Fall 2012 LOVE collection complemented the men's line with a balanced mix of florals and wide stripes in dark shades of gray, black and blue incorporated into both lines, fusing military with whimsical femininity. The collection was urban-inspired with boxy coats, jackets and trousers for both men and women with functional oversized pockets.
"I didn't want to do anything that was tricky," Chai told The New York Times of his handsomely feminine collection. "I didn't want to create looks that were just for the show. I wanted it to be approachable and believable, but also be really aspirational."
Most notably, Chai, who was recently named creative director at Filson, introduced new pieces for menswear, including coats with an urban sensitivity and extra large duffel bags and backpacks in gray with black leather trim.
For women, the LOVE line was half red floral prints contrasted on a black backdrop and classic wide stripes in gray, black and navy blue. Floral dominated skirts, dresses and blazers, which were cut longer and draped over models' shoulders. Hints of tie-dye in a lighter shade of blue were thrown in the mix of a palette of neutral tones in airy, pleated palazzo pants. Other pieces in the collection were more masculine in feel, with evenly boxy, looser fits for coats paired with fitted trousers in heavy-duty wool fabrics. While many coats were oversized and squared, others were more body-hugging, with belted trenches in heavyweight tweed. Corduroy pants were paired with shapely blouses, mostly in white and black.
Models' hair, both men and women, was tousled, catching air as they strutted down the runway thanks to Frank Rizzieri and Kevin Ryan for Aveda paired with natural makeup.
© Copyright IBTimes 2023. All rights reserved.