New York Fashion Week: Dennis Basso Celebrates 30 Years In Fashion For Fall 2013 [PHOTOS]
"If you're not in fashion, you shouldn't be in New York this week!" designer Dennis Basso shouted backstage Tuesday during our interview ahead of his Fall 2013 show at New York Fashion Week. And what a true statement to sum up the week, which has been filled with the best of the best parties, A-list celebrities, and of course, fashion, fashion and more fashion.
But on Tuesday, all eyes and ears were on Basso, one of the country's premier fur and ready-to-wear designers, as he celebrated his 30th year in the business. In honor of his milestone, Basso based his Fall 2013 collection on the women who "embodied the glamour, strength and elegance that has inspired me throughout my career," he said.
"Babe Paley, Millicent Rogers, C.Z. Guest, Gloria Guinness. All had a richness, all had taste," Basso said backstage. "They would take something simple and create something more elaborate on their own. They experimented with fashion."
For the Fall 2013 season, Basso molded his collection after these iconic female figures but with adaptations for the modern international woman, with silhouettes including knee-length skirts and fitted bodices that accentuate a woman's curves.
"We've done body con clothes, close to the body," Basso said. "Illusion, a little bit more sexy than they might have been doing in that period, but yet not overt."
Isolated from the time of these international style icons was the design motif of plaid: Metallic plaid in tweed with plaid sequins on chiffon were paired with embroidered tulle, lace, duchess satin, organza and, of course, furs dyed to match the collection palate of evergreen, french grey, blue, black, ivory and chartreuse.
Basso also took to time to share his story with me, which began with selling pelts out of the trunk of a rented town car. He moved to New York City as a young man looking for a job in fashion and fell into the fur business.
"I came here for school and I was looking for a job. I went on numerous interviews and one of them happened to be a fur company and that's who hired me. And that was it. Here I am," he said.
Since his first show at the Regency Hotel in 1983, Basso has gone on to create some of finest luxury goods in America for celebrities including Ivana Trump, Joan Rivers, Janet Jackson, and most recently for Charlize Theron in the film "Snow White & The Huntsman."
"Here I am today at Lincoln Center. It's been amazing with my amazing staff, amazing creative team. It's been an unbelievable journey," the designer said as he reflected on his both financially and creatively lucrative career.
This year, Basso is also celebrating another anniversary: his partnership with QVC, where the designer sells affordable faux furs and ready-to-wear on the home shopping station.
"I'm celebrating my 20th anniversary at QVC. It's really been amazing," the designer said. "We're creating a whole series of things. We're doing faux fur, home furnishings and beautiful ready-to-wear in blouses and scarves and handbags. We're all over the place and it's been a growing sensation."
But at home, Basso is a regular guy with his husband, Michael Cominotto, whom he wed a little over a year ago and their dog, a miniature schnauzer named Lily -- even on hectic show days.
"[Tuesday morning,] I was home with my husband Michael and my dog Lily. We had some breakfast, took the dog for a walk, I went for a run in the park this morning with the dog and that was fun," he said.
But of course, the real question of the day was not about what the models were wearing for the Fall 2013 season, but rather, what will his beloved Lily, whom he notoriously drapes in the finest of furs, don this season?
"Lily's wearing a cashmere turtleneck and a puffer jacket. She's doing a double look, a layered look," he said. "She's adorable."
To stay up to date with the trends and goings-on of New York Fashion Week, follow me on Twitter, @nadinedeninno, and check out IBTimes' special coverage page for the latest fashion news.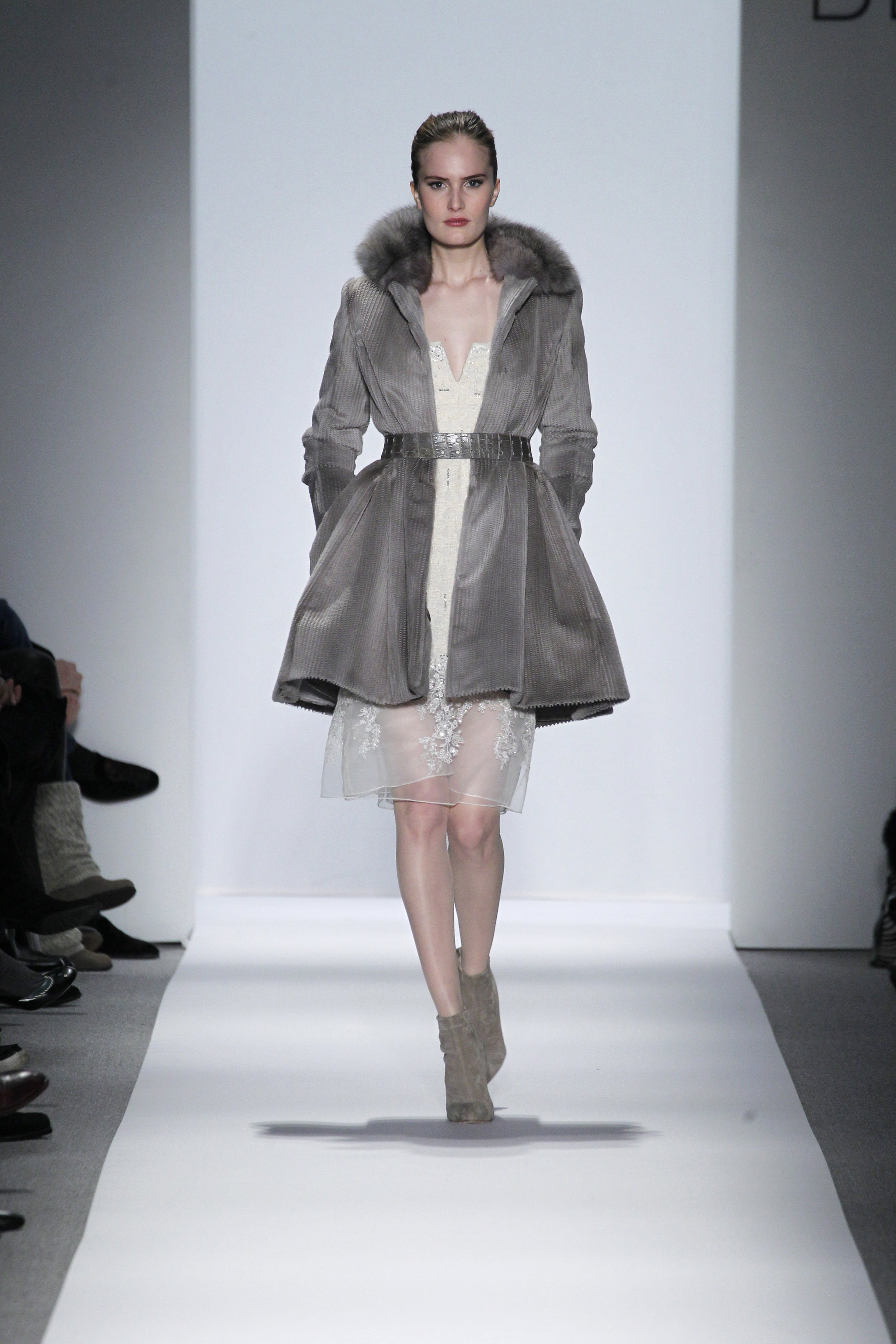 © Copyright IBTimes 2023. All rights reserved.