New York Newspaper Outs Gun Permit Owners, Editors Get Outed Back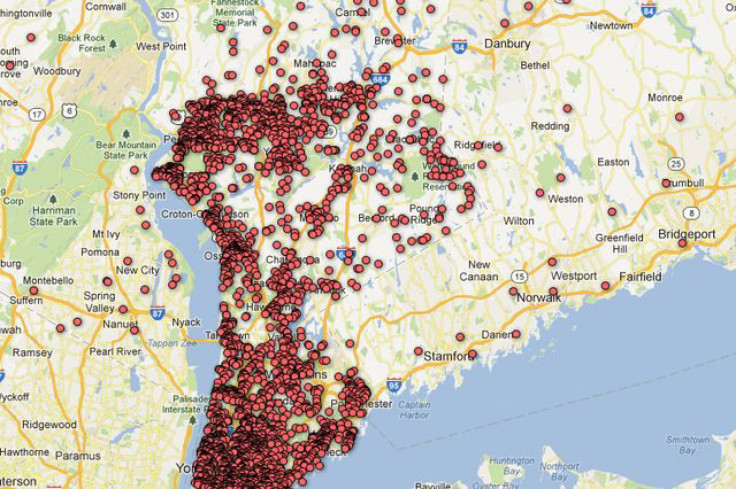 A New York newspaper's decision to publish the names and addresses of gun-permit holders is turning into all-out outing war.
Earlier this week, the Journal News set off a social-media firestorm when it published an interactive Google map of the names and addresses of pistol permit holders in Westchester and Rockland counties, suburban areas north of New York City. The paper legally obtained the database through a simple Freedom of Information Law request to the county clerks' offices. It stressed that, "Being included in this map does not mean the individual at a specific location owns a weapon, just that they are licensed to do so." The information request was made in the wake of the Dec. 14 Newtown, Conn., school shooting that left 20 children and eight adults dead. The tragedy has been a tipping point in a long-simmering gun control debate in the U.S., which has dominated headlines and clogged social media feeds for almost two weeks.
As of Wednesday afternoon, media fervor surrounding the map's publication was growing, with tempers flaring on both sides. The map has been shared more than 28,000 times on Facebook and has attracted almost 2,000 comments, most of them negative. "This is the type of thing you do for sex offenders not law abiding gun owners," one commenter noted.
The map also provoked a swarm of complaints from conservative pundits and politicians, with Breitbart's Ben Shapiro blasting it as "intimidation" and others calling it irresponsible.
In a statement, New York state Sen. Greg Ball, a Republican from the area, called on the paper to remove the information. "Journal News has placed the lives of these folks at risk by creating a virtual shopping list for criminals and nut jobs," he said. "This map is bad for the good guys and good for the bad guys."
Posted on Lohud.com, the Journal News site, the map was part of a larger feature story addressing citizens' concerns over which of their neighbors might own firearms. The story was written by Journal News reporter Dwight R. Worley (whom the paper identified as the owner of a Smith & Wesson 686 .357 Magnum).
IBTimes sought comment from Worley, who replied with a statement from Janet Hasson, president and publisher of the Journal News Media Group, a unit of the Gannett newspaper empire.
"Frequently, the work of journalists is not popular," Hasson said. "One of our roles is to report publicly available information on timely issues, even when unpopular. We knew publication of the database (as well as the accompanying article providing context) would be controversial, but we felt sharing information about gun permits in our area was important in the aftermath of the Newtown shootings."
The Journal News is owned by Gannett Co. (NYSE: GCI), the parent company of USA Today and many other newspapers. On Wednesday, the Journal News's Randi Weiner reported on the growing criticism, writing that the paper received hundreds of complaints from callers -- some downright vitriolic -- who said the map is violating their privacy and jeopardizing their safety.
Update: Journal News Pistol Whipped After Gun-Map Flap
Amid the flurry of protest, no small percentage of commenters suggested fighting fire with fire by posting the names and addresses of Journal News staffers -- and now at least one blogger is claming to have done just that.
Chris Fountain, identified on his blog as a lawyer and author from Greenwich, Conn., has published the names, addresses and phone numbers of 50 editors, publishers and executives from the Journal News and Gannett. The list includes Hasson and Journal News editor Cyndee Royle. The blog post has attracted some 338 comments and more than 100,000 page views, according to an analytics screenshot posted by Fountain.
Fountain wrote that he obtained Royle's personal information from a reader identified only as "Jeff." On Twitter, meanwhile, Royle continued to take heat Wednesday afternoon from users posting angry, even threatening tweets at the editor's Twitter account, @croyle1. Royle's own tweets are not visible, as her account is set to "private."
© Copyright IBTimes 2023. All rights reserved.