New York Protest 2014: Thousands March Through Manhattan To Rally Against Police Violence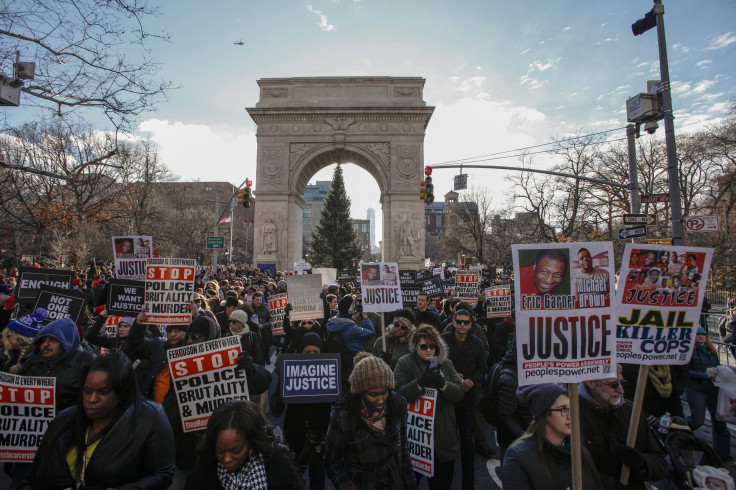 Washington Square Park in Manhattan was the springboard for a major protest in New York City on Saturday against what many participants said are patterns of violence and racial profiling in U.S. law enforcement. A massive crowd of protesters emboldened by the recent killings of 18-year-old Michael Brown in Ferguson, Missouri, and 43-year-old Eric Garner in Staten Island, New York, packed every corner of the 9.75-acre park before marching up Park Ave. Many shouted and carried signs, some of which read "Hands Up, Don't Shoot," "Jail Killer Cops!" and "Justice For Eric Garner and Michael Brown."
The march was part of a nationwide "Week of Outrage," a series of demonstrations planned for several major cities across the U.S. over the recent spate of police-involved killings. Concurrent protests in California and Washington, D.C. took place on Saturday as well.
New York has witnessed several highly-charged protests in recent years, including this year's largest-ever march against climate change, but "this is a whole other magnitude," said Penny Damaskos, 55, a Manhattan social worker and 20-year New York City resident. While it is unclear exactly how many people participated in Saturday's march through the city, various media outlets estimated the number to be over 50,000. A Facebook page for Saturday's event had over 49,000 users who said they would attend.
Many demonstrators said they were angry that a grand jury did not indict NYPD Officer Daniel Pantaleo, who used an illegal chokehold while attempting to arrest Garner in July. Garner was allegedly selling cigarettes illegally on the street in Staten Island, but was unarmed. Another grand jury in Missouri failed to indict police officer Darren Wilson, who shot and killed Brown during an alleged confrontation but will not face charges. "All we want is for these cases to go forward, and they never go forward…The system needs to be repaired," Damaskos told International Business Times. "People that I love, this could happen to them."
People young and old participated in Saturday's Manhattan march, which remained peaceful through the afternoon. Many families carried their children on their shoulders or in strollers; some young protesters held signs that read, "Children 4 Justice."
"We've been talking about this a lot in our house…[the kids] understand what it means to have friends who look different than you, and to care about them and worry about how they're being treated," said Adam Brumbach, 45, a principal at a public high school in Manhattan whose young children were in tow. "Clearly there's a problem with racist policing, racial profiling...It seems the least I can do is show up at these marches."
For many demonstrators, the march hit close to home. "I'm going to get emotional," Trish Palmer, 40, a project coordinator for a New Jersey-based architecture firm, told IBTimes. "It's disheartening, people are dying, these cops, they're taking our children's lives."
Palmer added that she has had negative experiences with the police, herself. "My entire family, we've been racially profiled by the cops," she said. "We're lucky that we're not six feet under."
© Copyright IBTimes 2023. All rights reserved.