Neymar Injury Video: Hard Foul On Brazil Star Prompts Questions Before Upcoming World Cup 2014 Semifinal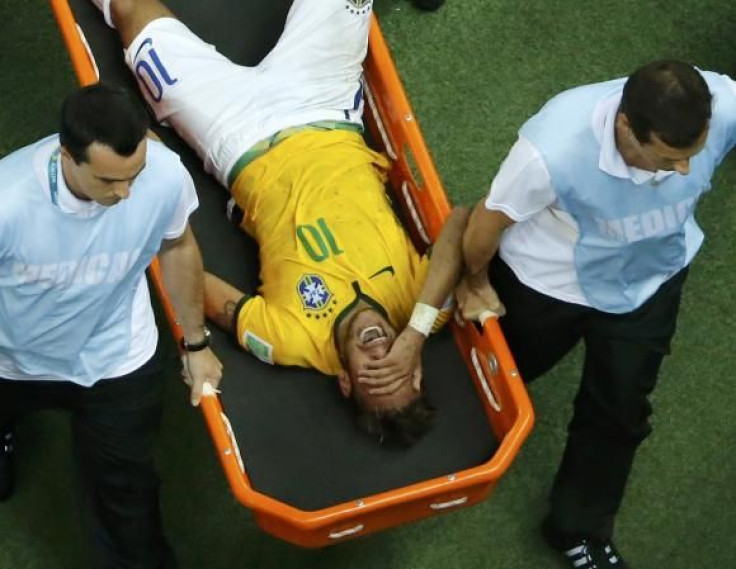 Once the favorites to win the 2014 World Cup, Brazil faces an uphill battle ahead in light of Neymar's injury. The hosts will be without arguably the nation's best player for the rest of the tournament, after the forward suffered a fractured lumbar vertebra on Friday in a quarterfinals match against Colombia.
The injury is a very disappointing one for Brazil, who entered the World Cup with the highest of expectations. Now, they'll have to try and win two matches against the best the world has to offer in a semifinal match against Germany. The winner of the match, faces the winner of Argentina vs. the Netherlands.
Neymar is expected to be sidelined for roughly six weeks. While the 22-year-old can't contribute in the World Cup, he hasn't given up hope in being part of a championship team.
"My World Cup has not ended, it has been interrupted by a play but the tournament goes on and I told my team-mates to do everything in order to help me achieve my dream to be world champion," Neymar said in a video he released to his fans.
With Neymar out, fans have been left with a few unanswered questions.
Could Neymar's injury have been avoided?
The Brazil - Colombia match was extremely physical. The contest, which saw Brazil win 2-1 and advance to the World Cup's final four, featured 54 fouls. Only three yellow cards were issued for fouls, as Spanish referee Carlos Velasco Carballo chose to not reprimand players for harsh fouls.
Colombia's James Rodriguez entered the contest with a World Cup best five goals, and was aggressively marked for much of the match by Fernandinho. The Brazilian midfielder did not draw a yellow card, which frustrated a Colombia side that felt that their most important player wasn't being protected by the officials. After Rodriguez took a hit that appeared to be particularly cynical, Neymar was the victim of a tournament-ending blow to the back from defender Juan Zuniga.
Lesión de Neymar Jr que le fracturó la 3ra...by mxwilli
Can Brazil win the 2014 World Cup without Neymar?
The injury to Neymar doesn't end Brazil's hopes for a record-setting sixth World Cup, but it has made things considerably more difficult. Brazil is no longer the favorite to win it all, and has been made a slight underdog in their semifinal match against Germany. Reaching the final would show a lot about the team's resiliency.
Head coach Luiz Felipe Scolari may need to adjust the Brazil lineup, even though it has helped them avoid a loss through five matches. Neymar has been the team's most reliable offensive weapon, and it will be difficult for Brazil to keep up with the likes of Germany, Argentina or the Netherlands. While the three remaining nations have flashed moments of greatness in the tournament, they have also been inconsistent and certainly prone to defensive lapses.
There are several fine defensive players on Brazil who could rise to the occassion with their their attack in flux. Against Colombia, center backs Thiago Silva and David Luiz scored to lift Brazil. Scolari still has several players who have been quiet, and could be on the verge of a breakout performance. Defenders Dani Alves and Dante, as well as midfielders Ramires and Hernanes are capable of keeping Brazil in the hunt.
Who will pick up the slack in Neymar's absence?
Scolari is expected to give Chelsea attacking midfielder Willian a larger role with Neymar sidelined. He would be teamed with Blues teammate and playmaker Oscar. Such a pairing might bolster a rather incohesive midfield. Willian is a more than serviceable dribbler and passer, and there is no reason to believe he won't shine in the spotlight.
The Brazil attack has been inconsistent even with Neymar in the lineup, which could prompt Scolari to roll the dice and give Jo more playing time at the expense of Fred. While Brazil will certainly miss Neymar, the attack was in need of a shakeup, and the possible combination of Willian, Jo, and perhaps Bernard could be an opportunity to throw off the German defense in the semifinals.
© Copyright IBTimes 2023. All rights reserved.