NHL Trade Rumors: Luongo, Kiprusoff, Clowe, And Whitney Could Be Dealt Before Trade Deadline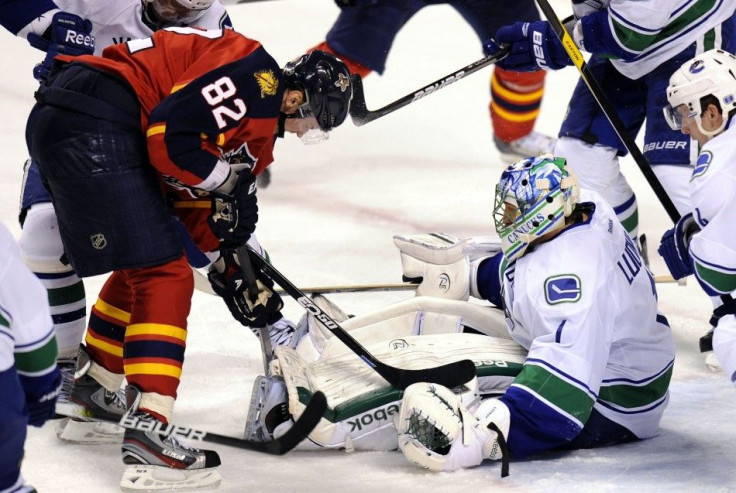 There has been a flurry of activity in the closing days leading up to the trade deadline, with a lot of star veteran names being offloaded by teams most likely set to miss the playoffs.
In this seller's market, the Dallas Stars and the Calgary Flames have been two teams who are prepared to start over and rebuild. Their GMs have tried to extract the most value possible out of their veterans, trading off players such as Brendan Morrow, Derek Roy, Jarome Ignila, and Jay Bouwmeester for generous packages of prospects and draft picks.
With the window set to close at 3 p.m. ET on April 3, here are some players that may still be on the move.
Roberto Luongo (Vancouver Canucks)
Luongo has been successful as the backup to number one goaltender Cory Schneider, but his $5.33 million per year contract is far too big to pay for any backup. GM Mike Gillis has set a high asking price, but with few proven goalies on the market, he could get the price he wants for Luongo. Look for the Maple Leafs and the Capitals to make one final round of inquiries for the 33-year-old.
Miikka Kiprusoff (Calgary Flames)
After the departure of their longtime captain, Kiprusoff may be the next one out the door as the Finnish goaltender has been in talks with the Toronto Maple Leafs. Despite having another season left on his $5.833 million per year contract, the netminder could be offloaded to a team looking for a veteran in goal. Kiprusoff is also contemplating a move back to the Finnish league at the end of this season.
Ryane Clowe (San Jose Sharks)
The Sharks are back in the thick of the playoff hunt, with a recent five-game winning streak propelling them to sixth in the Western Conference standings. But with the trade deadline looming, GM Doug Wilson may be ready to cash in on the underperforming power forward, still without a goal to his name with just 13 games left in the season. Clowe has attracted interest from the Bruins, though they may not want to take on his $3.625 million contract after recently signing Jaromir Jagr from the Stars.
Ryan Whitney (Edmonton Oilers)
Whitney is in the final year of his $4 million a year contract with the Edmonton Oliers, and could be dealt for some value if GM Steve Tambellini thinks that future value is more important than having the experienced blue-liner for the Stanley Cup Playoffs. With defensemen Ladislav Smid recently signed to a four-year, $14 million contract, all signs point to Whitney being dealt before the window closes. Potential suitors include the Bruins, the Canadiens, and the Flyers.
© Copyright IBTimes 2023. All rights reserved.