Is Nicki Minaj Making Fun Of Cardi B? Rapper Disables Instagram Comments
Nicki Minaj and Cardi B's epic fight at the Harper's Bazaar ICONS party may have happened a few weeks ago, but it looks likes the "Barbie Dreams" artist is still trolling her musical rival. The 35-year-old rapper appeared to make light of her ongoing feud with the former reality star in her recent Instagram post.
Cardi B was escorted out of the ICONS party on Sept. 7, after attempting to attack Minaj at the star-studded event. Although she did not make any physical contact with her rival, the former "Love & Hip Hop: New York" cast member made it clear she was at war with the "Barbie Tingz" rapper.
On Thursday, Minaj posted several photos of new merchandise available for purchase that appeared to mock Cardi B's response following their fight at the industry event. The "Queen" artist shared pictures of backpacks, jackets and T-shirts with the words, "Nicki Stopped My Bag" written across them.
Minaj disabled her Instagram comments on the photo for the merchandise but shared the link where fans could purchase the items.
The phrase on the merchandise actually comes from the Cardi, who accused Minaj of attempting to bully other artists in the industry from working with her rival. "I let you sneak diss me, I let you lie on me, I let you attempt to stop my bags," she wrote in an Instagram post following their fight.
Cardi went on to claim she attacked Minaj after learning the rapper spoke about her daughter, Kulture, and liked negative comments shaming her parenting skills. However, the "Chun-Li" artist later denied using the other rapper's baby girl in their beef.
While speaking on her Queen radio show on Apple Music's Beats 1, Minaj addressed the fight and Cardi's accusations. "I just want people to know that Onika Tanya Maraj has never, will never… speak ill on anyone's child. I am not a clown."
Instead, Minaj suggested Cardi was trying to save herself from embarrassment by claiming she was defending her baby's honor. "You knew that when that footage came out, you were about to look dumb. So your team, they hurry up and put out a statement. I didn't stop anyone's bags. She had to say that because she has built her career of sympathy and payola," the rapper shared.
Cardi hasn't responded to Minaj's merchandise post. The "Be Careful" rapper has been busy with work after her husband, Offset, tricked her into pushing back her schedule to fly to Atlanta for an emergency.
However, once she arrived, she learned he was fine and simply wanted to gift her with a Lamborghini Truck as an early birthday present. Cardi B will celebrate her 26th birthday on Oct. 11.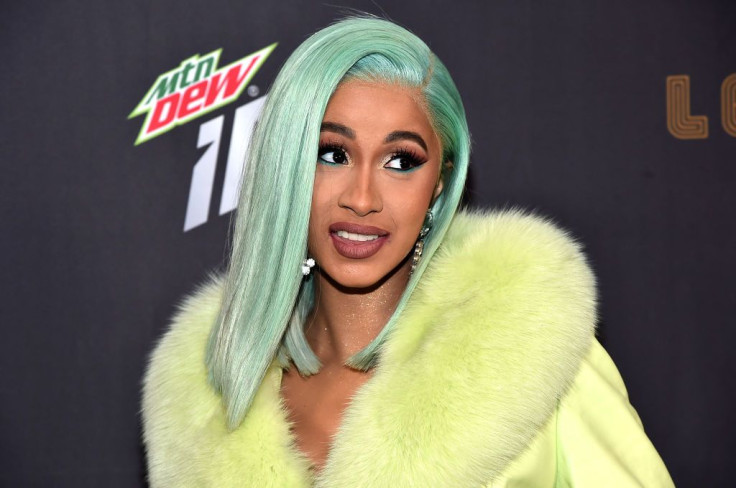 © Copyright IBTimes 2023. All rights reserved.