Nigeria's Hunger Games: Corrupt Government To Invest In Olympic Training Program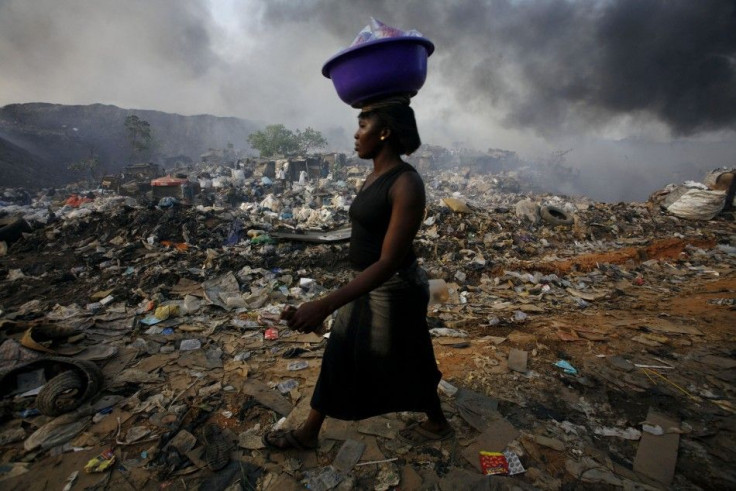 In the face of Nigeria's latest crisis, President Goodluck Jonathan is angry, vocal and resolute.
"President Jonathan believes that for us to change the present scenario, we need to specialize; we need to plan," said Minister of Information Labaran Maku to a roomful of reporters on Wednesday.
This has nothing to do with terrorism, poverty, crime or other threats -- this has to do with the 2016 Olympic Games in Rio de Janeiro.
Jonathan is disappointed because Nigerians took home a grand total of zero medals during the 2012 Olympic Games. Now, said Maku, the president is planning a major overhaul to the state's athletic training program.
"[Jonathan] called for a new direction in sports management as well as funding and planning. He believes that what this nation needs at the moment is to take a somber look at what has happened and indeed change the scenario by working hard on all that we need to do to return the sporting sector to his glory."
These London games apparently proved shameful for the West African nation, which came away with nothing to show for a whopping $13 billion worth of investment in its athletes.
As the most populous country in Africa, Nigeria has plenty of medaling potential. The country has proven this in years past, winning three medals in 2008, two in 2004, and three in 2000.
But Nigeria also has plenty of other problems to address, and these should take precedence over its Olympic standing.
More than half of the population lives below the poverty line, and the unemployment rate is over 20 percent. Religious tensions result in constant clashes, and even terrorist attacks. Infrastructure, especially in the country's rural areas, is woefully underdeveloped. A pattern of fiscal mismanagement has discouraged international investment and assistance.
Nigeria's developmental failures are not for lack of funds -- it has more to do with the high levels of corruption that plague the central government. The country's crude oil revenues, which have helped the sub-Saharan country achieve an impressive GDP of about $235 billion, have not resulted in a decrease in poverty levels.
Part of the problem is that the government has failed to invest in the refineries necessary to convert its abundant crude into refined, usable product -- so this oil-rich country actually imports its fuel, and then spends billions of dollars on subsidies so that citizens can purchase it at an affordable price.
A parliamentary investigation in April of this year revealed that this import-and-subsidize program is dripping with corruption. The BBC reports that over the past two years, a huge racket involving importers, retailers and state-run enterprises has stripped about $6 billion from public coffers.
Still, Nigeria remains the largest crude producer in Africa, and oil revenues account for more than 80 percent of national income. Endemic problems notwithstanding, this resource has potential to effect real change for the general population.
And in recent months, initiatives to improve security in oil-producing regions have resulted in even higher profitability than normal, according to Bloomberg. Overall revenues rose 8 percent in the last month alone, with more than $4 billion from oil income.
With that kind of money rolling in, it is certainly possible that Nigeria will be able to significantly improve its Olympic performance by implementing more sophisticated athletic training programs. But with so many people suffering from poverty and conflict, the government would do well to get its priorities straight before pursuing Olympic glory at the expense of overall development.
© Copyright IBTimes 2023. All rights reserved.