'No Man's Sky' NEXT Update: Multiplayer, New Features Coming To All Platforms
Hello Games is launching the next big free update for "No Man's Sky" next week. Called NEXT, the update will add a full Multiplayer experience to the action-adventure survival game and it will also introduce a bunch of new features to the almost two-year-old game.
On Tuesday, the developer announced via the game's official website the imminent launch of the NEXT update. The free update is scheduled for release on July 24 and it is coming to the PlayStation 4, PC and — for the first time — Xbox One.
"Nearly two years ago our small team of friends, with a shared love of sci-fi, opened up the universe of 'No Man's Sky' for the first time … It was broad in a way that almost no other game is, but with four updates it has become broader and so much deeper too," director Sean Murray said. "That will be even more true with the launch of NEXT, bringing a full Multiplayer experience. We can't wait for you to play, but hopefully you can see from the trailer this is a very new experience."
With Multiplayer support, players can now assemble small groups and work on common goals like planetary exploration, building, space combat, racing and many more. All of the adventures are playable in both first– and third-person perspective, and players are free to choose which one they like to use.
Hello Games has also released a teaser trailer that showcases the new features that will come with the NEXT update. The new terrain generation system is showcased in the video through the enhanced rock and ground textures, water and clouds. Also present is the improved space visuals. Eurogamer also notes that lighting, atmospheric effects and foliage appear to have a bit of an overhaul, as well.
The new "No Man's Sky" update trailer also includes scenes showing what appears to be an underwater base. Hello Games, after all, indicated that the upcoming update will now allow players to build their bases anywhere on a planet's surface. Before, they were only allowed to do so in select areas. Building complexity and size limits are also significantly increased, so players can now enjoy "hundreds" of new base parts.
Check out the detailed release notes for the NEXT update below:
Multiplayer
Team up a small team of friends and explore the universe together, or be joined by random travelers.
You can help friends to stay alive, or prey on others to survive.
Tiny shelters or complex colonies that you build as a team are shared for all players.
Fight as a pirate or a wingman in epic space battles with friends and enemies.
Race exocraft across weird alien terrains, creating race tracks and trails to share online.
Character customisation allows you to personalise your appearance.
Visual Overhaul
The game is fully playable in third or first person, both on-foot and in ship.
Planetary rings and improved space visuals make space more beautiful than ever.
Dramatically improved planetary terrain generation, ground textures, water and clouds bring the environment to life.
Significantly more detail added to ships, NPCs and buildings.
Unlimited Base Building
Bases can now be built anywhere on any planet.
Dramatically increased base building complexity and size limits.
Hundreds of new base parts.
Own multiple bases.
Command Freighters
Assemble and upgrade a fleet of frigates and command them from the bridge of your freighter.
Send your fleet out to into the universe, or deploy them to help you as you explore a specific system.
Improved freighter base building allows a truly custom capital ship.
Invite your friends aboard and take on challenging multiplayer missions from the Galactic Commission Station on your bridge.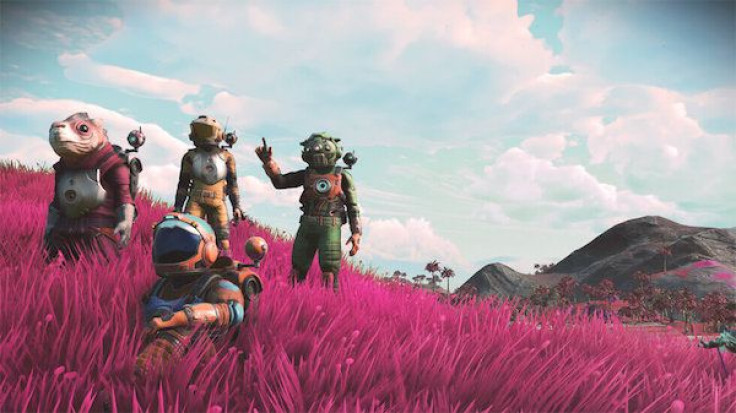 © Copyright IBTimes 2023. All rights reserved.
FOLLOW MORE IBT NEWS ON THE BELOW CHANNELS