No-Vacation Nation: Will Americans Ever Get Federally Mandated Time Off?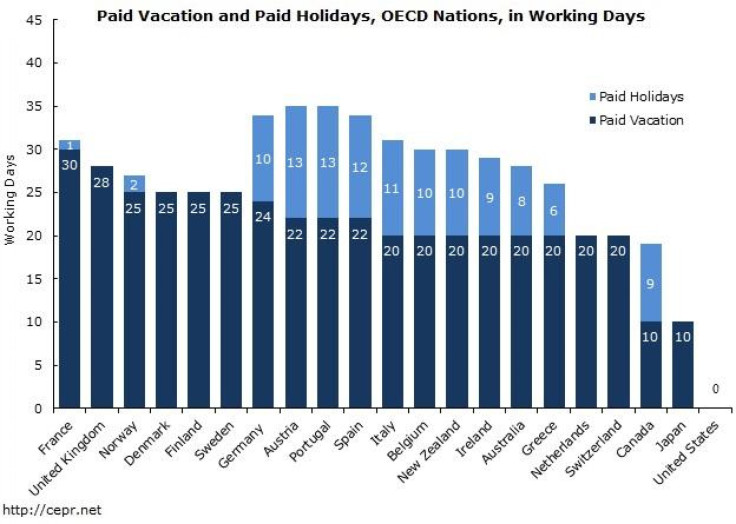 Here's a phrase you often hear in the office elevator at the end of a long day's work: "I need a vacation." Well, it turns out, most Americans really do. In fact, the Land of the Free is the only place in the developed world that doesn't guarantee its citizens paid vacation or holidays.
If you're a born and bred American, you already knew that. What you might not know, however, is that your compatriots across the Atlantic enjoy, on average, one month of paid time off each year.
Though many American companies offer their workers between five and 10 paid days off as a perk, a new study from the U.S.-based Center for Economic and Policy Research found that nearly one in four Americans don't receive any paid vacation or holidays. By contrast, workers in Austria receive 35 days off each year -- and that number rises to 49 if an employee sticks around for six years.
The comprehensive study compared 16 European countries, Australia, Canada, Japan and New Zealand with the U.S., which it calls "The No-Vacation Nation." The Center's report revisits an earlier study on paid time off done six years ago.
"It is striking that six years after we first looked at this topic absolutely nothing has changed," lamented John Schmitt, senior economist and co-author of the report. "U.S. law and U.S. employer behavior still lags far behind the rest of the rich countries in the world."
The gap between paid time off in the U.S. and the rest of the world is even larger when legal holidays are included in the mix, Schmitt said. U.S. law doesn't guarantee any paid holidays, while most developed countries offer between five and 13 in addition to paid vacation days. Some also offer additional time off for younger and older workers, shift workers, those getting married or moving, or those engaged in community service such as jury duty.
According to the report, the sum of the average paid vacation and paid holidays provided to U.S. workers in the private sector, roughly 16, doesn't even meet the minimum required by law in 19 other rich countries. The situation for low-wage and part-time workers and those employed by small businesses is even worse. The researchers found that 60 percent of those employed by small businesses and just 49 percent of low-wage workers had paid vacation time. Moreover, only 35 percent of part-time workers had paid vacations.
"Relying on businesses to voluntarily provide paid leave just hasn't worked," Schmitt said. By making time off a benefit, he argues in the report, it disproportionately affects those in low-wage jobs who already lack other benefits like heath care and sick leave.
There's one lawmaker who's out to bring the U.S. closer to the paid leave standards enjoyed in all other advanced economies. Congressman Alan Grayson, D-Fla., introduced a bill last week that would require employers to provide workers with at least one week of paid leave vacation annually. That number would rise to two weeks annually three years after the bill is enacted. Part-time workers who have been employed for more than one year and work a minimum of 25 hours a week would also be covered.
"This is a matter of justice and equality for all Americans," Grayson said. "Sure, some Americans receive paid vacation leave, but an increasing number receive nothing at all -- and this comes at a time when middle-class Americans are working harder than ever."
Grayson points to a Bureau of Labor Statistics report that shows the average American employee works 160 hours (one month) more each year than he did in 1976. "Requiring paid vacation leave will allow workers to spend more time with their families, improve their mental and physical health, and ultimately be more productive in their workplace."
Grayson said job-related stress contributes to absenteeism, lost productivity and health issues that cost businesses about $344 billion annually. Yet, despite assurances that his legislation is "business-friendly," the "Paid Vacation Act" faces a tough road ahead in the Republican-controlled House of Representatives, which has criticized such measures as too taxing on business owners. A similar bill Grayson sponsored in 2009 failed. As Grayson notes, everyone who voted on the bill had paid time off.
FOR FREE to continue reading
✔️ Unlock the full content of International Business Times UK for free
offer available for a limited time only
✔️ Easily manage your Newsletters subscriptions and save your favourite articles
✔️ No payment method required
Already have an account?
Log in
© Copyright IBTimes 2023. All rights reserved.