No work means no food for many Egyptians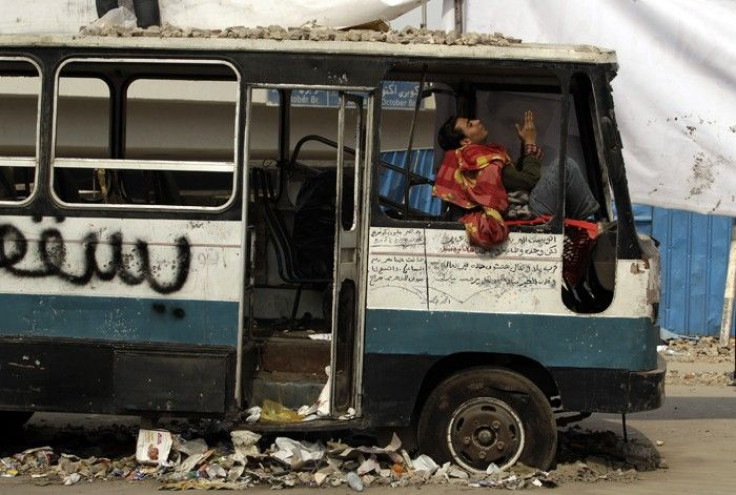 Mustafa Fikri could not even be at his wife's hospital bedside when she gave birth to their first son. He was working and the last thing on the Cairo cab driver's mind was protesting against Hosni Mubarak's repressive rule.
His preoccupation for the day was for the city's roads to stay open and protests to be peaceful, so people would venture out and need his services. If he doesn't hit the Cairo streets with his taxi, there won't be food on the family table.
Fikri was driving near Tahrir Square, centre of Egypt's protests, when his mother-in-law called on Monday to break the news. After three daughters, finally a baby boy had been born -- a traditionally important event in Middle Eastern family life.
He cried for joy but still could not call it a day and head to the hospital. If I don't work my family will starve. There isn't any money left in the house.
I dropped my wife and my mother-in-law at hospital this morning, I gave them the 130 Egyptian pounds ($17) I had left. I kept five pounds and got into my cab for work, he said.
I will buy my wife today a chicken, he said excitedly, thinking of the present he would give her -- not flowers, not chocolate. These are luxuries in a country where the main concern of millions is not to sleep on an empty stomach.
She needs to be fed properly but red meat is expensive. Chicken is cheaper. One kilo of meat costs 60 pounds, who can afford to eat it?, he said.
The protests have disrupted Fikri's living. For four days he made no money and had to borrow 100 Egyptian pounds from his boss to get by. But then, security or no security, he drove his cab off to find customers.
Close by, protesters say they are determined to stay in Tahrir Square, to pursue what has been described as the Nile Revolution until Mubarak gives up and leaves office.
LESS FOOD
Thousands have joined the Tahrir protests, seeking retribution for past wrongs or expressing despair at the poverty, corruption and political repression that has afflicted Egypt since Mubarak came to power three decades ago.
The proportion of Egyptians living on $2 a day or less has crept over 40 percent, while in recent years small numbers of people close to the government have become very rich.
Outside Tahrir, streets have begun to clog up with familiar traffic jams. Many shops reopened and crowds gathered outside small groceries and vegetable and fruit shops, freshly stocked after days of disrupted supplies.
Banks reopened along with some other businesses closed for the past 10 days after the protests turned violent, killing about 300 people, wounding 5,000 and crippling business.
Some people who live on daily income voiced concern that violence between protesters and government forces may erupt again and hit their livelihood. They said they would rather put up with Mubarak until his term expires in September rather than live through chaos and hunger.
If the president goes now we will be in a mess, everything will become chaotic, said Mohammed Abed Rabbo, 50, referring to clashes, looting and vandalism by mobs who took to the streets during the demonstrations.
This country needs someone with an iron fist, otherwise there will be anarchy. The tourists left, the investors left. This crisis this has shaken the country, he said.
The majority said Mubarak, 82, was the only leader they knew. But they felt that over the past few years he became more isolated and disconnected from their lives, spending most of his time at his villa in the Red Sea resort of Sharm el-Sheikh.
Hosni Mubarak has been in a deep sleep, but these protests have bashed him on the head. He woke up to see thousands of young people shouting and screaming around him demanding he go, said Khaled Mohammed al-Sayyed, 44 and a father of seven.
Egyptians with low income said their lives did not improve under Mubarak. Instead, they said, prices for electricity, rent, food and services shot up while the wages stayed very low with prospects for jobs dim. The minimum wage is 400 Egyptian pounds.
The reason I have been a driver for 17 years is because I could not find any other job. I tried but hit a brick wall, said al-Sayyed.
During the past week I didn't make money to buy enough food. We cut down on bread but my children understand and they don't complain, he said. I oppose Mubarak and his policies but the most important thing for me is to feed my family. I have to work so that we can survive.
(editing by David Stamp)
© Copyright Thomson Reuters 2023. All rights reserved.