Nordic Summit At White House: Russia Tops Agenda, Obama To Discuss Refugee Crisis, Fight Against ISIS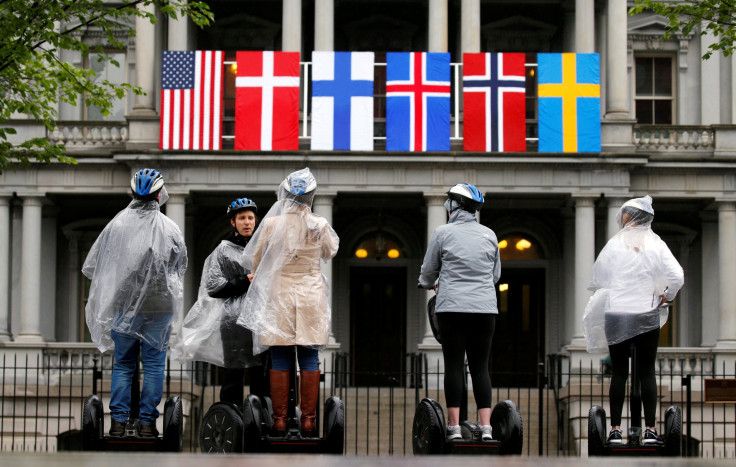 U.S. President Barack Obama is set to welcome the five leaders of Nordic nations at a state dinner at the White House Friday, where Russia's military aggression, among other topics, will be discussed. The summit, which marks the White House's first-ever U.S.-Nordic Leaders Summit, will be attended by the leaders of Sweden, Denmark, Finland, Norway and Iceland.
Obama is expected to discuss the increasingly aggressive moves by Russia and a possible conflict with Moscow, ahead of a NATO summit in July. The president will also praise the Nordic nations' humanitarian and environmental accomplishments. The other agenda of the summit includes discussions about the refugee crisis in Europe and Nordic nations' contributions to the fight against the Islamic State group.
"We share the concern of countries in the region, particularly those who have a border with Russia, about the increasing presence of Russian military assets in the area," Charles Kupchan, Obama's senior director for European affairs, told reporters. "We will be discussing ways to enhance the security of the region, writ large, and also what we can do through dialogue and diplomacy to urge Russia to be more transparent and to be more restrained and careful in its military exercises."
Russia's annexation of Ukraine's Crimea region in 2014 triggered uneasiness among Moscow's Nordic and Baltic neighbors. Concerns grew after Russian aircraft flew over the Baltic Sea last month, performing a provocative fly-by of U.S. ships. Officials are also worried that Russian submarines may be lurking off in the waters near Sweden and Finland, BBC reported.
"It is a way of sending a signal that the United States is deeply engaged when it comes to the security of the region, and we will be actively discussing what steps we can collectively take to improve the situation," Kupchan reportedly said, talking about the upcoming summit.
© Copyright IBTimes 2022. All rights reserved.
FOLLOW MORE IBT NEWS ON THE BELOW CHANNELS