The Oath Keepers: Prosecutors Closing Arguments Address Civil War Threats
Closing arguments have been made in the federal trial against the Oath Keepers.
In arguments on Friday, the federal government maintained its assertions that the five members of the militia group who are on trial plotted to prevent Congress from confirming the electoral votes which solidified President Biden's election win on Jan. 6, and that they were guilty of committing seditious conspiracy, obstructing the certification of the electoral college vote and tampering with documents.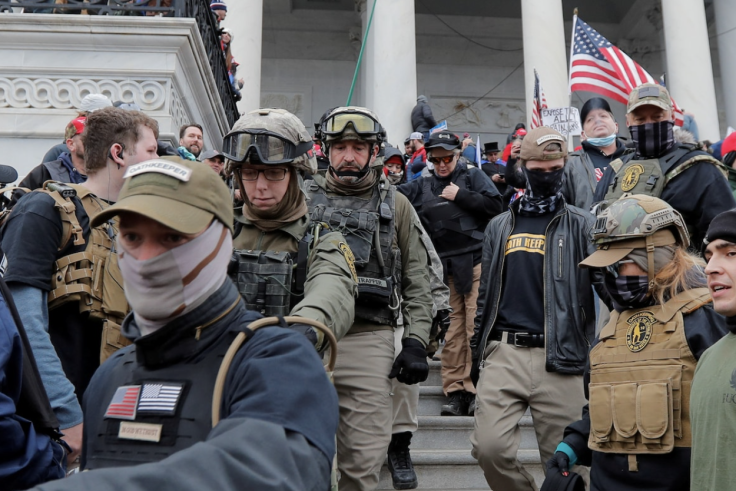 "The evidence has shown that what these defendants agreed to do was, by any means necessary, to stop the transfer of presidential power," Assistant U.S. Attorney Kathryn Rakoczy argued, before referring to it as a "conspiracy."
The defendants in the case are Stewart Rhodes, 57, the founder of the group; Kelly Meggs, 53, the leader of the group's Florida chapter; Kenneth Harrelson, 41, a member from Florida; Jessica Watkins, 40, who led a militia in Ohio before joining; and Thomas Caldwell, 68, who has testified he is not a member, but helped organize an armed force during the riots.
Prosecutors asked jurors to view the defendants' participation in the Capitol breach not as a random event, but as illegal action to further a wider plot proposed by Rhodes that there would be a "civil war."
They also asserted in the closing argument that their actions were not hypothetical predictions about a possible "civil war" or only an example of "ranting and raving of old men at a barber shop," but actually was a "real" and "sincere," premeditated planning to obstruct the lawful transfer of power.
The group members are the first among hundreds who were arrested over participation in the Jan. 6 riot who are standing trial for seditious conspiracy. This rare Civil War-era charge can require those convicted to serve 20 years.
The defense is expected to make closing arguments on Monday and will focus on prosecutors' relative lack of evidence that the group had a detailed plan to attack the Capitol before Jan. 6.
© Copyright IBTimes 2023. All rights reserved.