Obama: ISIS Strategy Will Take Time, Requires More Than Military Force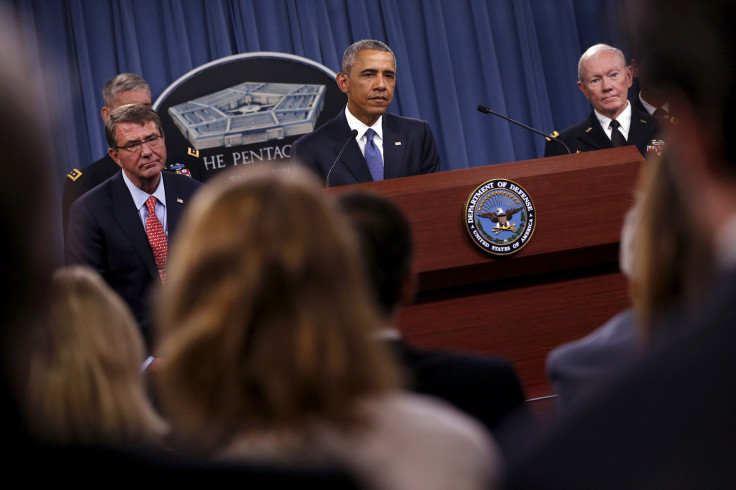 President Barack Obama said Monday the fight against the Islamic State group in Iraq and Syria will take time, and despite a string of so-called lone wolf terror attacks and the fall of Ramadi in May, coalition forces are making progress. Obama said the more than 5,000 airstrikes that have killed thousands of militants show that ISIS' "strategic weaknesses are real."
Even though U.S. Homeland Security measures have made it harder to carry out large-scale terrorist attacks on U.S. soil, Obama said, the threat of smaller attacks like the shooting in Garland, Texas, in May is more difficult to counteract and requires vigilance. It "is going to also require us to discredit their ideology, their twisted thinking" that draws people into their ranks, Obama said.
He also made reference to home-grown terror attacks, and said the "threat of violent extremism is not restricted to one community."
The president said there are no plans to send more U.S. troops to help in the training and support mission. Last month, the Obama administration authorized sending an additional 450 Americans to train the Iraqi army and moderate Sunni fighters, bringing the number to 3,500.
The president's remarks came following an increase in airstrikes against ISIS, and terror attacks in northern Africa; Ottawa, Ontario, and Copenhagen, Denmark.
Obama also said the strategy to combat ISIS relies on more than military power. He said combating the threat requires diplomatic, economic and philosophical actions as well. The fight won't be won by American forces alone, and requires a partnership with local communities, he said.
"If we try to do everything ourselves all across the Middle East, all across north Africa, we'll be playing whack-a-mole," he said.
So far, U.S. involvement in the fight against ISIS has been contained to airstrikes, arms supplies and troop training. The strategy has been a major bone of contention with American lawmakers, many of whom have criticized the president's strategy, calling it not coherent.
Aside from the additional 450 troops, the administration reportedly was working with the Pentagon to identify where training facilities throughout Iraq could be set up to speed training Iraqi and Sunni troops. The administration also plans to speed up arms supplies to Sunni tribes.
© Copyright IBTimes 2023. All rights reserved.