Obama Visit To India: Climate Change, Civil Nuclear Agreement And Security To Top Agenda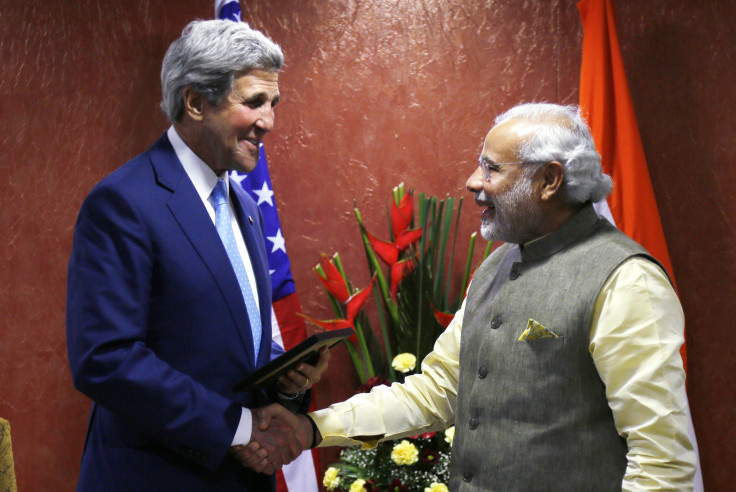 U.S. Secretary of State John Kerry on Monday indicated that climate change would likely top the agenda when Indian Prime Minister Narendra Modi and President Barack Obama meet in New Delhi later this month. Obama will be the chief guest at India's Republic Day ceremony on Jan. 26.
In December, nearly 200 nations unveiled a landmark climate change accord in Lima, Peru. United Nations members are now working out the finer details, including setting standards for each country's greenhouse gas reduction goals and raising billions of dollars to help emerging economies reduce carbon emissions and adapt to rising seas, extreme weather events and other impacts of climate change.
"We reviewed the progress of our economic relationship, we also reviewed the steps necessary to take it to the next level," Kerry said. "We are committed to work with India to reach a landmark climate change agreement in Paris at the end of this year. I know this will be a topic of conversation between President Obama and Prime Minister Modi during the former's visit to India" Kerry said in Ahmedabad in western India, where he is attending a business summit in Modi's home state of Gujarat.
Apart from cooperation on climate change, clean energy, defense, and economic partnership, the civil nuclear agreement will also be high on the agenda. India could push the U.S. to support its bid for membership to the Nuclear Suppliers Group, and the two countries are expected to renew their 10-year defense framework pact during Obama's visit. In November, the Indian defense ministry had cleared a long-pending $2.5 billion deal to buy M777 guns from the U.S.
"We are also working to safeguard maritime security, freedom of navigation and overflight throughout the region," Kerry said. Last month, the Indian coast guard had intercepted a boat, which India claimed was carrying terrorists and explosives bound for India from Pakistan. However, the boat caught on fire and sank off India's western coast before officials could investigate further.
On the business front, India had said late last year that it was working to ease investment by U.S. companies into India, soon after the two countries had decided to end their differences on issues of food security, which were holding up negotiations at the World Trade Organization. And, Indian pharmaceutical companies, facing stringent scrutiny in the U.S., would look for some positive news as would India's IT industry, which wants relaxed visa restrictions for its Indian employees and a waiver on mandatory social security contributions.
Obama's trip to India will also happen at a time when China is making
deft moves
on the geopolitical front. And the U.S. must walk a tightrope where China's concerned, for though the former is India's largest trading partner, their $55.85 billion bilateral
trade
between January and October last year is dwarfed by the $483.6 billion
trade
between U.S. and China in the same period.
© Copyright IBTimes 2023. All rights reserved.