Obama vs. Trump Approval Ratings: How Do The Donald And Barack Compare?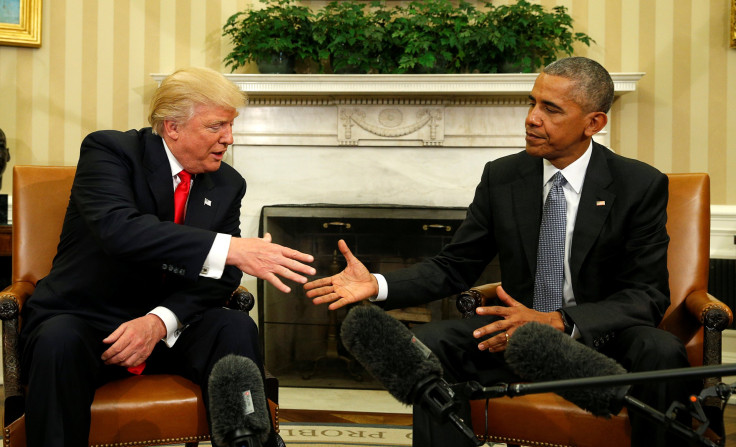 President Donald Trump loves ratings, with those related to television viewers most of all. But his latest approval ratings this week show he's trailing his predecessor, former President Barack Obama, by quite a bit.
Trump, ever a lightning rod for controversy, started off his presidency at a just 45 percent approval rating, the lowest such figure in more than 60 years, according to Gallup polling data. Obama, for instance, started out at 68 percent in January of 2009. It hasn't gotten much better for Trump.
Rasmussen, which has typically found higher levels of approval for Trump than other firms, pegged his rating at just 46 percent Tuesday. The most recent weekly average from Gallup had just 42 percent of the country approving the job Trump has done. The president's rating fell after the GOP's largely unpopular American Health Care Plan, at times called "Trumpcare," was revealed as the replacement to Obamacare.
Read: How Many People Will Lose Coverage Under 'Trumpcare?'
Dating back to 1938, the average president was at about 53 percent during March of their first term, according to Gallup. The firm, which has long tracked approval ratings, listed off other former presidents' March ratings for comparison's sake. In March 2009, 62 percent of the U.S. approved of Obama's job performance, 58 percent for George W. Bush in March 2001, 53 percent for Bill Clinton in March 1993, 60 percent for George H.W. Bush in March 1989, 60 percent for Ronald Reagan in March 1981, 72 percent for Jimmy Carter in March 1977, 64 percent for Richard Nixon in March 1969, 73 percent for John F. Kennedy in March 1961 and 74 percent for Dwight Eisenhower in March 1953.
Read: Sean Spicer's Flag Pin Accidentally Signals Distress
Barring a stark shift upward, which would reverse current trends, Trump's March approval rating could be the worst in more than 60 years and far behind that of his predecessor. Obama, meanwhile, left office with an approval rating nearing 60 percent, nearly two dozen percentage points higher than the rating for Bush when he left office.
© Copyright IBTimes 2022. All rights reserved.
FOLLOW MORE IBT NEWS ON THE BELOW CHANNELS