Obama's 2015 National Security Strategy Emphasizes Diplomacy, Global Health Amid Threats Of Russian Aggression, Terrorism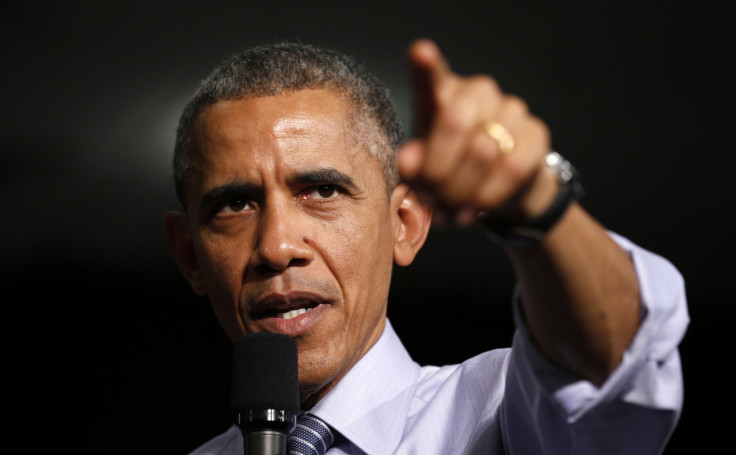 The president's 2015 National Security Strategy, released Friday, promised Americans the administration will confront a myriad of security and social threats with a strong focus on diplomacy and an aversion to meddling too much in developing events. The document listed among the top threats to American security a catastrophic attack on U.S. soil or against close allies, the proliferation of weapons of mass destruction and the instability of failing states, which could bring "mass atrocities" or serve to embolden organized crime.
Preventing new fighters from reaching the Islamic State group, also known as ISIS or ISIL, in Syria and Iraq while continuing to monitor al Qaeda are top priorities, according to the president, and so is preventing Iran from obtaining a nuclear weapon. His strategy further signals that relations with Russia may not be expected to immediately improve, as the administration intends to keep "countering aggression" and impose sanctions for a "free and peaceful Europe."
Overall, though, Obama communicated a reluctance to commit military forces to combat threats in unfocused wars like those which he entered into during his early presidency, saying the U.S. should be careful not to try to "dictate the trajectory of all unfolding events around the world."
"The United States will always defend our interests and uphold our commitments to allies and partners. But, we have to make hard choices among many competing priorities, and we must always resist the over-reach that comes when we make decisions based upon fear," he wrote in his introductory letter to the strategy.
To that end, the president's top priorities will also be attacking nebulous threats that are more closely tied to public health, inequality and a faltering global economy. He lists finding secure sources of affordable energy, ending poverty, exploiting new markets for American goods and fighting for LGBT rights as chief among them. LGBT stands for lesbian, gay, bisexual and transgender. The strategy also gives a nod to efforts to fend off Ebola and the need to address "the urgent crisis of climate change."
Throughout the document, Obama makes it clear that he sees America's responsibility to lead in these respects as a critical one. "Any successful strategy to ensure the safety of the American people and advance our national security interests must begin with an undeniable truth — America must lead," he writes.
His opponents have criticized the approach, saying it fails to focus on the direct threat of terrorism and the need to bolster America's military. "The President puts an emphasis on climate change as a means to address our national security, which is nothing new and not a strategy," U.S. Sen. Jim Inhofe, R-Okla., said in a statement. "Having spent more than $120 billion tangible taxpayer dollars on climate change and having put into motion nearly $1 trillion in defense budget cuts over the past six years, our national security is no better off."
The new agenda also calls for a "rebalancing" to Asia and the Pacific with more trade and investment in the region, as Obama continues to push diplomatic efforts in countries where relations have traditionally been strained. Cuba is the most recent embodiment of that goal and the president's plan further expressed his intent to incorporate the Cuban economy more wholly into U.S. trade.
The strategy was issued for only the second time since Obama started his presidency, and replaces a 2010 version.
© Copyright IBTimes 2023. All rights reserved.