Obama's Criminal Justice Legacy: Clemency Program Accepts Small Percentage Of Applications Amid Reform Push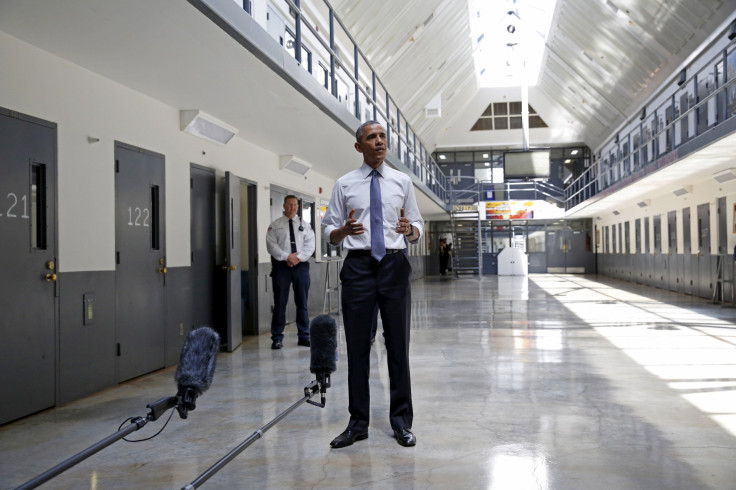 If President Barack Obama hoped to make criminal justice reform part of his legacy as the nation's first African-American commander in chief, his ambitious plan to grant early release to tens of thousands of nonviolent drug offenders hasn't lived up to its promise. Nearly two years after announcing his clemency program, there is a deluge of unprocessed cases and a high rate of application rejection, Reuters reported.
More than 8,000 cases out of more than 44,000 federal inmates who applied for early release have not made it to the U.S. Department of Justice for processing, lawyers working on the program told Reuters. Another 9,000 cases are still pending at the Justice Department for varying reasons, including lack of program staffing, according to the federal agency's own records.
Last fall, dozens among the 187 inmates who had had their sentences commuted were released in a push to highlight Obama's reform efforts. But that number is far below the thousands that justice reform advocates hoped to get released and a small fraction of the 2.2 million people behind bars in the U.S., which has the world's highest incarceration rate.
The Obama administration said it planned to take action on all of the clemency applications before the president leaves office in January. His program will automatically expire then.
Prison Population Rate in the United States | FindTheData
The DOJ has said clemency lawyers are simply not working fast enough to submit eligible applicants. But criminal justice experts say the Obama administration deserves much of the blame because it has not allocated enough resources and staffing to help the lawyers, many of whom are working on a pro bono basis.
"It's unfair to criticize the volunteer group that you asked to help," Rachel Barkow, a criminal law professor at New York University, told Reuters. The DOJ declined to comment when asked for its response to such criticism.
Numerous applications have been rejected, according to clemency lawyer groups. About 25,000 of the 34,000 applications received were thrown out for failing to meet the program's criteria. Applicants must not have a record of violence or ties to a gang or drug cartels, and must maintain good behavior in prison and complete at least 10 years of their sentences.
© Copyright IBTimes 2023. All rights reserved.