Obama's Summer Playlist 2016: Listen To All 20 Nighttime Songs, Including Janet Jackson And Fiona Apple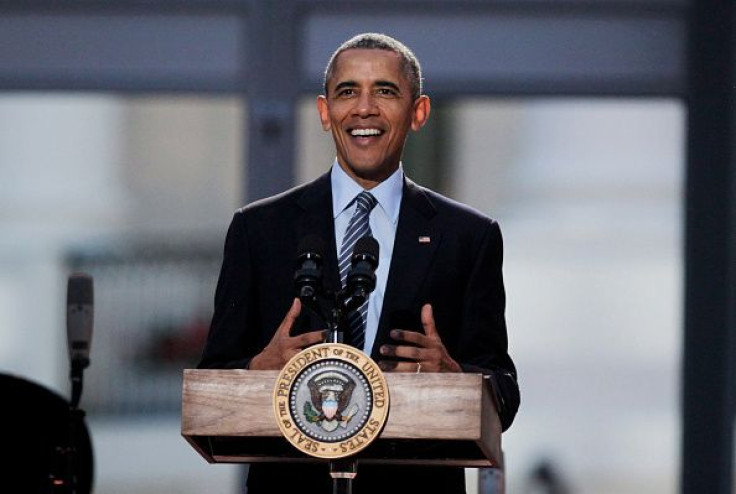 A little bit of R&B, a little bit of jazz, some rock and some hip-hop. Those are some of the genres on President Barack Obama's 2016 Summer Playlist, which is obviously a pretty electic mix. He released his day and nightime playlist, which pulls from old and new songs alike.
According to ABC News, this is the second time that the President shared his favorite songs, the first time being in 2015 after the White House became users of the music streaming site Spotify. You can check out the nighttime list of songs below and listen to the daytime list on Spotify. Enjoy.
1. "If I Have My Way" by Chrisette Michele
2. "Esperanza Spalding" by Espera
3. "Tell It Like It Is" by Aaron Neville
4. "Alright" by Ledisi
5. "Trapped By A Thing Called Love" by Denise LaSalle
6. "Lady" By D'Angelo
7. "So Very Hard To Go" by Tower of Power
8. "Midnight Sun" by Carmen McRae.
9. "Cucurrucucu Paloma" by Caetano Beloso
10. "Green Aphrodisiac" by Corrine Bailey Rae
11. "I'll Be There For You / You're All I Need" by Mary J. Blige And Method Man
12. "Lover Man" by Billie Holiday
13. "Criminal" by Fiona Apple
14. "Acid Rain" by Chance the Rapper
15. "My Funny Valentine" by Miles Davis
16. "Do You Feel Me" by Anthony Hamilton
17. "I Get Lonely" by Janet Jackson
18. "Lean In" by Lizz Wright
19. "All Day Music" by War
20. "Say Yes" by Floetry
© Copyright IBTimes 2023. All rights reserved.