October Jobs Report: What A Clinton Or Trump Presidency Would Mean For The Labor Market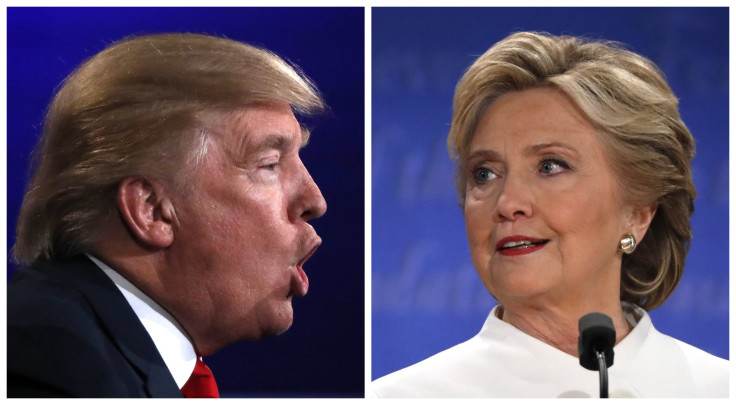 As the Bureau of Labor Statistics prepares to release its monthly job market data for October on Friday, the results could potentially sway voters on Election Day. Some view Democratic nominee Hillary Clinton's proposed economic policies as a continuation of President Barack Obama's.
If a recent Department of Labor news release is any indication, the numbers won't be too reassuring. While the number of insured unemployed persons hit its lowest point since June 2000, the number of weekly unemployment insurance claims over the final week of October was up by 7,000 to 265,000. The September report wasn't much sunnier, with mediocre job growth numbers and a stagnant jobless rate above the full employment level.
But what do America's two nominees for president have in mind for the job market in their first 100 days?
According to Clinton's campaign site, the former secretary of state intends to cut taxes for small businesses, support scientific research, force outsourcing companies to pay an "exit tax" when moving overseas, enact an infrastructure stimulus program and "make America the clean energy superpower of the 21st century."
The first female presidential nominee from a major party isn't alone in believing she has what it takes to lead the U.S. into a stronger economic recovery.
In its report titled "The Macroeconomic Consequences of Secretary Clinton's Economic Policies," Moody's Analytics estimated the growth of 3.2 million new jobs by the end of Clinton's first term, compared to the projected growth rate of 10.4 million under current law. Due to her support for a minimum wage increase to $15, however, Moody's also predicted that, while low-wage workers would likely receive higher incomes, "some jobs for low-wage workers would be eliminated, the income of most workers who became jobless would fall substantially and the share of low-wage workers who were employed would fall modestly."
But Clinton's tenure as New York senator, from 2001 to 2009, tells a different story. Her effort to help the state recover from the 2000 recession stalled, with job figures stagnating and manufacturing jobs falling 25 percent, the Washington Post found. Still, the economic forces driving job growth at the time might've been out of Clinton's control.
"To her credit, she really did focus on economic development upstate as a focus and a purpose," former president of the Albany-based Public Policy Institute David Shaffer told the Post.
By contrast, Moody's job market projections for a Trump presidency are less optimistic.
"By the end of his presidency, there are close to 3.5 million fewer jobs and the unemployment rate rises to as high as 7 percent, compared with below 5 percent today," the report said of Trump, whose plans include a massive deregulation effort, corporate tax cuts and the creation of 18 million new jobs over 10 years.
His economic policies aren't the only thing that could be detrimental to the U.S. labor market. As New York University Migration Policy Institute director Muzaffar Chishti pointed out to Quartz, Trump's intended mass deportation of immigrants in the United States could open up hard-to-fill vacancies in the service sector, creating an entirely new problem of labor scarcity.
"These are people working on various sides of our economy—from construction, to hospitality, to elder care, to childcare, to restaurants—you name it," Chishti told Quartz. "We don't have a ready supply of U.S. workers to take those jobs. So you would have a huge dent in the labor market."
Either way, the economy is likely to heave a sigh of relief in the event of a Clinton victory, as a staggering proportion of surveyed economists and even the S&P 500 have shown partiality to a win by the Democratic candidate.
© Copyright IBTimes 2022. All rights reserved.
FOLLOW MORE IBT NEWS ON THE BELOW CHANNELS