O.J. Simpson Reportedly Thinks FX's 'American Crime Story' Makes Him Look 'Totally Guilty'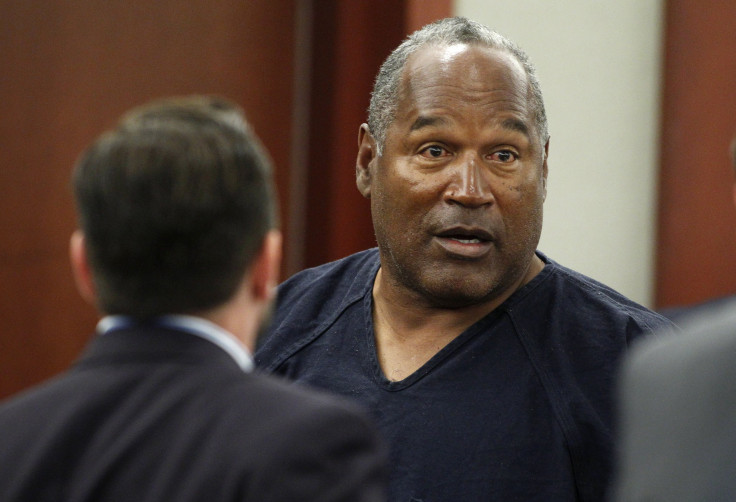 "The People v. O.J. Simpson: American Crime Story" on FX has taken viewers back 20 years to revisit one of the most infamous court cases in American history: the murder trial of Nicole Brown Simpson. While critics have praised the show and many have become fans of the series, some of those who lived it are not. The biggest name in the story, O.J. Simpson, who was put on trial and accused of murdering his ex-wife and her friend, is reportedly not fond of the show.
In an interview with the Hollywood Reporter, Jeffrey Felix, a now retired guard at the Lovelock Correctional Center in Nevada where Simpson is being held for an unrelated crime, said the former football star is not thrilled with the FX program. Simpson doesn't like that Cuba Gooding Jr. was cast to play him and Felix claims Simpson also feels as though the show is portraying him in a negative light.
"He is unhappy with the show because it is kind of making it seem like he is totally guilty," Felix dished.
Felix said he hasn't had direct contact with Simpson since he retired, but people on the inside keep him updated. Simpson, 68, has not yet seen the full show, as DVDs and FX are not available inside of the prison. In a separate interview with Page Six, Felix said Simpson's heard about the show from the guards, Khloé Kardashian and "A.C." Cowlings.
Simpson has been in prison since 2008 when he was found guilty of several felonies including kidnapping and armed robbery. He was sentenced to 33 years in prison, with nine years of no parole. He'll have the opportunity to get out of jail when he's up for parole in 2017.
The former football star hasn't done any interviews from jail, even though many would most likely want to hear what he thinks about the show. Felix said he wants to keep himself and not mess up the possibility of parole next year.
"The People v. O.J. Simpson" shows how the court case became as popular as it was and how race became a major part of the story. In addition to Gooding Jr., the show also stars John Travolta as Robert Shapiro, David Schwimmer as Robert Kardashian and Sarah Paulson as Marcia Clark.
"The People v. O.J. Simpson" airs Tuesdays on FX at 10 p.m. EST.
© Copyright IBTimes 2023. All rights reserved.