Oklahoma Battles Severe Fires That May Have Been Started Intentionally As 2012 Continues Extreme Drought and Heat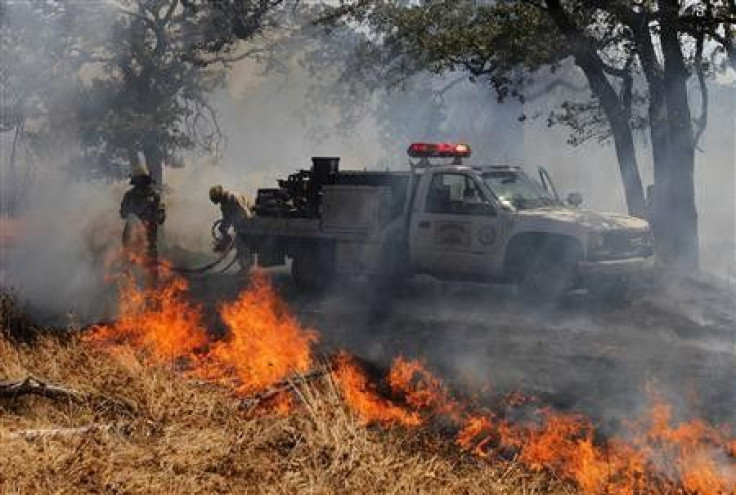 Oklahoma has been battling raging blazes Saturday, as more than a dozen of the wildfires that have consumed 120-plus structures on the outskirts of Oklahoma City have moved across the state.
The fires were worsened by extremely hot air temperatures, and it is also possible they were started deliberately.
Several towns have been hit hard by the flames. One is Luther, a small town of about 600 that lost 56 structures on Saturday. Another is Noble, which lost several homes and had roughly 7,800 acres scorched by the fires, according to CNN.
Oklahoma City tied its record high temperature of 113 degrees Fahrenheit on Friday, and the extreme heat has exacerbated a long-standing drought -- creating the perfect conditions for a series of extreme forest fires.
And when the fires struck, they struck hard. At least 15 separate fires have been reported in the area. Hundreds of people in four counties have been asked to leave their homes because of the fires.
"A man refused to leave. From what I know, he wanted to protect his property, but your life has to be more valuable than property," Oklahoma County Sheriff John Whetsel told Fox News.
"A lot of people were at work and didn't realize how quickly the fire was moving," Oklahoma Gov. Mary Fallin told Reuters. "It's emotional. For the children, it's very emotional to lose their possessions."
The fires have begun to die down on Saturday night as temperatures dropped from the triple-digits into the 90s, but authorities are worried that they are far from over.
"When the wind shifts, it may reignite some fires," Fallin said. "It might drop down to 90, but it's still going to be very, very hot."
The Oklahoma County sheriff's office received an anonymous tip alleging at least one of the fires were set deliberately, according to Reuters. The 911 caller stated that a man driving a pickup truck threw a lighted newspaper out the window and onto a building in Luther, about 20 miles northeast of Oklahoma City. The sheriff's office has not made any arrests, but it is looking into the arson allegation.
Despite the severity of the fires, there have been no deaths related to them reported.
© Copyright IBTimes 2023. All rights reserved.