Oluwatoyin Embassey: HR Expert Not Only Supporting Women's Empowerment But Building Opportunities For Them Too
The gender gap between men and women has existed for centuries, and while efforts are made globally to improve the dynamic, the Covid-19 pandemic has had a negatively compounding effect. Closing the gap and empowering women is not simply a matter of hiring more women into the workforce. To empower women and have meaningful results, multi-faceted changes are needed. According to the UN, "Legal reform, strengthening gender-responsive social protection and public service delivery, quotas for women's representation, and support for women's movements are all strategies that have made a difference and should be scaled up."
Oluwatoyin Embassey knows the experience and effects of female oppression firsthand. Raised by a single mother of four in Nigeria, Embassey faced a great deal of hardship in her youth: Poverty, domestic violence, and sexual assault. Of course, she is not alone in this. The UN notes, "One in five women globally has experienced sexual and/or physical violence at the hands of an intimate partner in the past year." Her mother's salary as an elementary school teacher was minimal, and, as a result, it was a struggle for her and her siblings to receive a full education. Although extremely painful, these experiences of hardship fundamentally shaped Embassey's life, she is driven, passionate, and focused on her pursuit to create a better world for future generations. As a mother herself, this is of the utmost importance.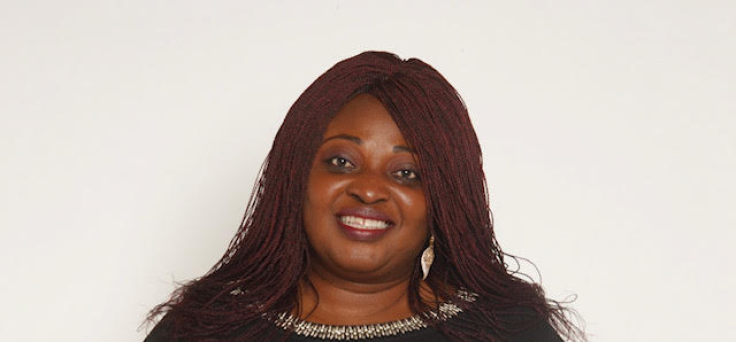 Gaining Knowledge and Laying The Foundation In HR Career
Embassey completed her civil engineering diploma in Nigeria thanks to her hard work and perseverance. She went on to attend university in the UK, where she earned her bachelor's degree in business management, followed by her master's degree in international human resources. Due to the reality of her family's financial circumstances, Embassey had found employment long before pursuing higher education internationally. She initially got hired with MTN Nigeria Communication as a training administrator, but had been promoted to human capability advisor the following year. By the time she pursued her degrees, she had been working in organizational development and career management support roles. She was an asset to the company and was learning a lot as she climbed to positions of greater responsibility.
Even though it was early in her career, Embassey had already set her sights on big goals. However, she was not simply interested in developing her career for her benefit – she saw the potential for dramatic improvements in the HR industry. In fact, during her postgraduate studies in the UK, she used her employment company as a case study on how to improve employee engagement to increase productivity. This study led to the implementation of her recommendations, which resulted in significant changes to HR policies at MTN Nigeria. These changes improved employee welfare, as well as engagement and productivity. As a result, she had her first taste of making an impact. That was the first of many developments that Embassey led during her 20 years at MTN Nigeria, mainly as the HR advisor. She established the Learning and Development Unit to help provide employees with the skills and knowledge needed to grow in their roles. She designed and developed over ten curricula the organization employed to train employees across the country.
The company saw massive growth, and she was personally responsible for training more than 1000 employees during her employment. Her efforts did not go unnoticed, as she was awarded the Customer Service Employee of the Year for MTN Nigeria in 2007, and the MTN Brand Ambassador of the Year in 2009.
Entrepreneurship And Philanthropy – Projects with A Positive Impact
In addition to her significant experience in HR, Embassey is also a serial entrepreneur, having founded several companies throughout her career. The first, founded in 2001, is Crystalloc Nigeria Ltd – a company that specializes in road paving and block production. They have major road project accomplishments in Lagos and other Nigerian states, helping to increase accessibility.
She then founded the Crystal Skills Learning and Development Centre in 2011. With a focus on consulting, recruiting, and developing individuals and teams within an organization. The company is also involved in curriculum designing, facilitation of training programs, and development of leadership skills for Nigerian youths. For every venture Embassey launches, there is always a focus on helping people – particularly women and children.
This passion for helping is particularly evident in her NGO, the EVE Generation Foundation, whose mission is to empower women and children to rebuild their lives and be free from violence and fear. The foundation works with those who have suffered from domestic abuse and other forms of violence. Full of compassion and motivated by the trauma of her childhood, Embassey is committed to breaking these cycles of abuse. Not only does the organization help women and children recover from trauma, but it also assists them in reintegrating into society through immediate and long-term support. EVE generation foundation provides shelter, food, counseling, and sometimes money as a quick relief. They also offer education, remote parenting, and various financial and empowerment training and counseling sessions to create long-lasting effects. Over 100 young and vulnerable girls in Nigeria have benefitted from remote parenting and received support, care, and kindness that would have otherwise been unimaginable to them. EVE is helping to open the door for these girls and women to survive and truly thrive. The foundation founded in Nigeria by Embassey is also working towards expanding in the US, where she is currently writing the dissertation for her Ph.D. in leadership at Alliant International University San Diego, where she has been recognized twice for her accomplishments in the Alliant International University spotlight and blog as one of the school community members making an impact.
Embassey has been highly motivated to get involved with her new community in San Diego, becoming a member of the San Diego North Chambers of Business, functioning as an ambassador for the chamber, and attending advisory council meetings. Furthermore, as a member, she also took on the role of strategic planner for the Women and Development Conference hosted in March 2022 and the San Diego Women's Week.
Inspired by the love for her grandmother and her desire to help create stable employment opportunities, Embassey most-recently founded The Comfort Helpers Home Care LLC in San Diego, CA. The service company provides in-home support and assistance to the elderly and others who require care in their home. The recent pandemic highlighted how essential this service is to the elderly. In addition to her business ventures, Embassey is also a published author. Her book, WORTHY: A Woman's Adventure to Merited Leadership is for women who aspire to be relevant and influential locally, globally, professionally, and otherwise. She hopes to inspire girls, women and even men to reach for their highest potential and to work collectively to empower women around the world.
There Is Always More to Be Done
This incredible female, an entrepreneur with a heart of gold and passion for uplifting those in need finds new and needed causes to pour her efforts and time to support. As she continues to work on her dissertation – on the topic of female leaders and how they can empower other women to be leaders – she already has research work featured in several publications and presentations lined up at international conferences. Her piece on women and leadership features on Money Central, Business Day, and the Nigerian national newspaper – an honor for Embassey in her home country. In 2021, she wrote about virtual leadership and employee engagement during the Covid-19 pandemic presented at the International Leadership Conference in Geneva. The same article was featured on Business Day. In addition, her team recently presented research findings on the impact of the coronavirus pandemic on women and minority women entrepreneurs in the United States of America at the Leadership Conference in May 2021.
Through her research, Embassey is bringing a greater understanding of how US businesses can support female and minority entrepreneurs when faced with the next national or global crisis. In addition, her work educates those in leadership positions about how to help and support their employees to be both engaged and productive when working virtually –circumstances that are likely here to stay. Reflecting on her journey, Embassey explains that "My upbringing has given me the discipline and tenacity to achieve all that I have, and to be able to support and mentor other women and children." She recognizes that there is nothing more powerful than women supporting women and has made this her life mission.
FOLLOW MORE IBT NEWS ON THE BELOW CHANNELS