'Once Upon a Time' Season 4 Spoilers: Creators Tease Trouble For Dalmatians And Hook When Show Returns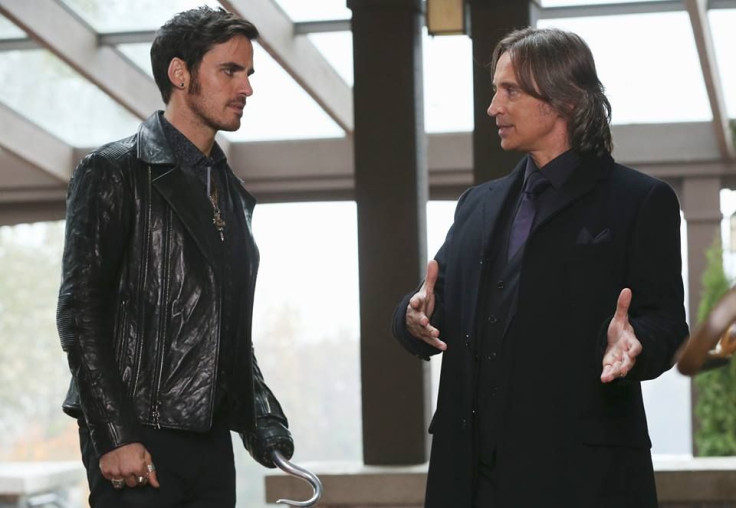 Storybrooke residents are going to want to lock up their dogs when "Once Upon a Time" Season 4 returns to ABC on Mar. 1. The winter finale of the hit fairytale series introduced some exciting twists and new villains – and creators Adam Horowitz and Edward Kitsis want viewer to know that while happy endings do exist, danger lurks around every corner.
Entertainment Weekly placed the co-creators in "the hot seat" to answer questions about the second half of the season. Since the arrival of Cruella de Vil (Victoria Smurfit) and Ursula (Merrin Dungey), many fans are curious about how the two villains will fit into Storybrooke. Horowitz and Kitsis were tight lipped, but they did reveal that Archie (Raphael Sbarge) should be "worried" about his Dalmatian named Pongo now that Cruella has been named a major player in Season 4. While the villainess isn't in Storybrooke just yet, fans will remember that Rumplestiltskin (Robert Carlyle) will be doing his best to bring her, Ursula and Maleficent (Kristin Bauer van Straten) to town to wreak some havoc.
Those that watched the winter finale will remember that a flashback showed Cruella de Vil and Ursula joining Maleficent to form the Queens of Darkness. The three women were tired of losing to the heroes, and wanted to get their way for once. Their plan was to get their hands on Camelot's magical glove, which was in Rumplestiltskin's possession. After kidnapping Belle (Emilie de Ravin) and threatening her life, the Queens of Darkness managed to succeed … or so they thought. By the end of the episode viewers learned that Rumple had tricked the women, saving Belle and keeping the magical glove for himself.
In present day it was revealed that Cruella, Ursula and Maleficent had traveled out of the Enchanted Forest with the last curse. However the trio wasn't in Storybrooke – they were in New York City. The winter finale concluded with a banished Rumplestiltskin seeking out Ursula in order to reunite the Queens of Darkness and return to Storybrooke to take over.
Poor Pongo won't be the only one in trouble when "Once Upon a Time" returns from its winter hiatus. The co-creators teased EW that Hook (Colin O'Donoghue) will be hungry for revenge on Rumple, and that everyone's favorite pirate might have history with yet another villain. When asked if Hook has a "past" with Ursula, Edward Kitsis replied, "can't say." The co-creator doesn't seem to want to let any spoilers slip, but TV Line previously dished to fans that new flashbacks will explore more of Hook's past. Could TV Line's scoop be hinting at a relationship with Ursula?
Whether or not a flashback with Hook and Ursula is on the horizon, TV Guide was able to confirm that Snow (Ginnifer Goodwin) and Charming (Josh Dallas) do have a history with the Queens of Darkness … and that it will come back to "haunt" them.
"Once Upon a Time" returns to ABC for the second half of its fourth season on Sunday, Mar. 1, at 8 p.m. EST. Are you excited to see the drama with the villains unfold on "Once Upon a Time"? Tweet your thoughts to @AmandaTVScoop.
© Copyright IBTimes 2023. All rights reserved.