'One Piece' 1017 Spoilers Hint At This Prominent Character's Immediate Healing And Return To Action
KEY POINTS
"One Piece" 1017 is scheduled to release on June 27
The upcoming chapter is reportedly titled "Order"
"One Piece" 1017 raw scans are now available
The latest "One Piece" 1017 scans seemingly hinted that Zoro, the first mate of the Straw Hats Pirates, will return to the fight scene sooner than many fans anticipated.
The most recent scans for "One Piece" 1017 are now available online, thanks to reliable insiders in the community. Based on the spoilers, it seems that Zoro will soon recover from his wounds with the help of the goat doctor from Zou. According to the spoilers, Miyagi, the goat doctor, will inform Zoro in the upcoming chapter that there is a "super recovery medicine" they use in Zou.
This medicine can heal Zoro's body for a certain period, giving him the energy he needs to fight in the ongoing war. However, there is a catch. Once the effect of this said super medicine wears off, the pain that the swordsman is currently enduring will double. Despite this warning from Miyagi, Zoro is determined to help his Nakama.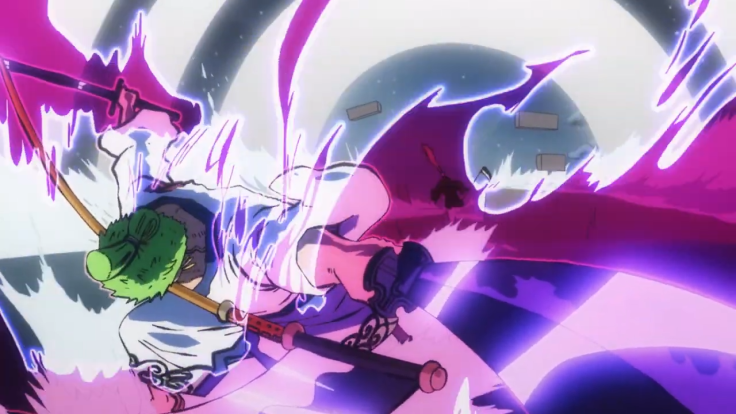 According to the latest spoilers, Zoro will tell Miyagi in "One Piece" 1017 that he does not have time to think and will ask for the drug right away. However, it is still unknown if Miyagi has this super medicine with him, so there is no assurance that fans will see the Pirate Hunter in action in the next manga installment.
They will have to wait until the release of the chapter, scheduled for June 27, to find out more about the medicine.
Zoro is a crucial element that the Straw Hats and the Samurai alliance need to win the war in Onigashima. With Luffy still recovering and Chopper now reduced to Babyji, a skilled warrior that could defeat a thousand enemies at once is a great help.
The spoilers also revealed that "One Piece" 1017 is titled "Order." Apart from Zoro taking the super medicine, fans can also expect the much-awaited reveal of Quen the Plague and Who is Whose hybrid forms. The spoilers also teased about the dark secrets of Luffy's Devil Fruit Gomu Gomu No Mi.
© Copyright IBTimes 2023. All rights reserved.