Oprah Winfrey Was Asked To Shorten Her Golden Globes Speech, She Refused
Originally, Oprah Winfrey wrote a six-minute speech to accept her Cecil B. DeMille award at the Golden Globes on Sunday, and because she didn't give in when she was asked to cut down her speech, it stayed at that length.
This speech was one of the most talked about moments from the show and continues to be admired and discussed on social media days later. On CBS This Morning on Tuesday, co-anchor and Winfrey's longtime friend Gayle King mentioned that Winfrey had been asked to cut her speech in half, but she refused, saying that under any other circumstances she would but not for that night and that award.
Her six-minute speech ended up lasting nine minutes with applause and it was nine minutes that meant a lot to a lot of people, including actress Lena Waithe, who was a guest on the morning show on Tuesday.
"I was really, really blown away and a big reason is because I know what she spoke about when she was talking about Sidney Poitier," Waithe said of Winfrey's speech. "I thought the same thing when I saw Halle Berry. I was in high school and I remember seeing that speech."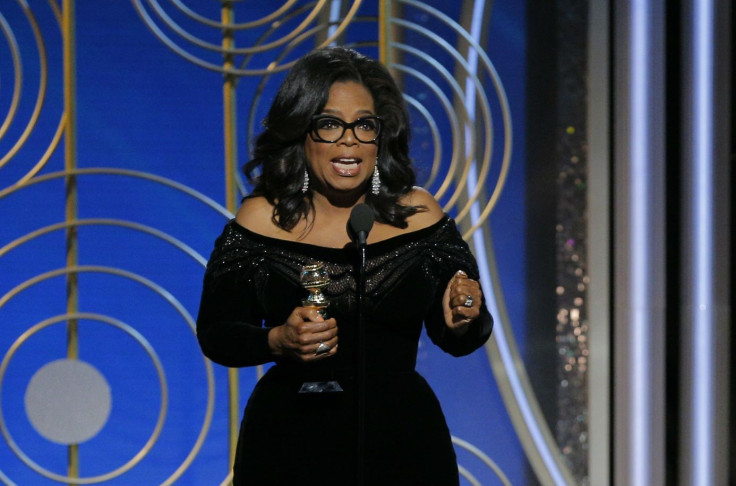 Winfrey touched on many different topics during her speech, but one of the things that really amazed her was the overall fact that she was up there, accepting this award after watching Poitier do the same over 30 years ago.
"In 1982, Sidney [Poitier] received the Cecil B. DeMille award right here at the Golden Globes and it is not lost on me that at this moment, there are some little girls watching as I become the first black woman to be given this same award," she said during the Golden Globes. "It is an honor -- it is an honor and it is a privilege to share the evening with all of them and also with the incredible men and women who have inspired me, who challenged me, who sustained me and made my journey to this stage possible."
Though she spoke some of the past, she ended her speech by looking ahead to the future, which she strongly believes will be bright because of all the voices speaking up.
"So I want all the girls watching here, now, to know that a new day is on the horizon," she said. "And when that new day finally dawns, it will be because of a lot of magnificent women, many of whom are right here in this room tonight, and some pretty phenomenal men, fighting hard to make sure that they become the leaders who take us to the time when nobody ever has to say 'Me too' again."
© Copyright IBTimes 2022. All rights reserved.
FOLLOW MORE IBT NEWS ON THE BELOW CHANNELS