Oregon, Neighbor States Under Air Stagnation Alerts Amid Warehouse Construction Concerns
KEY POINTS
Air quality-related alerts are in Washington, Montana and Idaho as well
Portland residents expressed concerns about depleting air quality
NWS warned poor air quality could cause problems for people with respiratory issues
Oregon and three of its neighboring states have been placed under Air Stagnation Advisories as a large freight warehouse is set to rise in Portland.
Some citizens have raised concerns about the poor air quality that the construction of the massive warehouse in Portland could trigger. The National Weather Service (NWS) in Oregon's Pendleton warned of poor air quality through Tuesday that could "cause issues for people with respiratory problems."
The agency added, "air quality agencies highly recommend that no outdoor burning occur and that residential wood burning devices be limited as much as possible."
In Sherman County, a hemp plant that caught fire Sunday resulted in at least five people incurring injuries. Officials further warned of the possibility of a "large explosion" due to the fire that engulfed the hemp manufacturing complex.
Grass Valley residents were evacuated as part of the efforts to prevent further injuries and the effects of possible chemical explosions. It remained unclear if Sunday's fire prompted new air quality-related advisories in the state.
Even before the hemp manufacturing factory fire, residents in Portland have been airing their grievances about the effects of warehouse constructions in the area, particularly in the wake of the construction of a massive freight warehouse near the Sandy Boulevard area.
School officials, residents, and clean air advocates also raised alarms over the facility's construction, maintaining that it will bring more pollution into the area, The Oregonian reported.
"It sends the message, once again, that they're disposable, that their health and quality of life and neighborhood isn't a priority for the city," said Elizabeth Durant, chair of the Parkrose district school board, as per the outlet. Durant has two young kids, one of whom has asthma.
Deputy director of Portland's Bureau of Planning and Sustainability further told the outlet that while the local government cannot do anything to stop the warehouse from being erected, the city has "some of the strongest policies in the state" in terms of handling social and "environmental justice."
In Washington, air quality was expected to take a hit and impact "sensitive groups across most of eastern Washington."
In Montana, air quality was projected to diminish, particularly in Hamilton and Kalispell.
The following Air Stagnation Advisories have been issued:
Air Stagnation Advisory in Oregon effective through 8 a.m. Tuesday:
Cascade Foothills in Lane County, Central Coast Range of Western Oregon, Northern Oregon Cascade Foothills, South Willamette Valley, Central Willamette Valley, and Lower Columbia
Air Stagnation Advisory in Oregon effective through 10 a.m. Tuesday:
Central Douglas County, Eastern Curry County, Josephine County, Jackson County, Central and Eastern Lake County, Klamath Basin, Northern and Eastern Klamath County, and Western Lake County
Air Stagnation Advisory in Oregon effective through 5 p.m. Tuesday:
Baker County, Harney County, Malheur County, and Oregon Lower Treasure Valley
Air Stagnation Advisory in Washington effective through 3 p.m. Monday:
East Slopes of Washington Cascades, Eastern Columbia River Gorge of Washington, Foothills of the Blue Mountains of Washington, Kittitas Valley, Lower Columbia Basin of Washington, Northwest Blue Mountains, Simcoe Highlands, and Yakima Valley
Central Chelan County, Lower Garfield County, Asotin County, Moses Lake Area, Northeast Blue Mountains, Northeast Mountains, Okanogan Highlands, Okanogan Valley, Spokane Area, Upper Columbia Basin, Washington Palouse, Waterville Plateau, Wenatchee Area, Western Chelan County, and Western Okanogan County
Air Stagnation Advisory in Montana effective through 1 p.m. Monday:
Kootenai, Cabinet Region, Lower Clark Fork Region, Missoula, Bitterroot Valleys, Potomac and Seeley Lake Region
Air Stagnation Advisory in Idaho effective through 1 p.m. Monday:
Lower Hells Canyon, Salmon River Region, Northern Clearwater Mountains, Orofino, Grangeville Region, Southern Clearwater Mountains, Eastern, and Western Lemhi County
Air Stagnation Advisory in Idaho effective through 4 p.m. Monday:
Central Panhandle Mountains, Coeur d'Alene Area, Idaho Palouse, Lewis County, Southern Nez Perce County, Lewiston Area, Northern Panhandle
Air Stagnation Advisory in Idaho effective through 5 p.m. Monday:
Boise Mountains, Camas Prairie, Lower Treasure Valley, Owyhee Mountains, Southwest Highlands, Upper Treasure Valley, Upper Weiser River and West Central Mountains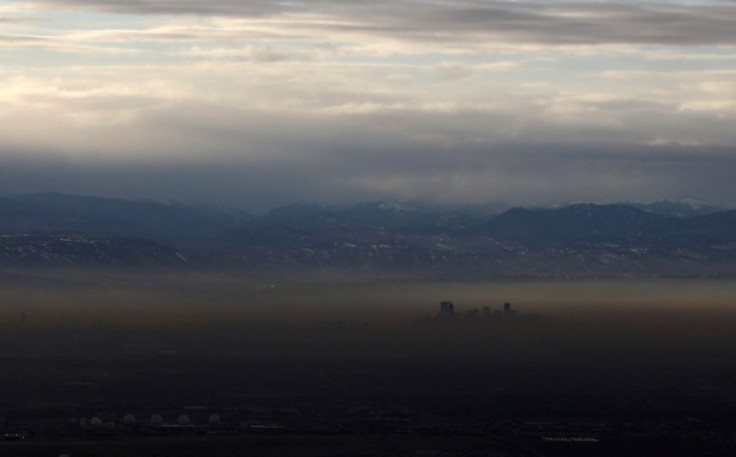 © Copyright IBTimes 2023. All rights reserved.
FOLLOW MORE IBT NEWS ON THE BELOW CHANNELS