Orlando Nightclub Shooting: Nearby Businesses Are Just Starting To Assess Economic Toll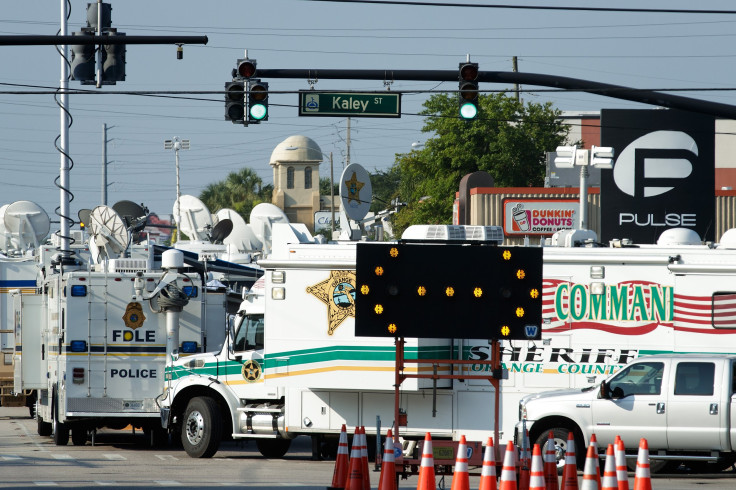 A four-block stretch of South Orange is like many other commerce-dotted avenues of a modestly sized U.S. city. Flanked by residential neighborhoods, this little strip of Orlando, Florida, two miles south of city hall hosts a tire shop adjacent to a produce store, which is next to a tattoo parlor that's across the street from a foot and ankle clinic next door to a Dunkin' Donuts.
But this sample of modern Main Street America has been largely closed for business since the June 12 massacre at the nearby Pulse gay nightclub, where 49 people were killed and 53 injured by Omar Mateen.
Roughly two dozen businesses saw their operations largely shuttered since the mass shooting by the throngs of media vans, police and forensics vehicles and street barricades. The economic toll has led at least one businesses to consider help from its insurer.
The state of Florida and the U.S. Small Business Administration have stepped in, too, to offer the merchants short-term no-interest loans. Soon, these businesses might qualify also for low-interest long-term financing to cover any losses, according to a local business development group.
On Tuesday, business owners, managers, employees and their customers were given the green light by local police to begin reopening their stores following the worst mass shooting in U.S. history perpetrated by a single shooter. (Within hours the public had set up a makeshift memorial near the fencing surrounding the nightclub.)
"We've been closed for eight solid days," said Jason Wiggins, district manager for Einstein Brother Bagels, located katty-corner to Pulse. "We received news late yesterday that police were removing barricades and reopening South Orange. We're trying to get the word out to support the local businesses that have been affected by this."
It's too soon to place a dollar figure on the adverse economic impact of the shooting, but one thing is clear: The merchants around Pulse are a community, and have been since before the shooting.
"We've had a nice professional relationship with the people at Pulse," said Greg Renton, CEO of Orlando Foot and Ankle Clinic. "Our employees are allowed to park there during the day and their customers can park on our building parking lot at night."
For obvious reasons much of the economic support has been focused on the victims' families, servers and Pulse staff. A crowdsource campaign by Equality Florida, a local LGBT civil rights group, had raised nearly $5.8 million in donations by Tuesday for those affected by the shooting.
"Right now our focus is on raising money for Pulse and to support the staff," said Ida Eskamani, Equality Florida development officer. "But what I've heard is the businesses in the area have been wonderful supporting reporters and first responders."
While those most directly affected by the Pulse massacre are getting measurable support from the public affected businesses will need to look to their insurance policies and state financing for support.
"Right now our building has been completely shut down," Renton said by phone on Monday. Renton's company, which operates 17 clinics across central Florida, has an insurance policy that covers business interruptions.
South Orange Orlando, FL Profile | FindTheHome
On Friday, Florida Gov. Rick Scott announced a $2 million emergency bridge loan program to "provide emergency, short-term, interest-free loans to small businesses" affected by the shooting. Small businesses can borrrow up to $25,000 for up to 180 days in order to cover immediate expenses.
Hunt Dawkins, associate director of the Small Business Development Center at the University of Central Florida, says the bridge loan program will later carry over to a longer-term special financing facility in case 180 days isn't enough to recover.
"The idea of the bridge loans is to provide working capital for these businesses so they can pay their staff and employees and need to pay bills and that kind of thing," he said by phone on Monday. "These would be bridge loans to a better facility," that would allow qualified businesses access to preferential long-term lending.
© Copyright IBTimes 2023. All rights reserved.