Orlando Shooting Live Updates: Nearly All Fatal Victims Have Been Identified In Terror Attack; Police Offer New Details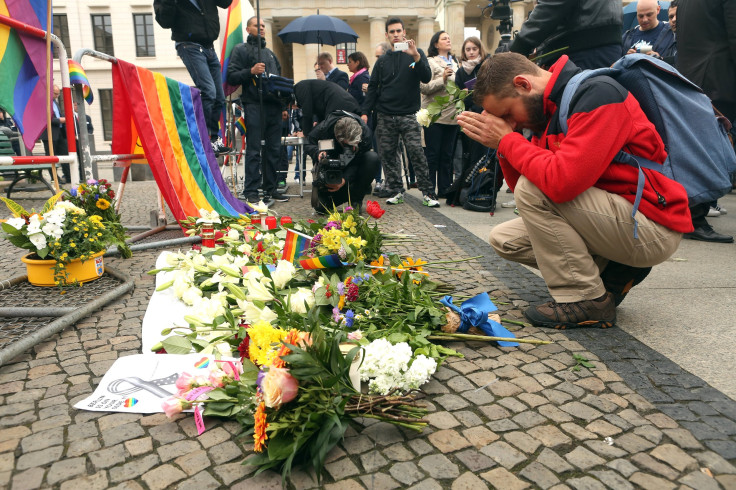 UPDATE: 7:30 p.m. EDT — Police are investigating a potential burglary at the home of Orlando Pulse nightclub shooter Omar Mateen. CBS News reported local police saying the FBI had locked the residence when they left the location at around 7 a.m. Monday morning. Later in the day, several local reporters were seen going into the two-story unit, claiming the door was open. Fort Pierce Police Chief Diane Hobley-Burney told reporters at around 5:30 p.m. local time that investigators would collect fingerprints to determine who entered the residence, which was not marked with crime scene tape.
UPDATE: 4:58 p.m. EDT — Omar Mateen, the gunman named in Sunday morning's deadly massacre at Orlando's Pulse nightclub, had done internet searches for the establishment before the attack, according to a report from CBS News.
The development shows that he likely did his research on the nightclub, which caters to the LGBTQ community and was holding Latin Night when Mateen entered and gunned down 49 people over several hours.
UPDATE: 4:10 p.m. EDT — The owner of the Florida gun store where the gunman in Sunday morning's deadly shooting rampage in Orlando bought his weapons said he followed all of the legal protocol when his store made the sales.
"Unfortunately, he's evil," Ed Henson said Monday afternoon during a press conference outside of the St. Lucie Shooting Center in Port St. Lucie. The retired New York Police Department officer added reluctantly: "We happened to be the gun store he picked."
Law enforcement has already acknowledged that Omar Mateen legally bought the guns he used during the massacre at a gay nightclub, but elected officials in the state have already begun to push back for tighter gun regulations. As a result, FBI Director James Comey, Homeland Security Secretary Jeh Johnson and National Counterterrorism Center Director Nick Rasmussen are expected to provide an update to the U.S. House of representatives about the shooting, Politico reported.
UPDATE: 12:57 p.m. EDT — A congressman from the Orlando area has called for a ban on selling so-called assault weapons. The statement from Rep. Alan Grayson, D-Fla., who is a U.S. Senate candidate, is just the latest in a growing chorus of pleas from elected officials who have been questioning how the shooter in Sunday morning's deadly nightclub rampage could have gotten such easy access to the weapons he used, including an assault rifle.
A provocative response to a tweet announcing Grayson's intentions seems to almost taunt the National Rifle Association, the nation's largest gun lobby.
Republican Rep. Mike Miller told the Miami Herald that in addition to the state's gun laws, mental illness must be addressed.
"We have an ongoing debate about gun ownership in this country, and we're trying to prevent mental illness," Miller said. "We've got to put something in [the law] where we figure out if someone is having mental health issues" before allowing that person to buy a firearm.
The gunman in Sunday's attack, Omar Mateen, reportedly bought the assault rifle he used in the shooting in one day, as there is no waiting period in Florida when a person with a concealed weapons permit buys a gun.
UPDATE: 12:37 p.m. EDT — The FBI in 2013 had investigated for 10 months the man who carried out Sunday's slaughter at a gay nightclub in Orlando, Florida, before it closed the case because of insufficient evidence of any wrongdoing. FBI Director James Comey during a press conference Monday afternoon expressed his condolences for the victims and their families, as well as "admiration for local law enforcement," before announcing: "There are strong indications of radicalization by this killer," identified as Omar Mateen.
Comey, who didn't use Mateen's name so as to suppress any "fame or notoriety" that may inspire others to follow suit, said his agency was "working to understand what role of anti-gay bigotry may have played in the attack."
Comey said the investigation of Mateen followed agency protocol and that he wouldn't change a thing about the process that was conducted.
In closing, Comey said he hoped Americans experiencing anxiety from the shooting can channel that feeling of dread "into something more positive ... as we saw with those giving blood in Orlando."
UPDATE: 11:48 a.m. EDT — A very somber-looking President Obama appeared late Monday morning during a White House press conference after being updated by his national security team. After again extending his condolences to the victims and their families, Obama pointed in particular to the fact that Sunday's shooting in Orlando, Florida, took place at a gay nightclub.
"The fact that it took place at a club frequented by the LGBT community is relevant," he said. "It's a reminder that regardless of religion, faith, sexual orientation ... we're all American, and we need to be looking after each other."
Obama confirmed the incident was being treated as a "terrorism investigation" and acknowledged that "it appears that the shooter was inspired by various extremists' information that was disseminated over the internet." But, Obama said, "we see no clear evidence that he was directed externally," a reference to Mateen's pledge of allegiance to the Islamic State group. There's also "no direct evidence that he was part of a larger plot," Obama added, comparing Sunday morning's shooting to last December's attack in San Bernardino, California.
The president also lamented how apparently easy it was for Mateen to acquire his firepower.
"We have to go after terror organizations and hit them hard, but we also have to make sure it's not easy for somebody who decides they want to harm someone … to be able to obtain weapons."
According to a new report from the Daily Beast, Mateen bought guns and ammunition from the same Florida store on three separate occasions in five days.
The assault rifle that Omar Mateen used in the Pulse nightclub was a Sig Sauer .221 he bought June 4 at St. Lucie Gun Sales. The very next day he bought a Glock 17 handgun, which was also used during the deadly siege. Four days later he went back to the same gun store for ammunition.
UPDATE: 11:14 a.m. EDT — Donations continue to pour in to assist the victims of the deadly nightclub shooting in Orlando, Florida, that killed nearly 50 people in addition to wounding 53 others. Having set a goal of $2 million, the GoFundMe "Support Victims of Pulse Shooting" page has raised 75 percent of that. It is apparently the least amount of time ever for a GoFundMe crowdfunding effort to reach the $1 million mark.
The page says all of the funds it raises "will be going directly to the victims and families affected by the horrific shooting at Orlando's Pulse Nightclub."
Equality Florida, the LGBT rights group behind the fundraising effort, has scheduled a vigil for Monday night in Orlando to "remember and honor the victims, families and friends who were affected by this horrific tragedy."
Meanwhile, Orlando Health — the local healthcare network caring for the shooting's victims — announced it has doubled the number of operating rooms and has not had any more victims die from their injuries since being admitted.
UPDATE: 10:45 a.m. EDT — The ex-wife of Omar Mateen, the 29-year-old gunman who killed 49 people at a gay nightclub in Orlando, Florida, early Sunday morning, calls her former spouse "mentally ill" in a new video released by the Associated Press Monday. Sitora Yusufiy was married to Mateen for several months seven years ago and described his erratic and violent behavior.
"He was mentally unstable and mentally ill. That's the only explanation I could give," Yusufiy said, adding: "He would get mad out of nowhere. That's when I started worrying about my safety."
Mateen had aspired to become a police officer and had applied to the police academy, Yusufiy said. He would eventually end up working at a corrections facility.
UPDATE: 10:16 a.m. EDT — Sen. Bob Casey, D-Pa., is expected to introduce a bill tightening gun control measures Monday afternoon, following the deadly attack in Orlando, Florida, Sunday that became the worst mass shooting in U.S. history, Politico reported. Casey's proposed legislation would apply the same gun restrictions to people who had committed misdemeanor hate crimes that are already in use concerning people who have committed felonies.
Omar Mateen, the reported lone gunman, attacked a gay nightclub Sunday in what many leaders have called a hate crime. Mateen was known to the FBI for reported connections to terrorists. "We must take every step to keep America safe, which means targeting and taking out terrorists while keeping guns out of the wrong hands," Casey said in a statement following the shooting Sunday.
UPDATE: 9:40 a.m. EDT — Campaigners advocating for the U.K. to leave the European Union sparked anger with a new poster that appears to connect their cause to the deadly terror attack in Orlando, Florida, over the weekend. The referendum vote on whether to stay or leave the EU is slated for June 23, and national security has become a dominant issue amid a mounting terror threat worldwide.
"Islamist extremism is a real threat to our way of life. Act now before we see an Orlando-style atrocity here before too long," read the poster, from the group Leave EU, decorated with a photo of militants carrying the flag of the terror organization known as the Islamic State group.
Members of government quickly slammed Leave EU for capitalizing on the tragedy, calling on its leaders to apologize. EU advocate and U.K. Education Secretary Nicky Morgan said, "Using the tragic deaths of innocent people to make a political point is simply shameful. Leave EU must apologize for the hurt they have caused and apologize immediately," according to the Independent.
UPDATE: 9:09 a.m. EDT — Shares in two major U.S. gun companies surged in premarket trading Monday following a mass shooting Sunday in Orlando, Florida, that left 49 people dead. Smith & Wesson Holding Corp. (NASDAQ:SWHC) was up nearly 8 percent, or $1.69, and Sturm, Ruger & Co. (NYSE:RGR) was up by 4.3 percent, or $2.47.
Gun sales typically spike following a mass shooting in the U.S., as residents look to protect themselves in the wake of violence. Fears that gun control will be tightened have also fueled upticks in gun sales in the past.
The Orlando gunman, Omar Mateen, used two guns to carry out his attack, including a .223 caliber assault rifle and a 9 mm semiautomatic pistol. It was not immediately clear which company manufactured the guns used during the attack.
UPDATE: 8:33 a.m. EDT — Likely presidential nominees Hillary Clinton and Donald Trump responded to Sunday's mass shooting in Orlando, Florida, with Clinton insisting on the need for better gun control and Trump renewing his call to ban all Muslims from entering the country.
Clinton urged "common-sense gun safety reform" in the wake of the attack on a gay nightclub that left more than 100 people dead or wounded. Despite having been interviewed twice by the FBI, under Florida law the reported gunman, Omar Mateen, was able to legally purchase an assault rifle and a handgun in the weeks leading up to the attack.
The likely Democratic nominee and former secretary of state responded to criticism about whether the attack should be referred to as an act of radical Islam, telling CNN: "From my perspective it matters what we do, not what we say."
Trump insisted on the need to ban Muslims from entering the U.S. — a controversial proposal that has drawn ire from Republicans and Democrats alike. This ban would also apply to Syrian refugees, he said, millions of whom have been displaced amid a five-year civil war. The presumptive Republican nominee defended his proposal after being reminded that the shooter was born in the U.S.
"We have thousands of people pouring into our country right now who have the same kind of hate," the real estate mogul said.
In an approach opposite to Clinton's, Trump said more guns could have prevented casualties. "Gun owners even more than ever need to be able to protect themselves," he said.
Original story:
At least 48 of the 49 victims killed in a deadly terror attack in Orlando, Florida, early Sunday morning have been identified, and 24 of their next of kin have been notified, Mayor Buddy Dyer said in a news conference Monday. Orlando has been posting the names of the victims online as their families are notified.
"I cannot imagine being one of the parents," Dyer said, noting that the FBI had cleared all of the bodies by 11 p.m. Sunday night and turned them over to the medical examiner.
A gunman armed with an AR-15-style assault rifle and a handgun stormed the nightclub Pulse in Orlando at around 2 a.m. Sunday, opening fire on clubgoers, killing 49 and wounding 53 more. The attack was the deadliest mass shooting in the history of the U.S. and the worst domestic terror attack since 9/11.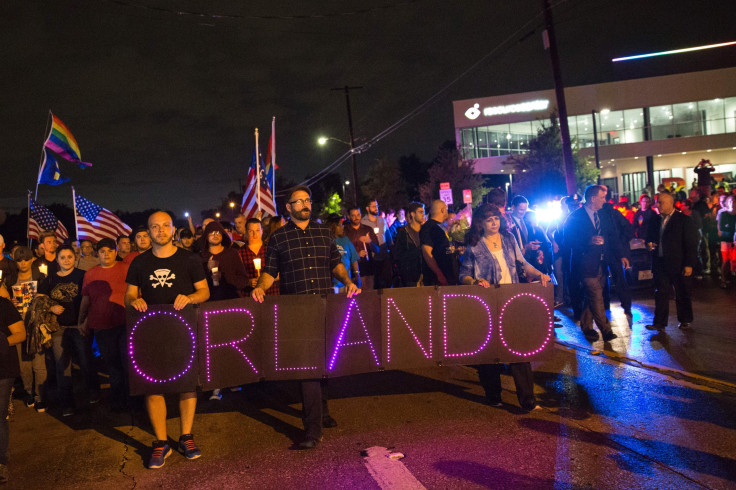 The investigation continues, and local resident and U.S. citizen Omar Mateen is the reported shooter, who is believed to have acted alone. Mateen, 29, had pledged allegiance to the Islamic State group terrorist organization in a 911 call during the attack. It is still unclear whether the attack was sanctioned by the group, also known as ISIS. Mateen had seen a gay couple kissing and become enraged several months before, according to his father.
Law enforcement responded to reports of shots fired at the gay nightclub shortly after 2 a.m. Following two gun battles with the suspect, the shooter was forced to retreat to a bathroom, where he held at least 15 people hostage, according to Orlando Police Chief John Mina.
After clearing the club of as many people as possible, law enforcement detonated explosive devices before employing an armored vehicle to punch a hole in the wall near the bathroom to prevent any further casualties. The gunman emerged from the hole in the wall and engaged in a gunfight with law enforcement, at which point he was shot and killed.
"We believed that further loss of life was imminent," Mina said of the decision to enter the bathroom.
Previous reports indicated 50 people died from the shooting, but law enforcement said during the press conference that there were actually 49 fatal victims. Initial death tallies included the gunman, but normally assailants are not included in death tolls.
FOR FREE to continue reading
✔️ Unlock the full content of International Business Times UK for free
offer available for a limited time only
✔️ Easily manage your Newsletters subscriptions and save your favourite articles
✔️ No payment method required
Already have an account?
Log in
© Copyright IBTimes 2023. All rights reserved.