'The Orville' Season 1, Episode 9: Is Rob Lowe Returning As Darulio?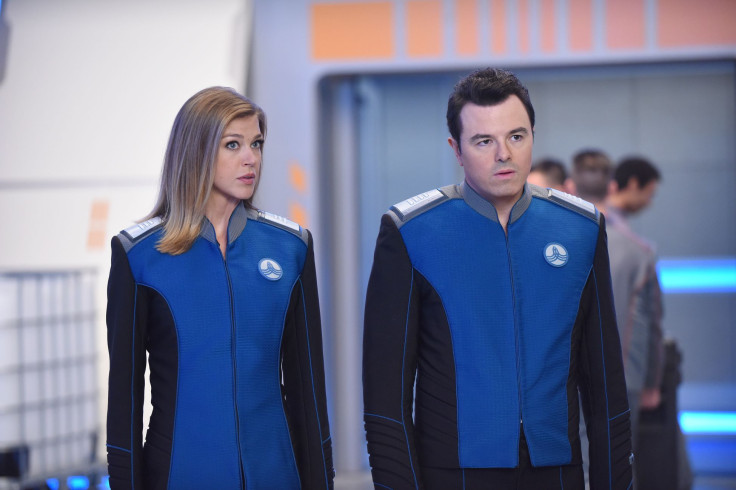 A familiar face boards the ship in next week's episode of "The Orville."
According to the synopsis for Season 1, episode 9, The Orville is called to mediate a peace treaty between two warring cultures when tension between Ed (Seth MacFarlane) and Kelly (Adrianne Palicki) resurfaces after someone from their past shows up on the ship.
In the trailer for the episode, Ed, Kelly and Alara (Halston Sage) welcome the returning character on board. Although the promo clip doesn't show the face of the guest passenger, his external features as well as Ed and Kelly's surprised reaction after seeing him suggest that he's Darulio (Rob Lowe).
Darulio is the Retepsian who Kelly had an affair with when she was still married to Ed. While it's unclear whether mystery character is really Darulio, one thing is for sure: the guest passenger puts the whole ship in a very dangerous position. "If we go to war, it's all your fault," Alara tells the returning character in the promo clip.
During a panel at the New York Comic Con last month, "The Orville" producers revealed that Lowe enthusiastically agreed to play Darulio's part because he's a friend of MacFarlane's. So it won't be surprising if he returns to the show to reprise his role.
Curiously, Lowe took to Instagram to share a video of himself in full Darulio makeup earlier this week. Was the 53-year-old actor trying to tease his return to the show with the said post?
Elsewhere in next week's episode, Yaphit (voiced by Norm Macdonald) declares his love for Claire (Penny Johnson Jerald) with surprising results. Yaphit has been pursuing Claire since the beginning of the season, but the doctor has not returned any of his advances. Although it was revealed last episode that Claire is already a mom, she's currently not in a relationship, so Yaphit still has a chance at her heart.
Aside from Macdonald, other confirmed guest stars in the episode are Victor Garber as Admiral Halsey; Mike Henry as Dann; Larry Joe Campbell as Steve Newton; Gavin Lee as Henry Park; Derek Mears as Bruidian Ambassador; J Paul Boehmer as Navarian Ambassador; and Ralph Garman as Kanoot.
"The Orville" Season 1, episode 9, titled "Cupid's Dagger," airs on Thursday, Nov. 9 at 9 p.m. on Fox.
© Copyright IBTimes 2023. All rights reserved.