Oscar Winner Predictions: Your Best Bet For The 2015 Academy Awards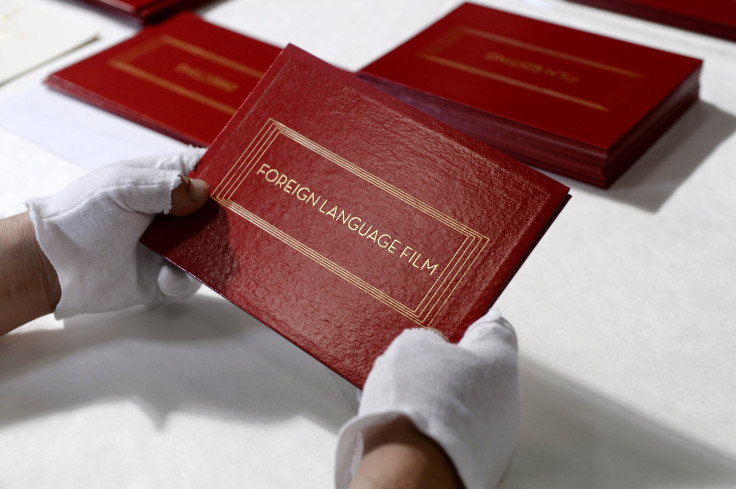 It's time for you office's annual Oscar pool and you have no idea who to pick off the list of nominees. Maybe you skipped a nominated movie -- or five -- or forgot to queue it on your Netflix. No worries, we're going through each of the award show's major categories and breaking down who's most likely to win and who we wished would win this Sunday. So get your pencils ready, and let's begin.
Sorry, you're still on your own when it comes to picking best short films.
BEST PICTURE
Will Win: This one is anyone guess. With nominees so split for votes between them, the top prize may just come down to which movie has a slightly bigger fan base. Will it be "Boyhood," the movie about a young man's life filmed over the course of 12 years? Or will it be "American Sniper," the war hero biopic from Academy favorite and elder statesman Clint Eastwood?
Should Win: I'd love to see the extravagant "The Grand Budapest Hotel" or well-told "Selma" pull off a coup, but I wouldn't complain if the oddball dark comedy "Birdman (or the Unexpected Virtue of Ignorance)," trolls presenters with its long title.
BEST ACTOR
Will Win: Sometimes jokingly called the superlative awards for "most acting" and "most directing" these candidates are another tough crowd to call. Eddie Redmayne or Michael Keaton could easily have won over the Academy for the Stephen Hawking biopic and the actor haunted by his superhero past, respectively. Hollywood does love a comeback story and actors playing actors, so Keaton may edge over Redmayne's dedicated performance.
Should Win: Bradley Cooper's subtle performance as Navy SEAL Chris Kyle is unlike any of the acting styles of the other nominees this year. Can you believe he played the permed jerk in last year's "American Hustle?" Because I have a hard time even remembering that movie. Cooper is incredible in "Sniper."
BEST ACTRESS
Will Win: Felicity Jones stands a good chance of walking away with a gold statue for her role of Mrs. Hawking in "The Theory of Everything," but the Academy has been known to go with names they recognize, so don't count out a surprise win by Julianne Moor or Reese Witherspoon.
Should Win: Marion Cotillard is devastating in "Two Days, One Night" and deservedly should get the gold on Oscar night. It's not entirely impossible since the actress previously won for "La Vie En Rose."
BEST SUPPORTING ACTOR
Will Win: J.K. Simmons. The Farmers Insurance guy has been racking up awards for his role as an abusive music teacher in "Whiplash."
Should Win: I'm not opposed to Simmons winning (he is damn good in the role), but how good would it be to see Mark Ruffalo win the only award I'm comfortable giving to "Foxcatcher?"
BEST SUPPORTING ACTRESS
Will Win: This will not be Meryl Streep's year. Here's to hoping that Patricia Arquette's wins for her 12-year role as the mom in "Boyhood," which she nearly steals at the end of Richard Linklater's epic.
Should Win: Patricia Arquette in "Boyhood," although Emma Stone has a great few scenes in "Birdman."
BEST DIRECTOR
Will Win: There's a good chance we may see another Latino director win with Alejandro G. Iñárritu's "Birdman." We would all win because it would mean the presenter would have to say the long movie title and the director's name correctly or risk being this year's John Travolta.
Should Win: Ideally, Wes Anderson would walk away with an Oscar for Best Director and store it in a model doll house filled with other tchotchkes.
ANIMATED FEATURE FILM
Will Win: After the "The LEGO Movie's" snub, I would be pleasantly surprised if Isao Takahata can pull off some Studio Ghibli magic for "The Tale of Princess Kaguya." However, Dreamwork's "How to Train Your Dragon 2" has waged an aggressive campaign I doubt many of the other indie candidates (save Disney's "Big Hero 6") would have been able to match.
Should Win: "The Tale of Princess Kaguya"
CINEMATOGRAPHY
Will Win: Emmanuel Lubezki for "Birdman" because style is such a large part of the film's appeal.
Should Win: It's a long shot, but the black and white cinematography for "Ida" harkens back to a different age of filmmaking.
COSTUME DESIGN
Will Win: "Into the Woods"
Should Win: "The Grand Budapest Hotel" for its extreme attention to detail and color coordination.
DOCUMENTARY FEATURE
Will Win: "CitizenFour," the Edward Snowden and national surveillance documentary from Laura Poitras.
Should Win: "CitizenFour"
EDITING
Will Win: "Boyhood," because 12 years is a lot of footage to edit.
Should Win: I would be at peace with an award for editing for "Whiplash." It really does add suspense to the movie that might not otherwise be there. Don't throw a chair at me, Simmons!
FOREIGN LANGUAGE FILM
Will Win: The two most talked about nominees are "Ida" and "Leviathan." It would be a surprise for an underdog like "Timbuktu" or "Wild Tales" to come out on top.
Should Win: "Ida"
MUSIC- ORIGINAL SCORE
Will Win: Either Alexandre Desplat's score for "The Imitation Game" or Jóhann Jóhannsson's score for "The Theory of Everything" because they play every five minutes in the movies.
Should Win: I'm still sore about "Under the Skin" getting robbed here, but I would go with Alenandre Desplat's whimsical theme for "The Grand Budapest Hotel."
MUSIC- ORIGINAL SONG
Will Win: "Glory" from "Selma," as it has dominated throughout awards season.
Should Win: "Everything is Awesome" from "The LEGO MOVIE!" But really, "Glory" is quite the credits roll song, and we're probably going to be moved by a performance of the song at the awards show.
PRODUCTION DESIGN
Will Win: "The Grand Budapest Hotel"
Should Win: Can "The Grand Budapest Hotel" get at least one award at the 2015 Oscars? Please?
The 87th annual Academy Awards airs Sunday at 7 p.m. EST on ABC. Sound off with your winner predictions in the comments section below.
FOR FREE to continue reading
✔️ Unlock the full content of International Business Times UK for free
offer available for a limited time only
✔️ Easily manage your Newsletters subscriptions and save your favourite articles
✔️ No payment method required
Already have an account? Log in
© Copyright IBTimes 2023. All rights reserved.