Oscars 2015 Infographic: How White Are The 87th Academy Awards?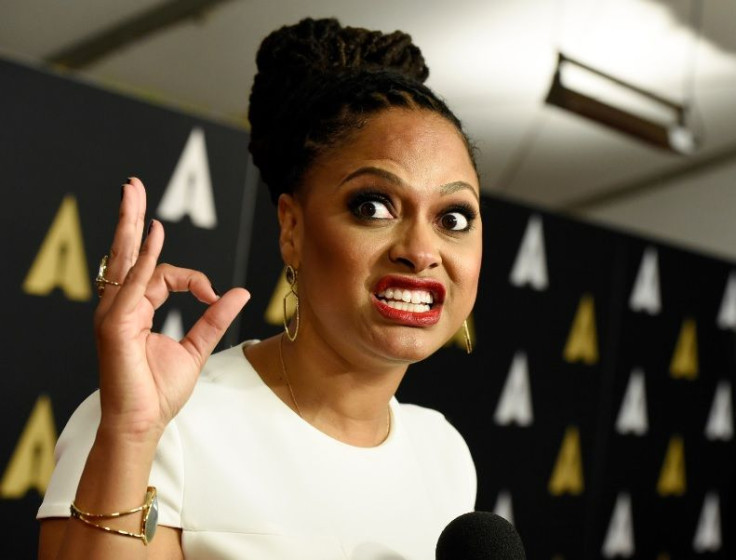 The 87th Annual Academy Awards are happening Sunday, and as all the glamourous nominnees make their way down the red carpet viewers may notice something: They're all white. Not a single actor of color was nominated for the 2015 Oscars. Not a single female director or writer was nominated. Out of all the movies nominated for Oscars, only five had directors who were not white.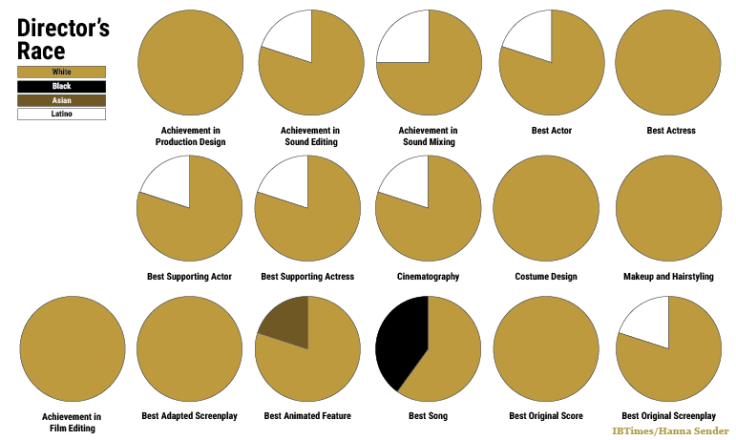 At this point it has become a punchline. Ths Oscars are so white they replaced the statue with a pumpkin spiced latte. The Oscars are so white they just nervously whispered "African American." The Oscars are so white they prefaced each nomination with, "I'm not racist, but..." Buzzfeed paired photos from the Mars Pathfinder with headlines such as "And here are all the truly inspiring actors of colour, thrilled to be nominated for the highest honour in film." Even the host of the evening, Neil Patrick Harris, has poked fun at the lack of diversity among nominees.
The optimism that followed "12 Years A Slave" winning three awards in 2014, including best picture, has been replaced by the #OscarsSoWhite hashtag. Much of the outrage and dejection comes precisely because the Oscars being "so white" isn't news at all. In the history of the Oscars, a total of 31 black men and women have taken home statues.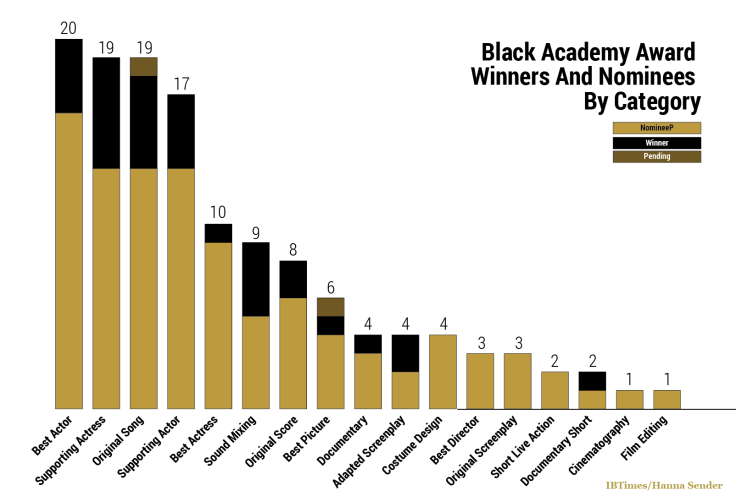 Women and people of color who are not black are also severely neglected. The Oscar winners are voted on by members of the academy, and there are 6,028 voting members; 94 percent of them are white, 77 percent are men and 86 percent are over the age of 50.
In a series of brutally honest (but anonymous) interviews with The Hollywood Reporter, academy voters talked about the perceived racism among voters. On why Selma was not nominated for more awards, one voter remarked, " I didn't think Selma was a particularly good film, apart from the main actor [David Oyelowo], and I think the outcry about the academy being racists for not nominating it for more awards is offensive — we have a two-term president who is a black woman [Cheryl Boone Isaacs] and we give out awards to black people when they deserve them, just like any other group."
Another anonymous Academy member said "Selma" would not have garnered the attention it has if it had been directed by a 60-year-old white male and thought the cast attending the New York premiere wearing "I can't breathe" t-shirts was "offensive." On the matter of most white members being older white men, she said, "yes, most members are white males, but they are not the cast of Deliverance — they had to get into the Academy to begin with, so they're not cretinous, snaggletoothed hillbillies. When a movie about black people is good, members vote for it. But if the movie isn't that good, am I supposed to vote for it just because it has black people in it?"
Being directed by an older white man may not have guaranteed a nomination for "Selma," but looking at the race and gender of the directors nominated this year, it couldn't have hurt.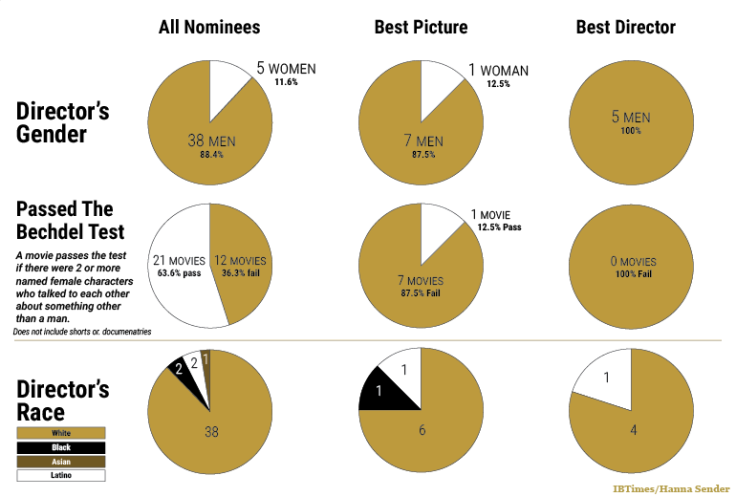 At this year's Sundance Film Festival, only 36 percent of films were directed by women. According to the 2014 Hollywood Diversity Report, female directors were underrepresented by 12 to 1. Kate Bigelow was only the fourth woman to be nominated for best director and was the first woman to win the award for "Zero Dark Thirty" in 2011. This year "Selma" director, Ava DuVerney became the ninth woman to be nominated for best picture but not best director.
Only one person of color -- Halle Berry in 2001 -- has ever won best actress. And no people of color are nominated this year. There has never been a Latino, Asian or Native American best actor winner. No Latina has ever won best actress. If Alejandro González Iñárritu wins for best picture this year, it will be the first time a Latino man has taken home the best picture Oscar.
For a full look at the 85 years of Oscar's diversity, take a look at the infographic below: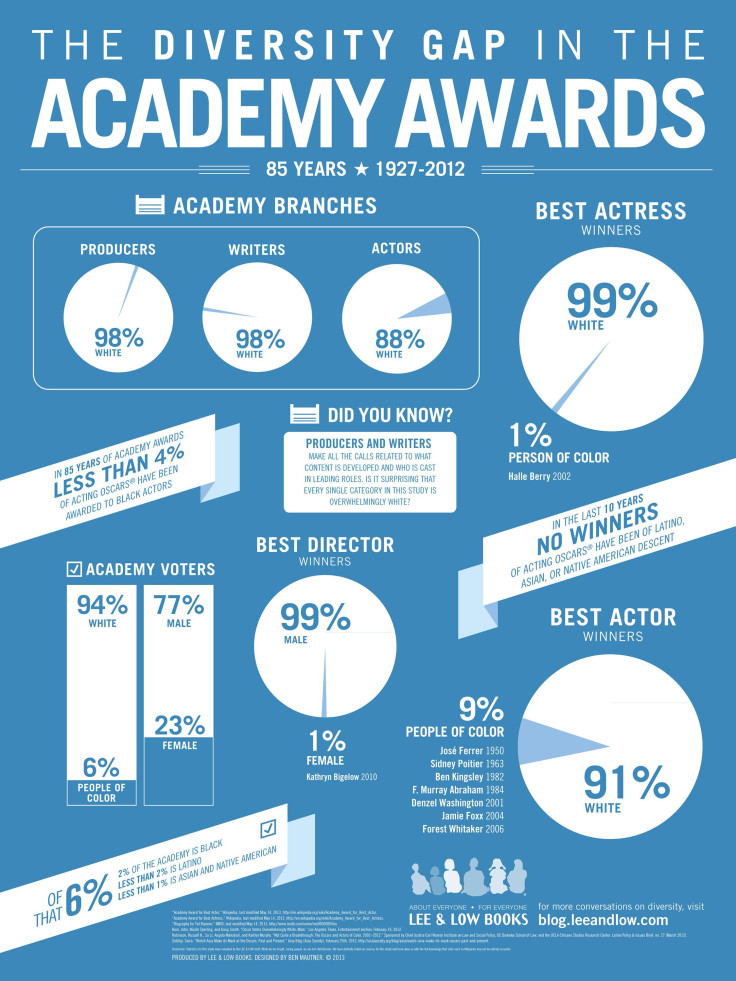 © Copyright IBTimes 2023. All rights reserved.